Okay, this is sort of hilarious/ridiculous. Per Quartz, apparently there's a scam among Uber drivers in China where they intentionally use scary profile pictures. These drivers are painting their faces to the point that they look like ghosts, or perhaps even clowns. Why are they doing this? In order to scare passengers into canceling trips, so that they get hit with the Uber cancelation fee. Per Sixth Tone:
With profile photos that look like they've just stepped off a horror movie set, the ghost drivers scare passengers into cancelling their trip, meaning they will owe the driver a few yuan for their troubles.

Another scamming method used by the ghost drivers is accepting rides, saying the passenger has entered the vehicle, and cancelling the trip. The customer will have been taken for a ride worth a few yuan without noticing. Either way the ghost driver wins.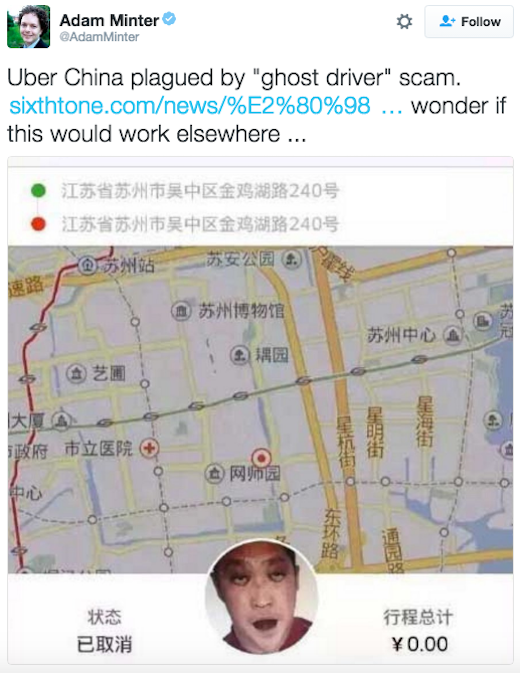 This is only a small part of the problem that Uber faces in China (though they're selling their China operations off to a competitor, so it won't be their problem much longer):
The Shenzhen Evening News reported on Monday that a government probe of ride-hailing drivers and their cars in the southern Chinese city found thousands of irregularities.

Among the drivers whose papers were not in order, 40 turned out to be wanted for crimes, and 2,191 had criminal histories that included major crimes or drug abuse. The licenses of 1,479 drivers were "abnormal," and more than 6,000 cars did not meet standards — some 660 to the point that they were considered ready for the scrap heap.
While I love Uber, China is one of the few places I don't really use it. I've had more bad than good Uber experiences in China in terms of quality of drivers, response time, etc. But the above just takes it to new levels…
The fact that the above was able to go on without Uber stepping in shows just how poorly run it in in China (by approving the above pictures, not catching on faster when drivers had a bunch of transactions but weren't even driving people, etc.)…
(Tip of the hat to Andrew B)