Uber has changed the way I approach ground transportation, as they make getting around in cities without good public transportation easier and more comfortable than ever before. I'm happy that they take the taxi mafias around the US to task, given that the taxi industry has had zero innovation for decades, with horrible service, dirty cars, and "broken" credit card machines.
That being said, I'm not disillusioned about Uber's tactics. They use some really questionable methods to expand, and at times even cross the line. The thing is, that's probably the best way to trigger change when the taxi mafias are in the pockets of so many politicians.
So over the years we've seen Uber expand to hundreds of markets, but also on occasion be kicked out of certain markets.
Both Uber & Lyft are no longer operating in Austin… voluntarily.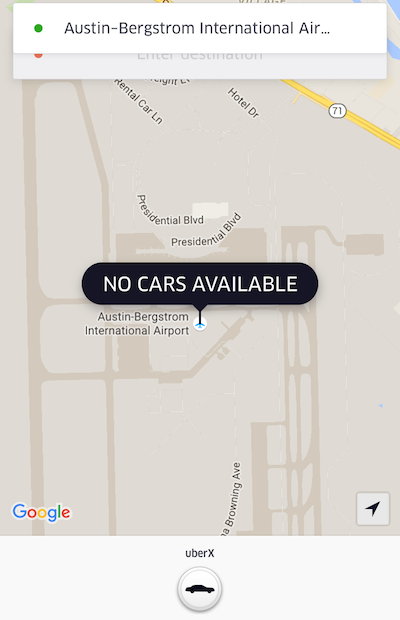 The Uber app provides the following explanation:
Due to regulations passed by City Council, Uber is no longer available within Austin city limits.

We hope to resume operations under modern ridesharing regulations in the near future.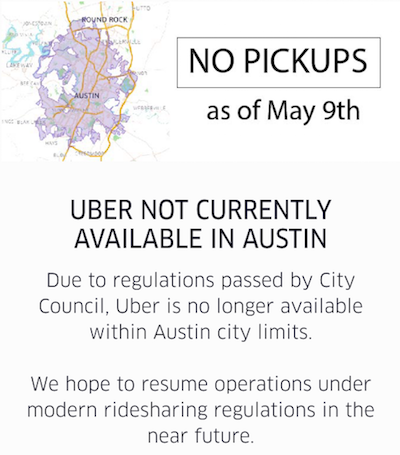 Why did Uber & Lyft pull out of Austin?
To simplify the situation as much as possible:
Late last year Austin City Council passed a new regulation requiring that drivers through ridesharing apps pass fingerprint-based background checks, despite Uber and Lyft threatening to pull out if such regulations are approved
Uber and Lyft managed to collect enough signatures to bring this issue to a public vote
Ridesharing Works (the political committee for Uber and Lyft) spent $8.1 million campaigning for their cause
This past weekend the issue went to a public vote, and it failed by a margin of 56 to 44
As a result, the regulation requiring fingerprinting passed, and Uber and Lyft have both pulled out of Austin altogether
It's crazy to consider that the ridesharing apps have spent over $8 million campaigning for this, and are now pulling out of the markets completely, leaving lots of drivers without jobs and people without rides. And all over fingerprinting, which surely would have cost less than $8 million to implement.
At the same time, I get what the ridesharing apps are concerned about in general. It's not about the individual market, but rather it's about them being concerned about setting a precedent which will be followed in other cities. By taking a hard stance against this, they're sending a message to other cities.
On one hand requiring drivers to get fingerprinted seems like a fairly reasonable regulation. At the time time it's worth noting that Uber already performs their own background checks on drivers, so it's not like there aren't presently any checks in place.
Bottom line
This whole situation sort of rubs me the wrong way, especially when we're talking about something like fingerprinting. There's no way it would have cost Uber and Lyft more than $8 million to implement this. Yet they're also concerned about the big picture, which I suppose I can't fault them for too much? I dunno…
I suspect Uber and Lyft will be back in Austin soon, whether it happens after regulations are changed, or after they realize that regulations won't be changed, and they're better off operating there than not.
Where do you stand on this issue?
(Tip of the hat to The Points Guy)