Earlier I posted about how Uber (more specifically UberX) finally launched in Las Vegas.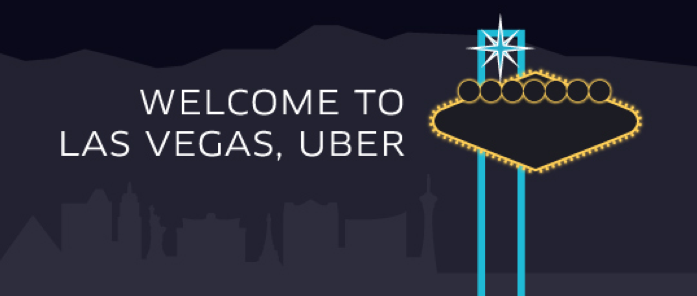 Las Vegas has one of the most corrupt taxi mafias out there. I mean, them blocking Uber aside, look at the complete lack of transportation options between McCarran Airport and The Strip. Even though they're a mile apart, the only real way to get between the two is by taxi. Do you think that's a coincidence, or because the taxi mafia is paying some people off?
Well, just hours after it launched, Uber has already been shut down in Las Vegas, through at least November 7, 2014.
Carson City District Judge James Russell blocked Uber from offering any rides in the state through at least Nov. 7. A hearing is set for Nov. 6.

The state's attorney general sought the temporary order late Friday afternoon.

State and county taxi officers also were trying to stop the Uber drivers earlier in the day, but managed to do so on a much smaller scale.

On Friday afternoon, at least five drivers — four in Las Vegas and one in Reno — had been cited by regulators, according to Teri Williams, spokeswoman for the state's Department of Business and Industry. Those drivers face fines of up to $10,000, Williams said.
They're ticketing Uber drivers, but it goes beyond that. Apparently an UberX driver was surrounded by five unmarked taxicab authority vehicles and pulled over by two undercover officers in ski masks:
Uniformed officers were at the Fashion Show mall on the Strip late Friday to meet Uber driver Michael Elsner with a ticket.

Five unmarked white Nevada Taxicab Authority vehicles surrounded his blue Ford Focus as he was driving east on Fashion Show Drive about 3:30 p.m. He was pulled over while trying to drop off two passengers. Two undercover officers wore black ski masks.
Anyway, I am a bit puzzled by the entire situation. Did Uber actually get some sort of approval they didn't have before when they launched yesterday, or did they just take the approach of "screw it, let's give it a shot and start the long legal battle/process?"
I'm confident they'll win long term. Corrupt lobbying groups can only suppress innovation for so long.
Does anyone have more insight into the Uber Las Vegas situation?
(Tip of the hat to @Panasenkova)