After my horrific Royal Jordanian flight from Bangkok to Hong Kong, I was quite looking forward to an uneventful flight back to San Francisco on Cathay Pacific. I figured after the Royal Jordanian flight, nothing could possibly go wrong, because no higher being could possibly spite me that much.
After consuming a handful of glasses of champagne and soaking in a Cabana tub at The Wing for a while, it was time to fly to San Francisco.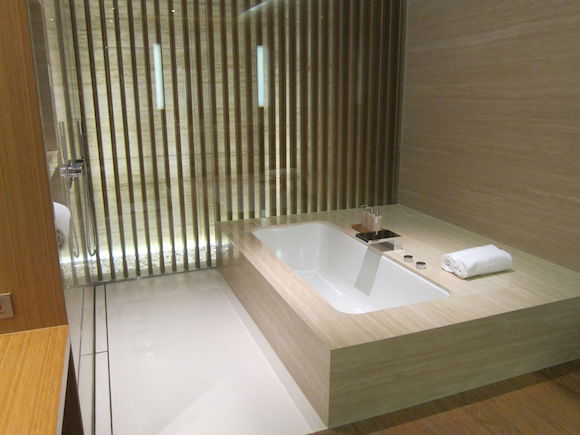 Cabana at The Wing
We were about 45 minutes late leaving, though once we got to the runway we were number one for takeoff. As we lined up on the runway and the engines spooled up the pilots quickly eased back the throttle and we turned right off the runway. While I've had several go arounds, this was my first aborted takeoff ever. It was a complete non-event, though in the back of my head I couldn't help but cringe/chuckle a bit at my luck. Before we even vacated the runway (probably within 10 seconds of the attempted takeoff) the captain was on the PA to update us in a calming voice – "ladies and gentlemen, as we began our takeoff roll we encountered a minor technical issue, and we're just pulling off the runway to see what's going on. We'll update you shortly."
Maybe five minutes later he was back on the PA to let us know that the technical issue had been resolved and that we'd be taking off shortly. We once again lined up on the runway and the engines spooled up. This time a bit more power was applied before we stopped, though the takeoff was once again aborted, though instead of going straight to the taxiway we had a fast taxi on the runway towards the terminal. Again, the captain immediately came on the PA and said "ladies and gentlemen, we had the same technical fault once again, so we will be taxiing back to the gate so the engineers can look at it. We'll update you as soon as we can."
As soon as we got to the gate and the engines were off the captain was again on the PA to explain what went wrong. He explained that when we were taking off an indicator light was going off saying that a cargo door was open, and that it was probably just a faulty alarm. He said we'd be getting a bit more fuel as well and that he'd update us as soon as he can.
30 minutes later the captain was back on the PA to inform us that we were all ready to go and that we just had a short air traffic control delay, and that we'd be underway shortly. Once we were underway he updated us yet again.
Admittedly the two situations I faced today were completely different. In the case of the Cathay Pacific flight the pilots were literally able to "pull over" and work on things, while when you're in the air that's not an option. At the same time I was reminded of how soothing it is (and not necessarily for me, but much more so for the infrequent or nervous flyer) when you hear a captain with a calm voice providing frequent updates.
Anyway, while the two issues experienced today are on totally different levels, kudos to the Cathay Pacific captain for his professionalism. I had the chance to talk to him briefly during the flight and thank him for being awesome.
And on a totally unrelated note it was 3AM before we took off, and I was dead tired and looking forward to just sleeping. The first six hours of the flight had to be the most consistently bumpy I've ever had on a transpacific flight. It's not that the turbulence was especially horrible, but it was abrupt enough so that I couldn't sleep.
Really isn't my day, eh? I'm thankful to have made it safely after the Royal Jordanian flight, and probably won't spend the next week fulfilling my usual addiction of looking at trips I can take, because I'm happy on the ground… for now.