Update 2:40PM Eastern: Since the time of this writing, the FAA has now removed the ban on flights from Turkey, and flights will resume operating as scheduled in the coming days. The below information is still applicable, though travel waivers will likely not be extended beyond the current date range.
On Friday, an attempted military coup closed the main airports in Istanbul. In response to the uncertain security situation, the FAA has banned all direct flights between Turkey and the United States. This primarily impacts Turkish Airlines, which has flights to nine different cities in the U.S., carrying thousands of passengers each day.
I know many people have travel scheduled on Turkish Airlines in the coming weeks (they have a great business class product, and terrific award availability), and there are myriad schedule concerns. I've been answering questions in comments on both posts, on Ask Lucky, on Twitter, and in email, so I figured it made sense to consolidate the questions and answers into an FAQ.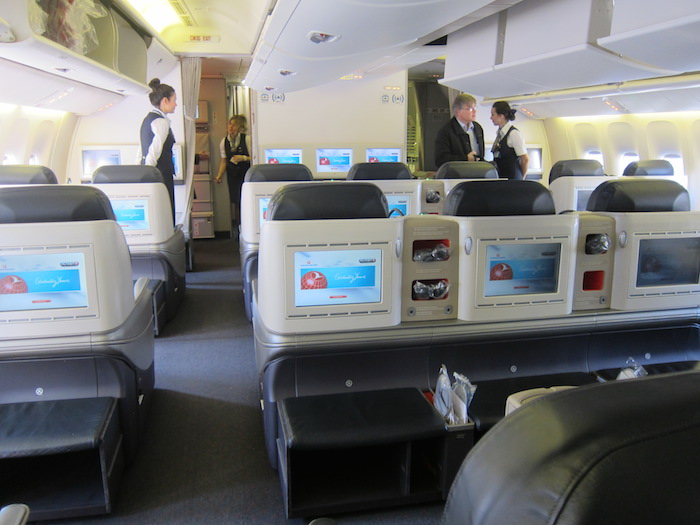 Why is the United States FAA blocking flights from Turkey when other countries are allowing them?
The FAA has reason to believe planes and passengers from Turkey are not being properly screened and secured. They will make future determinations based on their own research and analysis, regardless of what other countries decide to do.
For reference, here is the full FAA NOTAM. You can search this on the FAA website, but it's a little clunky, and can't be directly linked to.
A0015/16 NOTAMN
Q) KICZ/QRDLD////000/999/
A) KICZ B) 1607160150 C) 1608312359 EST
E) SECURITY..UNITED STATES OF AMERICA ADVISORY FOR TURKEY
THOSE PERSONS DESCRIBED IN PARAGRAPH A BELOW ARE NOT AUTHORIZED TO
FLY INTO OR OUT OF ANY AIRPORT LOCATED WITHIN THE ISTANBUL (LTBB) OR
ANKARA (LTAA) FLIGHT INFORMATION REGIONS (FIR).
A. THIS NOTAM APPLIES TO: ALL U.S. AIR CARRIERS AND COMMERCIAL
OPERATORS; ALL PERSONS EXERCISING THE PRIVILEGES OF AN AIRMAN
CERTIFICATE ISSUED BY THE FAA, EXCEPT SUCH PERSONS OPERATING
U.S.-REGISTERED AIRCRAFT FOR A FOREIGN AIR CARRIER; AND ALL
OPERATORS OF AIRCRAFT REGISTERED IN THE UNITED STATES, EXCEPT WHERE
THE OPERATOR OF SUCH AIRCRAFT IS A FOREIGN AIR CARRIER.
B. NO PERSON OPERATING AN AIRCRAFT, REGARDLESS OF REGISTRY, MAY
DEPART TURKEY TO ANY UNITED STATES AIRPORT.
THE JUSTIFICATION FOR THIS ADVISORY WILL BE RE-EVALUATED BY 15
AUGUST 2016.
Will all Turkish flights between now and August 15th be cancelled?
The key phrase that airlines have latched on to in this NOTAM is "The justification for this advisory will be re-evaluated by 15 August." This doesn't mean the ban is extended through August 15th. Nor does it mean the ban will end on August 15th. It could end sooner, or later — the FAA is just promising to look at the situation again by August 15th.
As such, the airlines are issuing shorter-term waivers, which makes sense. Turkish Airlines flies to nine cities in the United States, potentially carrying 2,500+ passengers every day. No one wants to find alternative arrangements for that many people unless it's absolutely necessary.
Beyond that, Turkish Airlines' communication is highly censored by the government right now, so that's going to clog things up. Low-level phone agents may not be advised of the NOTAM, etc., and Turkish doesn't want to preemptively cancel even a single flight if they don't have to. Unless the flight is officially marked as canceled, other carriers technically don't have to find alternative arrangements. So this is very much day by day, and likely will be for some time.
At the time of this writing, here are the waivers issued thus far by key Star Alliance carriers. Remember, you'll have to follow the rules of the carrier that issued your ticket:
What if I'm traveling between July 20th (or 22nd) and August 15th?
Until Turkish officially cancels your flight, or the ticketing carrier issues a waiver, you will bear the cost for modifying your travel. If you decide to go ahead and do that, you have three options:
Cancel your revenue ticket, subject to the cancelation terms in the fare rules when you purchased
Change your award ticket

You will be limited to available award space, which may have diminished significantly since you first booked
You will pay any associated award change fees, and any difference in taxes and fees

Cancel your award ticket, paying the relevant redeposit fees
If you have travel insurance, you may be able to have some of these fees reimbursed, but it depends on the terms of your policy. If you purchased your ticket with the Citi Prestige, for example, you can cancel your trip due to acts of terrorism, though not necessarily acts of war. I'm not sure how they'll define a coup attempt.
Personally, I would recommend waiting for waivers to be announced. This will open up more flight options, and save you quite a bit of money. I would also make back-up arrangements in the meantime, such as:
Booking refundable hotel stays at nearby/airport hotels in case you have to take a later flight
Familiarizing yourself with the relevant fare rules, insurance plans, and cancelation policies for all parts of your trip
Understanding what alternative flight options you may have, so that it's easier to make changes once waivers are updated
What if I'm traveling after August 15th?
Same story. If you want to proactively cancel or change your flights, you certainly can, but you will bear all associated costs to do so.
My tickets were issued by an airline other than Turkish, and my dates are covered by a waiver. What options will I have for new flights?
The various contracts of carriage mainly promise to get you to your destination eventually. In practice, carriers are generally pretty flexible once a waiver has been issued. Technically it depends on the exact wording and rules of the waiver, but here's what you can typically expect:
Regardless of whether your travel was paid for with money or miles, they should rebook you on alternative flights that don't transit Turkey, or fully refund your tickets
If United flies to the destination, for example, they should be able to open up space in your original class of service — the same fare bucket does not need to be available
If United does not fly to the destination they will try to work with the Star Alliance liaison to open up space on partner carriers — again, the same fare bucket does not need to be available
It's worth noting that while Air Canada and United will do their best to accommodate you in advance, they can't force a Star Alliance partner to open up inventory for you. If you are flying to a remote destination (say the Maldives), and they are offering you anything I would strongly consider taking it.
If you're in Turkey, or still comfortable flying Turkish in general, I would ask about flights to/from Toronto and Montreal. Those are still operating, and it will be easier for United and Air Canada to open space within North America than to secure transatlantic space.
Now, this may take several calls, as not all agents know the protocol in these situations, but that's what should happen.
What if I purchased my ticket from a 3rd party or travel agency?
Start by contacting them. They may have separate policies and waivers for this situation that will cover you beyond what the airlines are offering directly.
I purchased my tickets through Turkish, what are my options?
Firstly, try and be patient. This is going to be extremely difficult for Turkish to manage, and it's doubtful they have the people or policies in place to deal with what is really an unprecedented situation.
Here's the current Turkish notice as of this writing, [formatting mine, grammar theirs]:
Provided that:

Flights operated by Turkish Airlines (including AnadoluJet trademark )
Flights departing/arriving to Turkey (including domestic flights) and/or transit flights via Turkey
Flights operated between 15 July 2016 – 20 July 2016 (inclusive)
Ticketed on/before 15 July 2016
Tickets are revalidated until 15 August 2016 (inclusive)

All Rebooking/ReRouting will be made without any charge

Refund requests:

a) Unused tickets: refund will be made without any charge; or
b) For partially used tickets, when planned trip is not complete; the remaining flights will be refunded without any charge.

Extension of ticket validity:

Validity of ticket can be extended until 15 August 2016 (inclusive) without any fare difference or penalty, disregarding of related fare rules
My guess is that Turkish will use the same language and terms should the FAA ban be extended past the 20th of July. That's not a guarantee, however.
If the issuing party can't proactively change my travel, what are my options?
As the operating carrier, Turkish Airlines should have a few more options for rebooking travel once they've posted a cancelation. Turkish should be able to endorse your ticket onto other carriers, but given the uncertainty and instability, they might not be able to do that until the day of departure.
You won't be stranded, and you will eventually be transported to your destination, but there are a lot of moving parts here. It's entirely possible that alternative flights will be a day or two later than you'd planned.
This isn't ideal, of course, so consider it a "fall-back" position. If possible, I'd suggest seeing what flexibility you have in your plans, booking some refundable hotels, etc. If you're connecting to a cruise, definitely reach out to the cruise company to see what your alternatives are if you arrive later than expected.
I see Turkish is still selling tickets/releasing award space. Can I book a flight between now and August 15th, and then get the airline to change it under the waiver terms?
Don't be that guy.
And no, that wouldn't work anyway. All these waivers require the ticket to have been issued prior to July 15th.
Be calm, be nice
While waivers are technically only posted through the next few days, some airline agents have been sympathetic, and are making extra accommodations.
This is not the rule, airlines aren't required to do anything for you outside the waiver terms. So just because someone on the internet was able to have Air Canada open up space on Lufthansa and didn't impose fuel surcharges for a flight in September doesn't mean you're going to get that treatment.
Your best bet in getting things done with an airline is to be calm, positive, and get the agent to want to help you. More flies with honey and all that. If you are rude and demanding I can almost guarantee that the "best" alternative routing will involve a middle seat in the last row of five-across economy.
Bottom line
This is a really complicated situation, with a lot of moving parts, and it's understandable that the airlines want to take a short-term approach.
Educate yourself on your options, and be proactive, but also be patient.
Any other questions about the Turkish flights we can answer?