For years the TSA has been using AIT (Advanced Imaging Technology) machines at airports to screen passengers. These are the machines they've used in lieu of metal detectors — you walk into them, hold up your arms, and then are cleared to go after waiting for a few seconds.
For those of you not familiar, here's a video about the technology:
Since it was introduced, use of the machine has been optional. You can choose to opt out, and in lieu of the AIT you'll get a full body pat down. Some people prefer this. I used to opt out back in the day. I'm not sure why, exactly. Perhaps because I'm displeased with the TSA in general, and thought it was a decent way to "protest." But it's not something I do nowadays, as I'm a much mellower person and just want to get on my way. For that matter I don't actually have to opt-out, since I have TSA PreCheck, which means I get to use a metal detector in lieu of an AIT.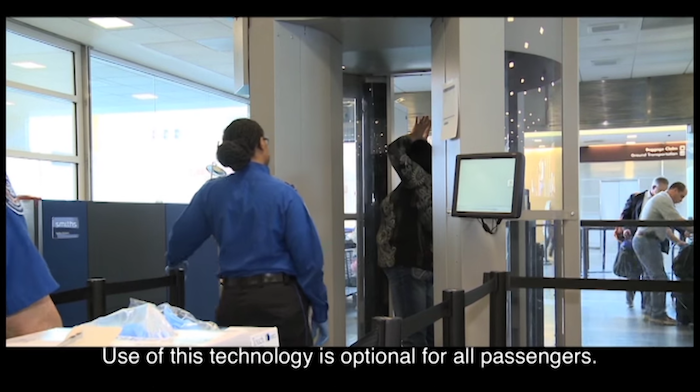 However, for those of you who always opted out of the AIT machine, the TSA has updated their policy on opt outs in a very confusing way. The Department of Homeland Security has published a "Privacy Impact Assessment Update For TSA Advanced Imaging Technology."
Here's the "abstract" for the update (bolding mine):
The Transportation Security Administration (TSA) has deployed Advanced Imaging Technologies (AIT) for operational use to detect threat objects carried on persons entering airport sterile areas. AIT identifies potential threat objects on the body using Automatic Target Recognition (ATR) software to display the location of the object on a generic figure as opposed to displaying the image of the individual. TSA is updating the AIT PIA to reflect a change to the operating protocol regarding the ability of individuals to opt opt-out of AIT screening in favor of physical screening. While passengers may generally decline AIT screening in favor of physical screening, TSA may direct mandatory AIT screening for some passengers. TSA does not store any personally identifiable information from AIT screening.
Under the new policy you can "generally decline" to use the AIT, but the TSA may also "direct mandatory AIT screening for some passengers." Puzzling, if you ask me. "Generally" having a right doesn't really sound like a right to me.
Ironically this policy change goes on to talk about the "fair information practice principles," like the "principle for transparency" and "principle of individual participation." That's a bit ironic, given that these changes are neither transparent, nor do they allow individuals to choose their participation. 😉
Bottom line
In theory I don't actually have an issue with the TSA getting rid of the ability to opt out. However, I do sort of have an issue with a policy change which says you can still opt out, except under an unknown set of circumstances.
Bigger picture I'm not sure I get this change. If I understand the AIT machine correctly, it can detect "objects" on your body which are beneath your closing. Couldn't a pat down accomplish the same? Or are there instances where an AIT could detect more than a pat down could? If so, perhaps this caveat addresses those situations, where a passenger is suspected of having something on their body, but the TSA can't figure it out without the AIT screening.
Do you opt out of the TSA advanced imaging technology machine? What do you make of this change?
(Tip of the hat to Wandering Aramean)