This past Friday I had the opportunity to tour an airline catering facility at SFO, along with about 40 other FlyerTalkers. It was fascinating, and I'll most definitely look at airline food differently from now on, knowing how much work goes into it.
The tour started out with a visit to the conference room, where introductions took place and we were able to sample some UA meals. By "sample," much to my surprise, they meant eat an entire international business class meal. I guess it was a good thing I didn't have lunch, since it was filling.
It was a UA international business class meal, consisting of a salad, bread roll, a main course (choice between chicken and mahi mahi), and finally chocolate cheesecake. Meal orders were not taken by status, but instead in a Southwest-esque free for all fashion. 😉
It was actually really fun/funny to eat an airline meal on the ground, especially on a tray while sitting at a table. Nonetheless it was quite good, although for an international business meal not particularly impressive (which is UA's fault, and not that of the airline catering facility, who did the best with the budget they have to work with, in my opinion).
During lunch we had a Q&A session, along with some info about the facility. It's fascinating how huge of an operation they're running, with a 135,000 square food facility and around 750 employees, if I recall correctly. We learned that a majority of the meals are prepared at night, during the "graveyard shift," as well as the diverse nationality of chefs. They really seem to hire people from every corner of the world, especially when they're working for a new, international airline.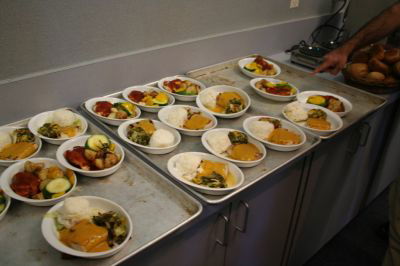 Chicken and mahi mahi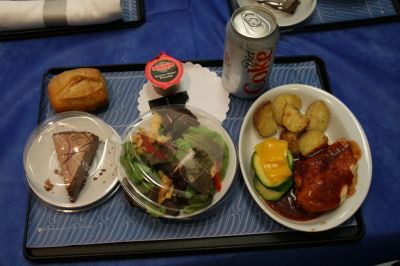 Lunch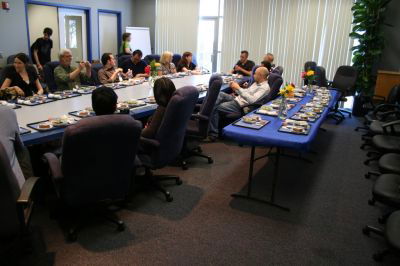 Conference room where we had lunch
As we finished up lunch we were all given hair nets to wear while touring the food preparation area. They really seem to take cleanliness seriously, since everyone we crossed paths with looked like they were coming out of an operating room. When we went into the food preparation area we all had to wash our hands as well.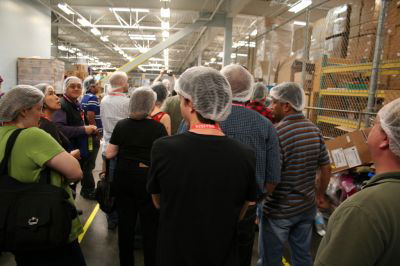 Storage room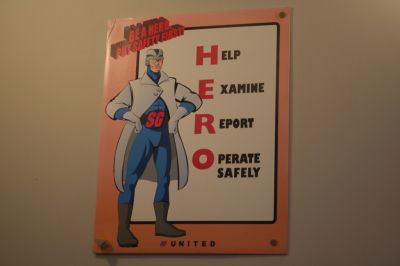 Hah….
Another impressive aspect of the whole operation was the storage area. They literally have tens of thousands of square feet of storage where they keep the materials of the airlines they service, from bottles of water, to buy on board snackboxes, to china, silverware, etc. It amazes me how they're able to keep inventory of all this stuff.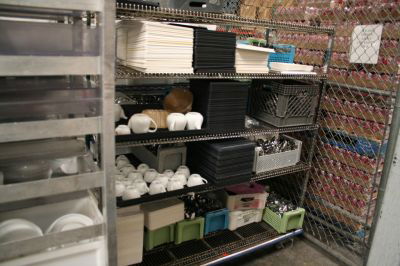 Airline storage stuff
Since we were there midday, there wasn't too much "cooking" going on, but there was plenty of food preparation going on. It's amazing how they prepare for each flight. There's a separate sign for most of the longhaul flights they service (at the very least), where they collect everything they need for that particular flight. The coolest part was that I saw the ladies that were placing the UA hot nuts in the containers. That was soooo awesome!
There was a bunch more stuff we saw including the freezer area (where people work all day in freezing temps just moving boxes), the area where they load the carts onto the trucks, etc. After about two hours we were brought back to the conference room for a final Q&A session.
The tour was so well done on the part of the airline catering facility and our host, so thanks so much to all that were involved in making this happen. Never again will I eat an airline meal without thinking twice about how much work has gone into making it, regardless of how simple the meal may appear.