Airlines don't always do an amazing job keeping passengers updated when they anticipate that a flight will be delayed. I can't even count the number of times I've been at a gate 10 minutes before the scheduled departure time (20 minutes after boarding was scheduled to start) with the flight showing "on-time" even though there wasn't even a plane at the gate.
So every time I fly I don't just check the published flight status for my flight, but I also try to figure out where my plane is coming from to determine the odds of there being a delay.
Sometimes this is easy to figure out. For example, if you're flying Cathay Pacific from Washington to Hong Kong, it's easy enough to figure out that your flight is coming from Hong Kong, and to check the status of that flight. There's at most one flight per day, so the plane couldn't be coming from anywhere else.
However, this is significantly more complicated for flights from a hub city or focus city, where the airline has multiple flights per day. Airplanes don't typically just fly the same routes over and over, but they often cycle through an airline's route network.
So, what are the best ways to track the status of your inbound flight, to best determine if your flight may be delayed?
Some airlines show inbound flight status
Some airlines let you track the status of an inbound flight directly on their website. For example, of the "big three" US airlines, American and United will show you directly on their website where a plane is coming from.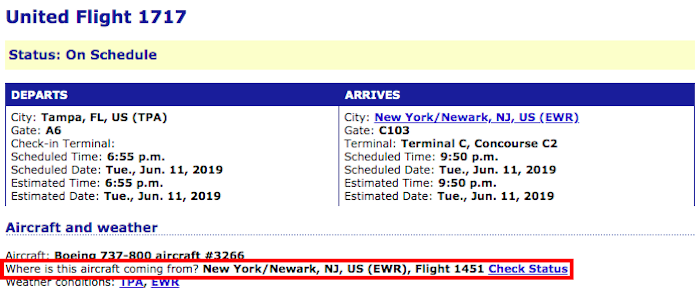 Delta also shows this information, but only if you're booked on a flight. So this isn't useful if you're looking for someone else, for example.
Using FlightAware to check inbound flight status
There's one cool hack that many people aren't aware of that makes this really easy. FlightAware is a flight tracking website, and it will also show you where your plane is coming from. Just enter the flight number for your journey.
Then when you see the map for your flight, on the right side you should see a section that says "track inbound plane." Just click that, and you'll see where the plane is coming from.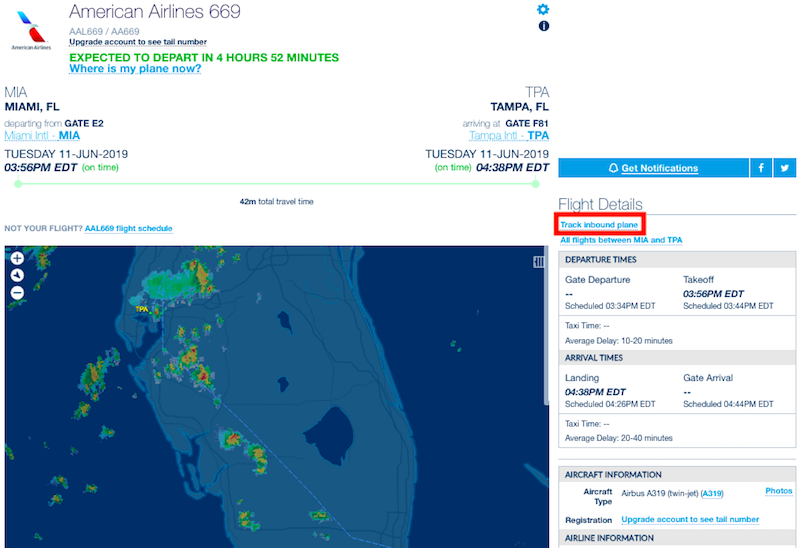 Note that you can click it over and over if your plane is operating many flights that day. So when you get to the previous flight you can also see where that plane is coming from, etc. Often I'll track the status of the plane I'm supposed to fly on three or four flights out.
To what extent should you rely on inbound flight status?
Given that airlines often aren't very good about posting flight delays in advance, to what extent should you trust inbound flight status when deciding when to go to the airport, or deciding when to go to the gate?
I think it depends on the situation. Let me give a couple of examples:
If I were flying Lufthansa from Miami to Frankfurt and I saw that the plane was late coming from Frankfurt, I would feel comfortable going to the airport late since I know that's the only plane that could operate that flight
This gets significantly more complicated at hub airports, where an airline could swap planes around last minute; so generally I wouldn't go late to the airport at a hub if the inbound is late unless the delay was officially posted
More often than not, the practical application for this is that I'll often just wait in an airline lounge longer when I know where the inbound flight is coming from.
American is notoriously bad about posting delays in advance. So if my flight is scheduled to board at 3PM and depart at 3:30PM, but if I see that the inbound flight only arrived at the gate at 3:10PM, I'd wait in the lounge longer, rather than heading to the gate. However, I'd refresh the inbound flight status every five minutes or so, just to make sure they don't change planes last minute.
Bottom line
Unfortunately airlines can't be relied on to properly update flight status in advance, though the good news is that it's easy enough to look this up on your own. The best option is to use FlightAware, though some airline websites also have this information.
This is definitely most useful when you're flying out of an airport where an airline doesn't have many flights, since you can generally plan around a late inbound flight. However, at a major hub airport there's always the possibility of planes being swapped last minute, for better or worse.
When flying, do you check inbound flight status as religiously as I do? Is there another website or app you use to determine this?