It's so easy to take air travel for granted and lose sight of the fact that airplanes are million pound metal tubes that fly six miles above the earth's surface at well over 500 miles per hour. And it's easy to do so because for the most part, travel is seamless – it's safe, usually on time, and with very few interruptions.
But then every once in a while I get the opportunity to reconnect with flying and remember just how damn amazing it is that everything comes together as it does. We've had a few events over the years through FlyerTalk that have reminded me just how amazing it is that airlines run so seamlessly. A few years back we had a tour of the United San Francisco Airport Maintenance Base. The year after that we had the opportunity to tour a major catering facility at San Francisco Airport. The year after that we were able to tour United's operations at Chicago O'Hare.
Just a couple of weekends ago before our group flight with Captain Denny Flanagan, we had the opportunity to get a behind the scenes tour of United's operations at San Francisco Airport.
We had several veteran managers providing us the tours, from ramp supervisors to customer service supervisors. It started in the Red Carpet Club, and then we split up into smaller groups and toured the various areas.
My group went onto the tarmac first to observe an airplane pushback. In this case it was an internationally configured 767 heading to Chicago, and it was just fascinating to watch the amount of power the tug must have to push back a 500,000 pound aircraft. It also showed just how many moving parts there are on the ramp, all of which have to come together perfectly in order for the plane to push back.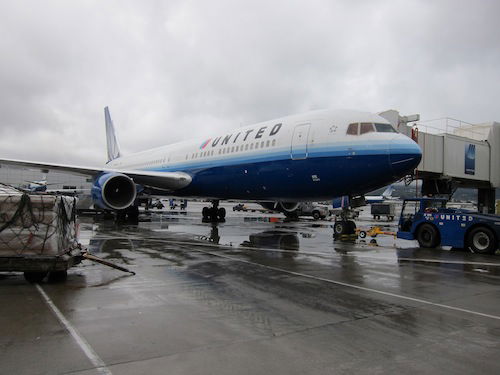 767 ready for pushback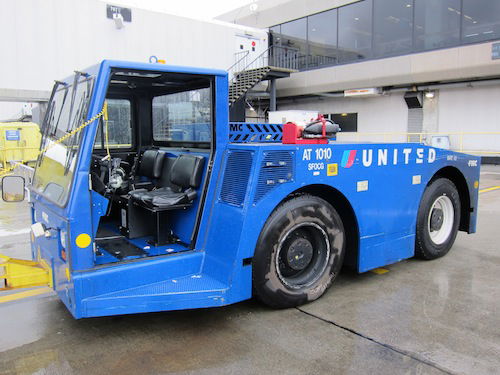 767 tug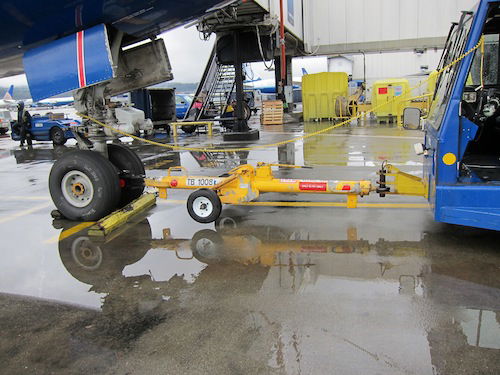 767 tug connecting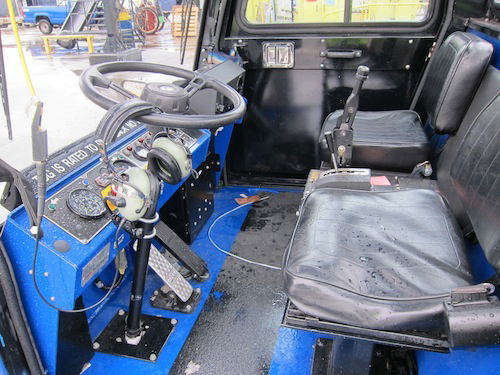 Tug interior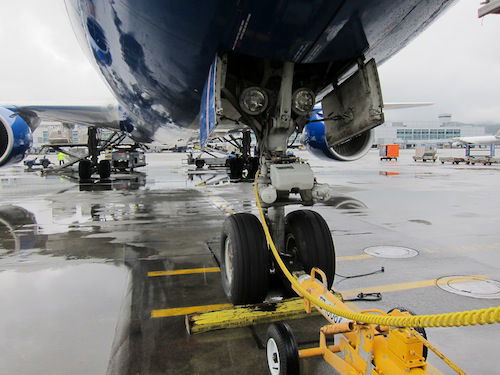 Ready for pushback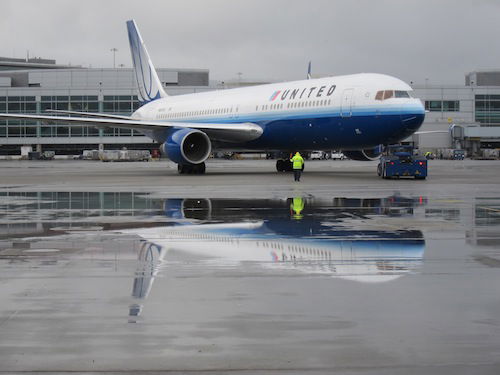 Pushback
Next we toured the operations center, which is basically the "brain" of United's operations at SFO. There are people here from all departments working together to ensure everything runs smoothly, from liaising with Gate Gourmet to ensure all meals are loaded properly to making sure that cargo is balanced properly.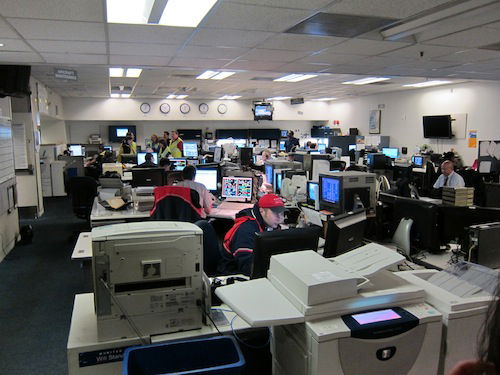 Operations center
While I'm familiar with the concept of an operations center, it surprised me just how much control the center has over customer service as well. They have cameras throughout the terminal that they monitor to see when the lines get long at the customer service desk, when a gate is understaffed, etc., and make adjustments accordingly.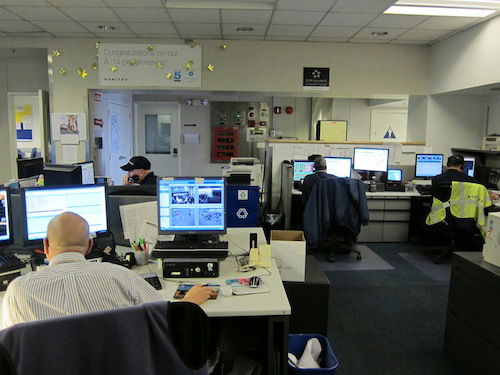 Operations center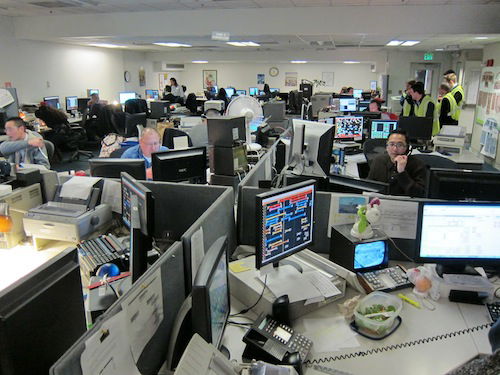 Operations center
Next we toured the baggage area. I won't even try to explain how the system works because I have no damn clue, but I was surprised by how automated everything is. I figured the process was all a bit more manual, but from scanning the bags to sending them to the correct area for the flight, it all seems to be automated.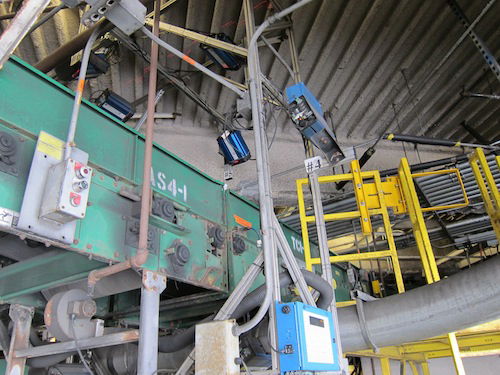 Baggage area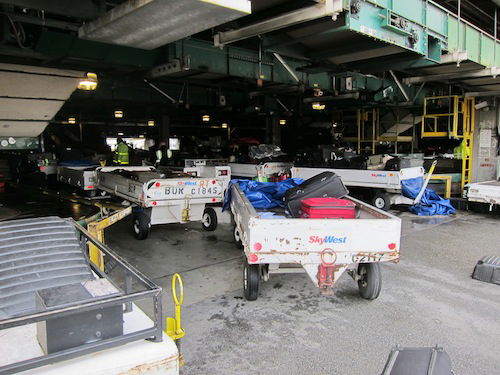 Baggage area
We finished the tour by watching the 767 we would be flying from San Francisco to Chicago pull into the gate. It was coming from Houston (and before that Lima), and pulled into the gate just fine. They opened up the cargo hold, started removing the crates, etc. Interestingly, though, the gate had two jet bridges, and the second one was broken. The problem was, the forward jet bridge wouldn't be able to reach the plane, so after about 10 minutes they realized they needed to find a different gate for the plane.
It's one of those situations where you just know what's going on inside the plane — people are complaining, some probably muttering "this happens every time on United," etc. However, when you're looking at it from ramp, there's so much more to it. Even though it might not look like anyone is working to fix things when you're in the cabin, there are dozens of people on the ground working to fix problems like this.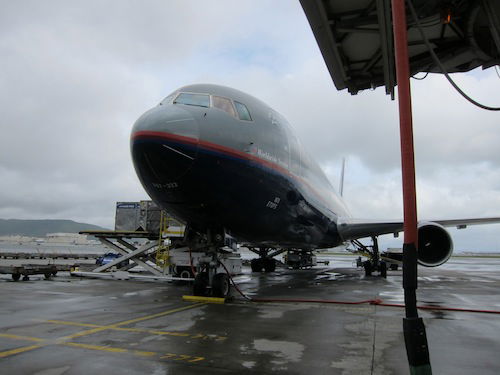 767
What I love more than anything else about these kinds of tours, though, are the people. The airline industry is an industry of passion, and it shows with everyone you interact with. Naturally as airline nuts touring a tarmac, we're fascinated by what we see. But even our tour guide, Michael, looked up in awe every time a plane took off, and he's been doing this for over 20 years. It's what makes the industry special.
While it's easy to only think of flight attendants, pilots, and gate agents when it comes to employees in the industry, there are people behind the scenes that deserve just as much appreciation (if not more at times) for all the hard work they do to make the airline run smoothly.
Thanks again to those at United that made this tour possible, it was eye-opening once again.