Link: Discounted IHG Rewards Club Points
Daily Getaways is a promotion sponsored by American Express and the U.S. Travel Association, and is intended to boost US tourism. Every weekday from May 19 through June 20, 2014, travel packages and getaways will be on sale at discounted prices. The good thing is that you don't have to decide on your dates or travel right away, because most packages come in the form of certificates or points, which can be redeemed over time.
A few things to keep in mind for all of these travel packages:
Travel packages go on sale at 1PM ET, so you'll want to be there a couple of minutes early if you want to take full advantage of it
You get a 10% discount for paying with your American Express Card, which will be applied at the time of purchase
Some travel packages sell out quickly, so if one shows as "sold out," keep refreshing your browser and more packages may become available from people that "reserved" one in their cart but didn't complete the purchase
Today's Daily Getaways Package: Discounted IHG Rewards Club Points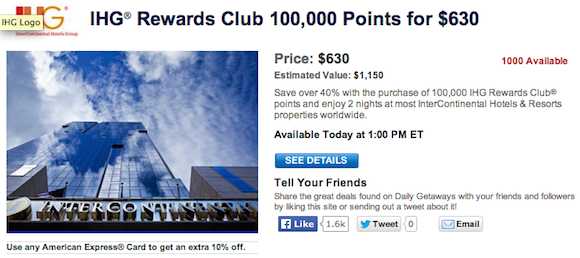 Today Daily Getaways is offering discounted IHG Rewards Club points, in the following increments:
15,000 IHG Rewards Club points / $100 / 2,500 available
25,000 IHG Rewards Club points / $167 / 2,000 available
50,000 IHG Rewards Club points / $325 / 1,250 available
100,000 IHG Rewards Club points / $630 / 1,000 available
That comes out to 0.63 cents per point, or 0.57 cents per point if paying with an American Express Card.
What's also cool about this promotion is that unlike some of the other ones, they're actually selling tons of packages. There are a total of 6,750 packages on sale here, so hopefully this won't be as much of a lottery as it usually would be.
What's worth noting with IHG Rewards Club is that it's always possible to generate points with them for 0.7 cents each in a roundabout way, which can be a great deal. But this is an even better deal, by almost 20% in some cases.
Redeeming IHG Rewards Club points
IHG has nine hotel categories, ranging in cost from 10,000 to 50,000 points per night, as follows:
So at 0.57 cents per point, you'd be looking at ~$285 for a free night at one of their top hotels. That definitely could be worth it, especially for a property like the InterContinental Bora Bora, where you can redeem points for an overwater bungalow.
Alternatively, you can redeem points through IHG Rewards Club's amazing PointBreaks promotion, whereby select hotels are available for 5,000 points per night. That being said, there's no guarantee that promotion will stick around, and you also never know which properties will be on the list.
Bottom line
This is a case where I think it could make sense to take buy points. You most likely won't come out way ahead or anything, but these are very fairy fair prices on the purchase of points, less than you'd otherwise pay. And on top of that there are lots of packages available, so you should have no problem snagging one (or a few).
Ultimately IHG Rewards Club points aren't really a currency I want to hoard, mainly because those points aren't quite as aspirational as Hyatt or Starwood points, for example. But still, there's lots of value to be had for the right person.
Will you be taking advantage of the IHG Rewards Club Daily Getaways?