The topic of tipping hotel housekeeping is a controversial one. This is something that has been discussed to great lengths over the years, and people seem pretty evenly split as to what the right thing to do is.
So, is it appropriate to tip hotel housekeeping in a country where housekeepers aren't paid what many would consider to be a livable wage?
Recommended hotel tipping guide
The AHLA, which is the association representing all segments of the lodging industry, recommends the following tips for hotel employees:
Hotel courtesy shuttle drivers — $1-2 per person, or $4-5 per party
Parking attendant — $1-5 when your car is delivered
Bellstaff– $1-5 per bag when you are escorted to your room, or when you are helped with bags while checking out
Doorstaff — $1-2 for getting a taxi, and if they help with baggage, tip in proportion to size and weight
Concierge — $5-10 depending on how involved the service, or a lump sum upon departure
Housekeeping — $1-5 per night, and it should be left daily and in an envelope, so that it's obvious it's a tip
Delivery of special items — $2 for one item, and $1 for each additional item
Room service, bartenders, and waiters — 15-20% of the total bill
What hotels have done over the years
There's no denying that hotels in the US are largely to blame for the need to tip people performing basic functions. They largely don't pay their employees a living wage, so that leaves it up to guests to subsidize their income.
In my opinion it shouldn't be that way, and anyone working full time in the US should be able to make ends meet, at a minimum. But that's not how it is.
It is interesting how hotel groups have handled tipping over the years. For example, in 2014 Marriott rolled out tipping envelopes for housekeepers that they left in the room, but this was quickly repealed after there was quite a bit of backlash.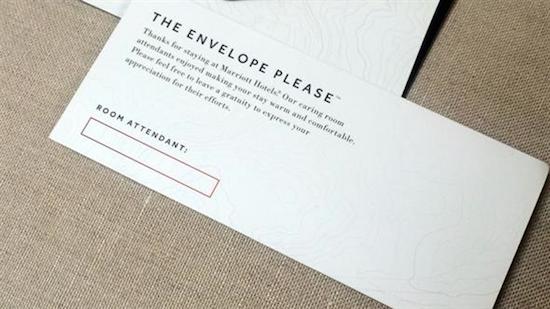 Other than that, we haven't really seen the major hotel groups take a strong stance one way or another. In the US the hotel industry has had huge industry action over pay, though that has only tangentially been related to tipping (in the sense that it's about hotel employees being paid livable wages).
Recent media coverage of tipping hotel housekeeping
I've written about the topic of tipping hotel housekeeping before, though there has been some interesting recent media coverage of it lately, which makes this topic worth bringing up again. Data suggests the average hotel housekeeper in the US makes $10.80 per hour.
A Chicago Tribune story covers a back-and-forth Twitter exchange that went on this week, which I think pretty succinctly sums up the perspectives in this debate:
"There's a special place in hell for people who don't tip," one Twitter user commented.

To which someone going by Anna replied, "There's a special place in hell for a system that doesn't raise minimum wage, making consumers responsible for the staff's basic living needs. Nobody tips in Europe (unless the service is exceptional) because nobody needs to."

"Well Anna," the first commenter replied, "we are not in Europe, and unless the American capitalist government is overthrown, it is up to each of us to help those who make less than the rest of us."

"Anna's point is a fair point though, surely?" a third person chimed in.

"No, it really isn't," answered a fourth. "Because she's justifying not tipping by punishing the most vulnerable. She's not punishing the exploiters, but the exploiters."
My take on tipping hotel housekeeping
This being brought up again was a good reminder for me. I really try to tip hotel housekeeping, though all too often I don't have cash on me, and that makes things complicated. I need to get better about always having cash on me, and not just sometimes.
My perspective is as follows:
I don't love the tipping culture in the US at all
At the same time, what I hate more than the tipping culture is how many people aren't being paid livable wages
Rather than protesting the system and not tipping (which ultimately punishes the hardworking people who are on the receiving end of our system), I want to do my small part to make things better
Not tipping housekeeping is inconsistent with the rest of our tipping culture, and I think that comes down to the fact that we don't interact with housekeepers face-to-face, so there's less guilt; however, they perform among the most important functions at a hotel
Bottom line
I'm not at all a fan of the US tipping culture, but I'm even more not a fan of people not being paid livable wages. In my opinion housekeepers are among the hardest working people at hotels, yet aside from front desk staff (where you have a lot of room for advancement), they're among the only employees not being tipped.
In principle I'm in favor of tipping these people, and I do it whenever I can. The problem is that I sometimes don't have cash, and that's something I need to get better about.
Where do you stand on tipping hotel housekeeping?