I know, the tipping situation in the US is out of control. Blah blah blah.
I'm not disagreeing the situation is out of hand, but it doesn't change the fact that many people rely on tips to make a living, regardless of whether the system makes sense or not. In other words, as much as I might disagree with the system, I don't want to "punish" people that work in an industry that rely on tips as a result.
But even when trying to apply that standard, there are inconsistencies that leave me confused. For example, why do we tip almost anyone that serves us a meal, except flight attendants? In shuttle buses, do we only tip if the driver helps us with our bags? If so, is the simple effort of lifting a bag what justifies the tip, as opposed to the time spent driving the shuttle?
I'm not saying there's a right or wrong answer, but today I came across a situation where I wasn't sure if I should tip (by my standards)… and it wasn't even in the US!
Do you tip club lounge attendants in hotels? I usually don't. In the US they're pretty bare bones, and I find the attendants are usually pretty "removed." They put out the food, you serve yourself, and then when you're done you put your plates and glasses on the designated tray.
But how about if the attendant is nice? What if they proactively clear your plates for you, and what if there's a form you're supposed to fill out with your name, room number, and a space for optional gratuity? That was the case at the Sheraton Gateway Hotel Toronto Airport today.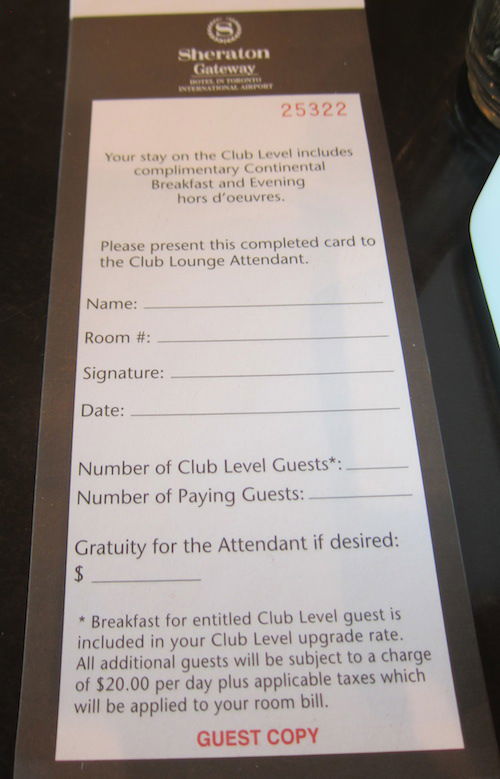 The attendant was friendly, and the breakfast spread was decent, so I tipped $5. I don't know if I did that because I felt obligated to, or simply because she was friendly and it felt "right" to do so? At the same time, I couldn't help but feel like the form was really tacky, since clearly it's intended just to fish for tips (in order to enter the lounge you have to use your room key to begin with, so theoretically eligibility has already been determined).
Do you tip in hotel club lounges? If so, do you only tip when service is proactive, or regardless of service levels? And how do you feel about a form with an optional field for tips?