One of my more humorous friends, upon learning I was in Colombia, offered to pay my ransom should anything go wrong. I was surprised to hear that sort of reaction from someone I consider quite worldly and cosmopolitan. In fact, I'm certain he follows the news more closely than I. "Maybe this really IS crazy?" I thought.
In December, Ben proposed we take our first proper "mileage run" together on American: LAX-JFK-MIA-BOG and back. When I heard it was to Colombia, I suggested we fly on this itinerary but instead take a week to explore the country a bit, changing the trip from "mileage run" to "creative routing," as Tiffany calls it.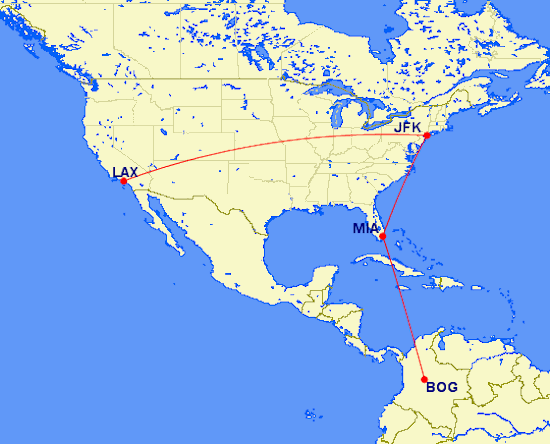 Ben was surprised, since I hadn't shown much interest in the past in traveling to South America, and hesitant, as Colombia has an unfortunate reputation for danger, drugs, and kidnappings. While this tarnished image has been dispelled over the past decade as Colombia has made significant gains in dismantling the violent cartels that ravaged the country in the 90s, many Americans that don't keep up to date with South American politics and news and are unaware that much has changed.
I'm probably among the minority of Americans who knows that Colombia is safer than it once was. I went to college with a few Colombians who were great ambassadors for their country. Over the past few years, I've known at least two-dozen people from various walks of life – some acquaintances, others my closest friends – who have visited Colombia. Most of them visited Cartagena only, and they all had positive things to say. I can't think of a single negative comment with regards to safety, aside from the reminder to "exercise caution" and "be smart" as travelers are often told to do when visiting South American cities.
So with a bit of encouragement from me, Ben booked our flights – 4 nights in Cartagena, 3 nights in Bogotá.
We consistently found amazing value in both cities. Meals at high-end restaurants, which comparably would have cost $200 in the US for two people with appetizers, entrees, cocktails, and wine cost $60 or less! At lunch, we regularly spent less than $20 for two people at charming sit-down restaurants, like the famed Cevicheria in Cartagena, a favorite of foodie Anthony Bourdain. Taxis and transportation were just a few dollars for significant distances, and private tours of the city organized by Gema Tours were $80 per person for a 3-hour tour with driver and guide.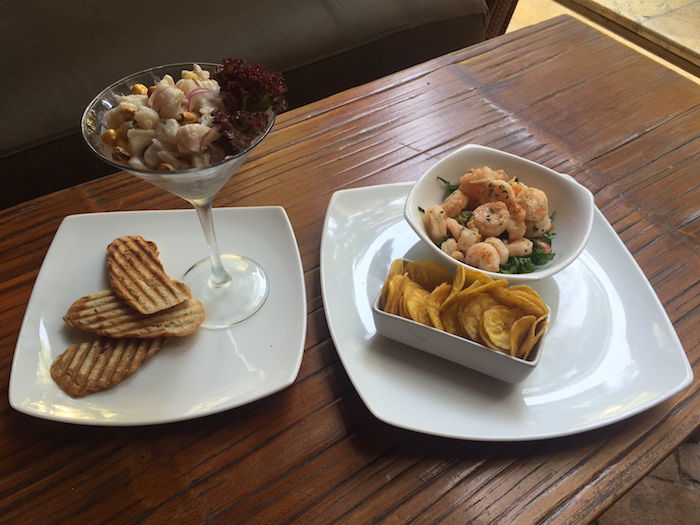 The W in Bogotá even offered to send a driver with us when we left the hotel for just $11 per hour, although Uber worked quite well in Bogotá so there wasn't much need to keep a driver close. While great value can often be found outside hotels and resorts in developing countries, the prices for food, beverages, and services like spa treatments remained surprisingly low at the hotels, too. At the W Bogotá, two hour-long pedicures and a body scrub cost just $60! Upon arrival in Panama this weekend Ben and I were shocked to learn a 20-minute cab ride from the airport would be $40! That's about half of what we spent on all our taxis in Colombia.
Cartagena
I can't say enough good things about Cartagena. It's a gem. The historic center is beautiful, authentic, and bustling. The city abounds with delicious ceviche and seafood, a variety of nightlife from low-lit intimate lounges to nightclubs (not our thing, so can't say too much about that) to restaurants like La Vitrola, which is perhaps the closest approximation of 1950s Havana that exists outside of Cuba.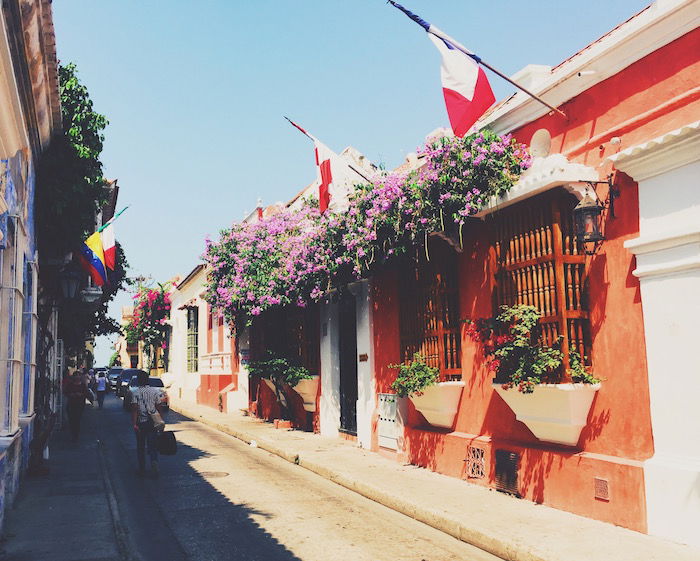 From our hotel room at the Santa Clara Sofitel Legend, which was a peaceful oasis in the midst of what is a rather hectic place, we could faintly hear the hooves of horse-drawn carriages clacking against the cobblestones as they passed by in the night.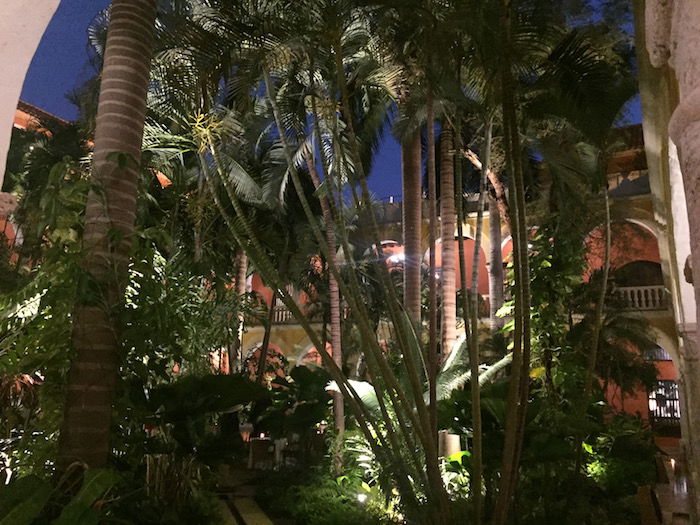 Beyond the bold colors of the historic center's restaurants, shops, and homes, there are a number of churches, forts, museums, and monasteries that bring the city's rich history to life.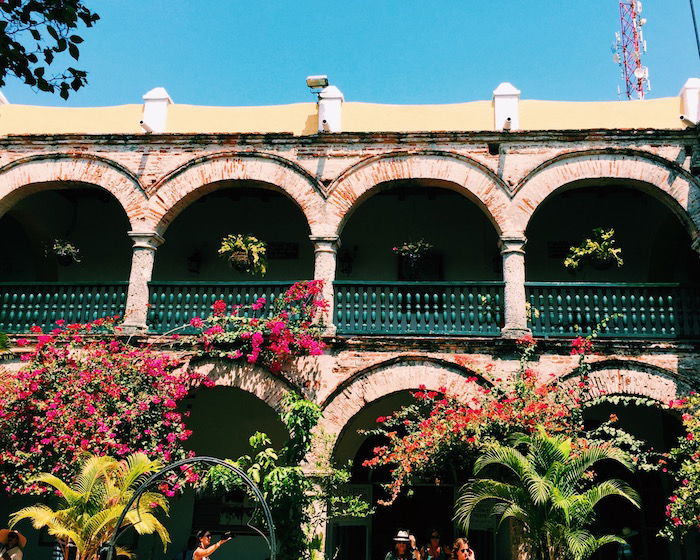 Cartagena is a Caribbean destination, with its best white sand beaches about 45-60 minutes away by boat on islands close to the Colombian coast, although Ben and I spent our time enjoying the city's architectural and cultural rather than natural beauty.
Ben has already recounted for you our day trip also organized by Gema Tours to El Totumo, the volcano turned mud bath, which can be summarized in one word as epic, if only because I somehow convinced him to climb down a ladder and bathe in a pit of mud. Apparently the Amazing Race also featured the volcano just a few weeks ago… although Ben and I didn't have to dive in the mud to find emeralds, thankfully.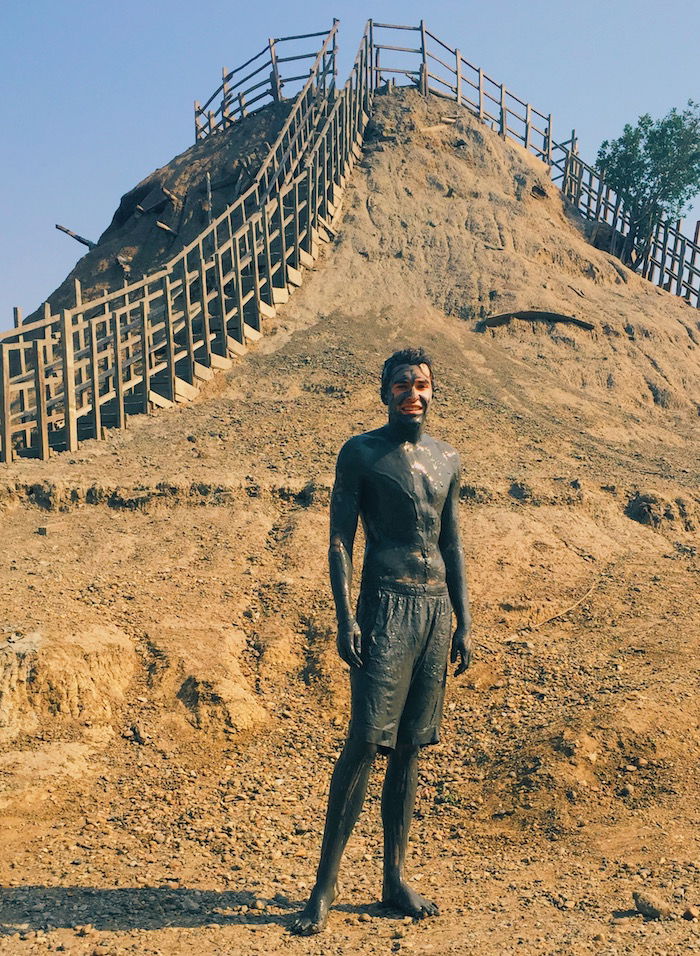 Bogotá
It never would have occurred to me to suggest visiting Bogotá, although I was eager to travel to Cartagena at some point regardless of the mileage run that ultimately led us there. Since our routing was through Bogotá, it made sense to check the city out. On arrival, I immediately noticed the majestic rolling hills and forest-covered mountains that surrounded the city. At an elevation of about 8,000 feet, Bogotá's climate is cooler and wetter than that of balmy Cartagena.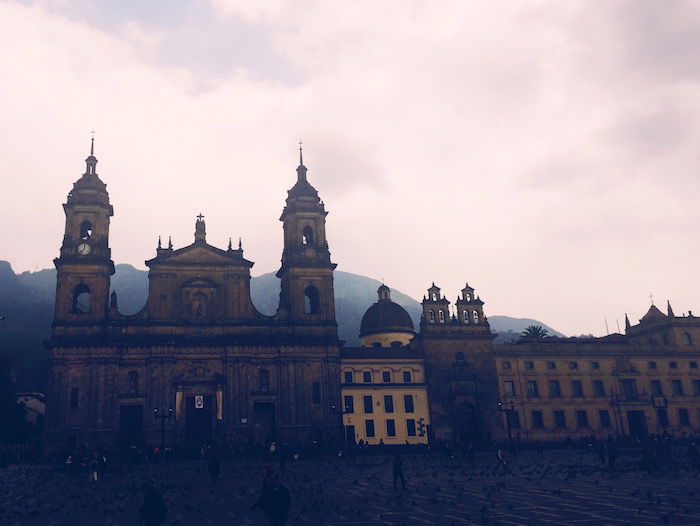 Upon arrival, we were both dismayed by the traffic in Bogotá. As someone who is based in Los Angeles, I'm generally immune to traffic. Bogotá makes LA look like a cakewalk, and traffic doesn't just occur at peak times – it's nearly constant. The city is also spread out; the commercial center, where the W is located, is about 45 minutes from the historic downtown, La Candelaria.
At first I thought this was a massive downside, but after walking through the Candelaria, which was charming and beautiful, I realized that staying some distance away was a relief, as La Candelaria felt a bit unsafe due to all the commotion and dozens of police strapped with machine guns roaming the streets.
It's worth noting that poverty in Bogotá is evident by a significant population of homeless people and panhandlers, while in Cartagena we noticed the poverty as we traveled to the outskirts of the city, where small shantytowns cropped up. In Bogotá, the poverty seemed more problematic because of a looming threat of crime, but it is nonetheless a reality of Colombia and important to acknowledge and even witness as a tourist.
Overall, I didn't love Bogotá, although I would say it's worth a visit, especially if you're keen on touring the entire country. It is, after all, the capital.
Bottom Line
We loved our trip to Colombia, especially to Cartagena, which is a must-visit for travelers interested in South America, colonialism and European heritage, and the Caribbean tropics. This trip has piqued my interest in South America and Colombia, and I'm hoping to visit Medellín down the line.