When I talk to my non-frequent flyer friends about our hobby, one of the most common questions I get is "what celebrities have you flown with?" While I've flown with a ton of celebrities over the years, it's a question I struggle to answer:
Aside from reality TV and YouTube, I'm really bad at pop culture, so I probably only recognize a tiny fraction of the celebrities I've flown with
Even when I do recognize them and they're pointed out to me, it's not something I really remember, since I don't really get "star struck" — they're just humans, and rarely memorable
As I sit here and think about the celebrities I've flown with, not many come to mind off the top of my head, even though I know there are dozens. Perhaps the most memorable for me were Jennifer Coolidge (because she's hilarious) in American first class and Grace Mugabe (first lady of Zimbabwe) and her entourage in Singapore first class (what a terrible human being). And of course His Excellency Akbar Al Baker, which was possibly the highlight of my life.
On Saturday I flew from Dallas to Beijing, and I actually had a memorable celebrity aboard, for once. And he was memorable because of how patient, humble, and pleasant he was.
I settled into one of the center seats in row three, and didn't pay any attention to the guy in the window seat until one of the flight attendants asked to take a picture with him. Then I noticed he looked familiar, but I couldn't quite figure out who it was. I took a creeper picture and sent it to a friend, who confirmed it was Chris Pratt. That's Andy from "Parks and Recreation," and now from a couple of other movies, as his career is blowing up.
I can't even begin to say how pleasant and friendly he was… and for that matter how borderline excited he seemed about flying American's (rather trashy) first class. The purser came around to take his meal order, to which he responded "hmmm, so I can order a few of these things?"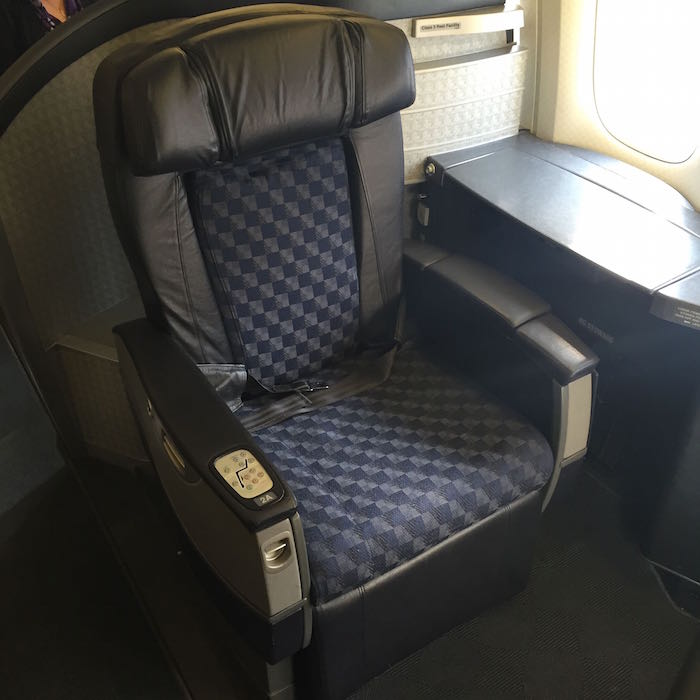 American first class
A lot of crew members came by wanting to talk to him, and he was always polite, smiled, and engaged them in conversation.
Then about 12 hours into the flight the purser came up to Chris and said some economy passengers wanted him to sign DVD copies of his movie, which he gladly did. I thought it was really tacky of the purser to facilitate it (especially since the passengers probably heard he was aboard from gossiping crew), but he did it without batting an eyelash.
When the crew wasn't harassing him he was busy solving a Rubik's Cube, which he was adorably bad at.
So he's one celebrity I'll remember, not just because I think he's hilarious, but because he was hands down the most pleasant celebrity I've flown with. And that makes me like his acting even more.
Have you flown with any interesting celebrities?