My Diamond status of course… because I'm a Diamond guest!
In all honesty, as much as I enjoy status with various airlines and hotel programs, there are three things that enhance my travel as much as any elite status level — TSA PreCheck, Global Entry, and an EU Passport.
TSA PreCheck
I actually experienced TSA PreCheck for the first time tonight, and I think my Tweet sums it up: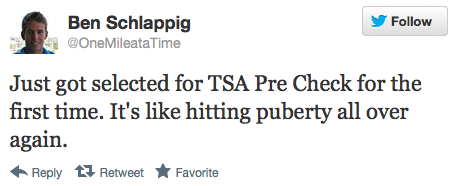 You see, I'm an idiot, because for months I had the wrong Trusted Traveler ID in my American AAdvantage profile, and as a result I was never chosen for Pre-Check. Tonight when I passed through security at JFK and heard the three beeps at the boarding pass scanner I nearly wet myself, I was so excited. It felt so good to just dump all my stuff on the x-ray, leave my liquids and laptop in my bag, and go through the metal detector with my shoes on. It took all of 30 seconds, and for the first time in my life I actually LOVED the TSA. What's kind of scary is that I completely forgot that it's how things used to be for everybody.
Global Entry
Global Entry is also life changing for anyone that travels internationally even semi-frequently. There are few things in life more frustrating than standing in line for an hour without being able to use your cell phone after landing from a 12 hour flight. With Global Entry I get a rush out of getting off a plane after an international flight. I'm so excited to go up to the machine, punch all the buttons, and have the piece of paper with my mugshot print out. Beyond the huge time savings it really changes my perception of international flights, and takes the stress out of it almost completely. And the fact that you don't have to fill out the immigration form and don't have to get a stamp at immigration (which leaves more space in my passport free) is awesome as well.
EU Passport
Since my parents are both from Germany and I was born in the US, I have dual citizenship, including both a US and German passport. I love this for several reasons:
It has saved me a ton of money. Many countries have instituted reciprocity fees for US passport holders based on what the US charges visitors from those countries. For example, I was just in Chile, and while Americans have to pay a $160 entrance fee, I didn't have to pay a dime with my German passport. I'm also planning a trip to Brazil soon, and while those on US passports need visas, those on German passports don't.
It makes entering the EU easy. Instead of standing in the (usually) long line for foreigners, the EU line is almost always shorter, and they just look at your passport — there are no stamps or anything.
It saves me stamps. Back when I first started traveling internationally I loved "collecting" immigration stamps from various countries. Then one day my passport was full and I had to go the US consulate in Hong Kong to get pages added. Ever since that day I've sworn to do everything I can to get as few stamps as possible in my passport. Not only do I have two passports to spread the stamps between, but I don't get stamps when I enter the US (thanks to Global Entry) or the EU (thanks to my German passport). That makes my life much easier.
Anyway, after my Pre-Check high today I figured I'd share…