One question I frequently receive is what the best etiquette is when it comes to taking pictures on airplanes. I wrote a post with some tips last March — how I take pictures at airports and on airplanes.
It's something I have a lot of experience with, having flown millions of miles and photographed every detail of hundreds of flights.
Back in the day I'd feel really self-conscious taking pictures in premium cabins. I was concerned what the crew and other passengers would think of me, as I think is natural, especially if you're on an award ticket and believe everyone else is on a full fare ticket (which is rarely the case, but that's neither here nor there).
In general my approach is simple – I do what I can to get some empty cabin pictures before the cabin fills up too much, so I try to be among the first aboard.
The second I board I let the flight attendants know that I'll be taking a few quick pictures, if that's okay. I find that's useful because in international first class they often try to start the service right away, and are happy to stay out of your way for a few minutes while taking pictures if they know that's what you're trying to do.
Then again, I think I'm pretty discreet about it – I just use a small point and shoot camera, don't use flash, and have gotten good at photographing every aspect of a cabin in less than a minute.
I've sometimes been asked whether taking pictures and seeming like a "newb" will lead to worse service. I think the opposite can actually be true — I think taking pictures on airplanes can lead to better service… or at least that's what I've ascertained after talking to a purser friend.
Amateur hobbyist or auditor?
I recently had a conversation that I thought was pretty funny, and might put some of you at ease that are nervous about taking pictures. I have a friend that's a Lufthansa purser, and recently he told me he had someone from Skytrax aboard "auditing" his flight. He said he was really nervous but made sure the crew took great care of him.
I couldn't help but ask what made him think the guy was from Skytrax. He explained that the passenger was taking pictures of everything. I followed up with "and anything else…?" "Well no, he was clearly trying to hide it and said he just liked to have pictures for his collection, but that was obviously just a cover-up."
I'd be willing to bet almost anything the guy wasn't from Skytrax, but it was quite interesting to hear that thought from a purser.
When you're happy the crew is happy
Admittedly this doesn't apply across the board — there are some flight attendants that are just unhappy people, as is the case in any career. But on the whole I think in almost any line of work, when a customer is genuinely excited about an experience, so are the people providing the service.
Once in a while a crew member asks me if it's my first time in business or first class. Sometimes I'll just smile and nod, which I find often translates into even better service. Keep in mind that they're interacting with disinterested business travelers most of the time, so when someone appreciates the small touches it makes them happy.
For example, on Cathay Pacific they'll often give you a small "welcome aboard" card with your meal which is signed by the crew, and I always make a point of thanking them for that and pointing out how sweet it is. They're almost always genuinely surprised I'd mention it, and say "thanks, no one else notices that."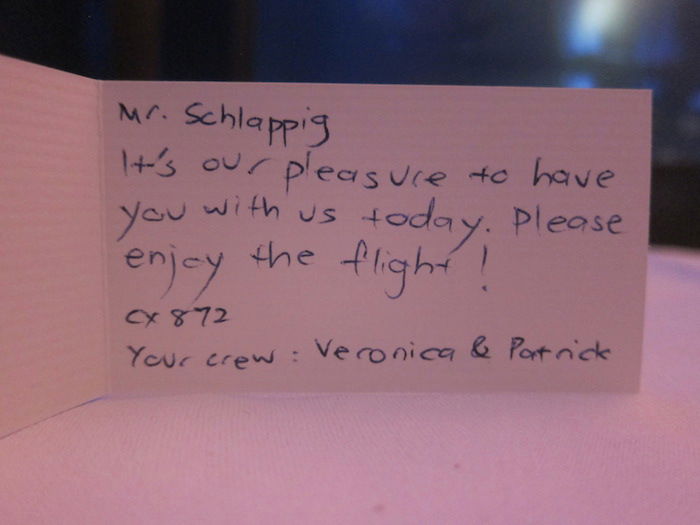 Bottom line
My point is simply that there's nothing to worry about if you're taking pictures in premium cabins. And it may actually lead to better service. The perspective from my purser friend was a new one for me.
Have you ever had a reaction from a crew when taking pictures on a plane?