A lot of people rag on Chinese tourists. In many ways they've replaced Americans as the "dreaded" tourists. I think it's largely a function of many Chinese tourists not being very experienced with visiting other countries, so they're not as aware of cultural norms. Foreign tourism is still something very new for many people from China, and that can't really be held against them.
We've seen all kinds of tourist hotspots respond to Chinese tourism by creating pamphlets about how to act, adding signs in Chinese, etc.
But here's a unique "solution" from Mount Rigi, an area in the Alps which is apparently being frequented by Chinese tourists. After tons of complaints from other tourists they have a "solution" — they're creating special trains exclusively for Chinese tourists.

Via BBC News:
A mountain resort in Switzerland is launching special train services for Chinese tourists to defuse tensions with other visitors, it is reported.

Noisy throngs of Chinese tourists disturb those who visit Mount Rigi in the Alps in search of peace and relaxation, reports the Swiss newspaper Blick.

They crowd the corridors while taking pictures from the train, there has been rudeness in packed carriages, and some even report seeing tourists spit on the floor, the paper says. Visitors from Asia have helped to bring the struggling local railway company back on track, but, according to its chief Peter Pfenniger, "their strong presence is a challenge".

Almost half of the foreign visitors to Mount Rigi come from China following an advertising campaign there, and the number is growing. "Rigi seems to be firmly in Chinese hands!" Blick exclaims.

To help avoid any possible bad feeling, special trains have been laid on for tourist groups from Asia. Toilets are now cleaned more often, and signs have been put up "showing how to use them correctly", the paper adds. In September, the number of train services for Chinese visitors is expected to rise to about 20 a week.
Not surprisingly this hasn't gone down well with Chinese tourists, who feel like Mount Rigi is sort of looking a gift horse in the mouth, by trying to segregate their most frequent foreign tourists.
But are the Chinese tourists angry for good reason? What makes the situation unique is that Chinese tourists can still take the "ordinary" trains, and these special new train services are just meant to give them more options.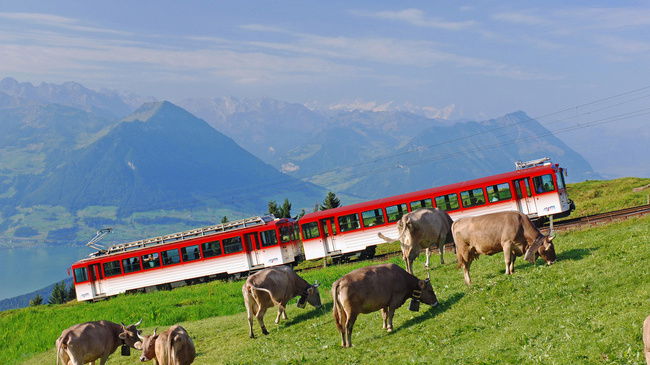 What say you — should Chinese tourists be offended that they're being called out, or happy that they're being catered to specifically?
On one hand this sure does feel sort of "separate but equal," but on the other hand there's nothing preventing them from taking the "regular" trains either.