Swiss is arguably Europe's most well regarded airline. No, they don't have the global reach of Air France, British Airways, or Lufthansa, but they are very well regarded for the niche they fill. They are, after all, known as the "premium" airline of the Lufthansa group. Personally I like Swiss but don't love them — I find service to be a bit hit or miss, and I don't think they have a great business class hard product.
Also keep in mind that Swiss is one of the most exclusive airlines when it comes to first class award tickets — Swiss restricts first class awards exclusively to Senator and HON Circle members of the Miles & More program.
That being said, Swiss is in the process of refreshing their longhaul fleet. Presently their longhaul fleet consists exclusively of Airbus A330s and A340s, though soon Swiss will be taking delivery of their first of nine Boeing 777-300ERs. This is one of the most efficient twin engine planes out there, and is really the backbone of many airlines' longhaul fleet.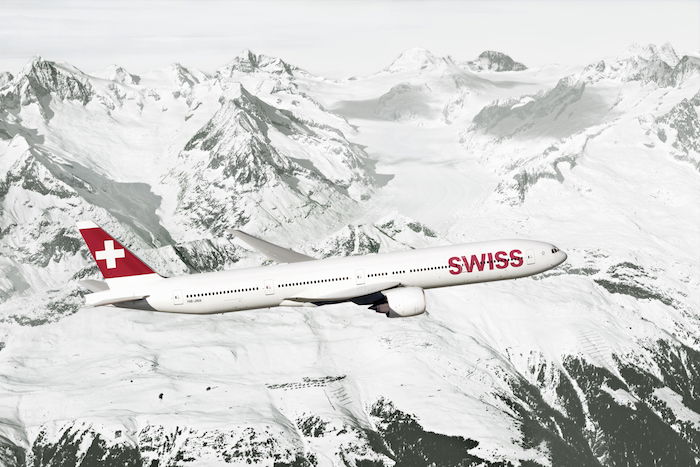 Now Swiss has finally unveiled the cabin interiors we can expect to see on their new 777-300ERs. The new Swiss 777-300ERs will feature a total of 340 seats, spread across three cabins as follows:
8 first class seats
62 business class seats
270 economy class seats
Here's a short YouTube video showing the three cabins of service on Swiss' new Boeing 777-300ER:
Across the board, the upgrades in all cabins seem to be "evolution" as opposed to "revolution." In other words, they're more or less keeping the "bones" of the old cabins, though are upgrading them slightly.
Swiss First Class Boeing 777-300ER
To start, here's what Swiss' first class looks like on the Airbus A330: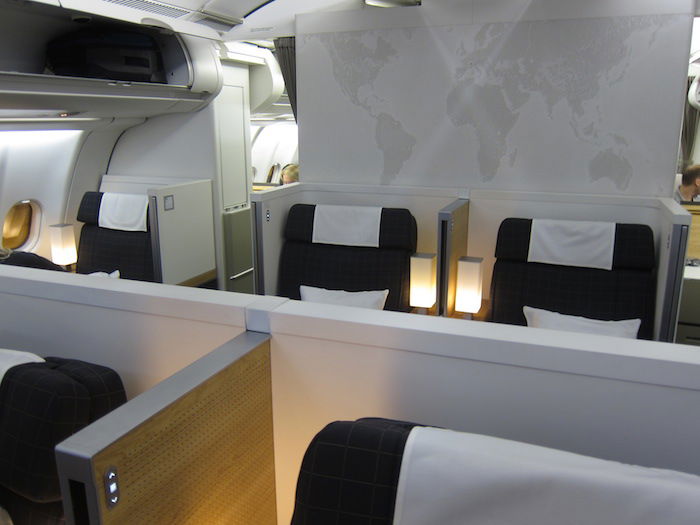 Meanwhile below are pictures of the new first class cabin. The cabin will continue to have just eight first class seats, spread across two rows in a 1-2-1 configuration.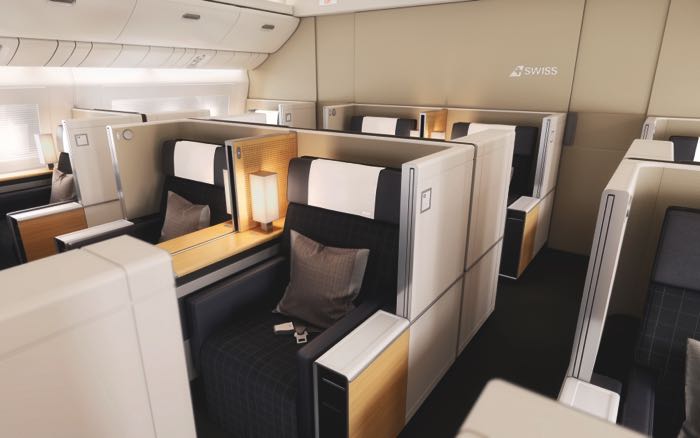 As you can see, though, they are doing quite a few updates to the seats. First of all, the 777 is considerably wider than the A330, so you can expect the cabin to feel much more spacious, given that you have the same number of seats distributed across a wider cabin.
What's also interesting to note is that Swiss will have electric blinds in first class, much like British Airways has. Furthermore, the new first class seats will be fully enclosed, with a door. Swiss' A330 first class just had a shield which extended, but didn't close fully.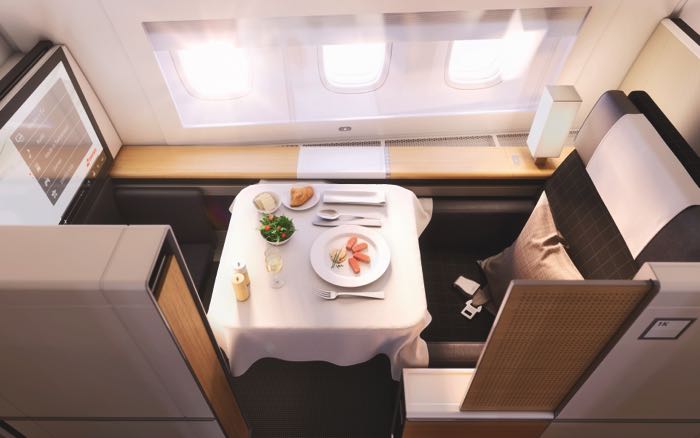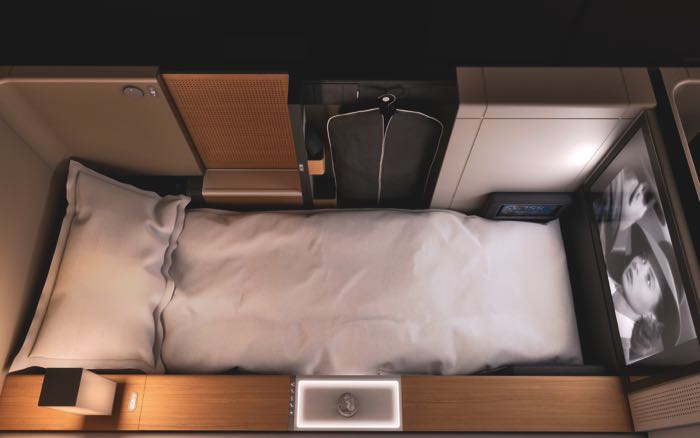 But possibly the coolest part of the new first class product has to be that there seems to be a door between first & business class. I thought Lufthansa's A380 first class "sliding" curtains were something, but this is just awesome.
Here's how Swiss describes the new first class product:
The SWISS First seat will be transformable into the occupant's own private suite that includes a 32-inch screen, the largest in the industry. SWISS First guests will also enjoy electrically-adjustable window blinds and their own personal wardrobe.
Swiss Business Class Boeing 777-300ER
Here's what Swiss' business class looks like on the A330: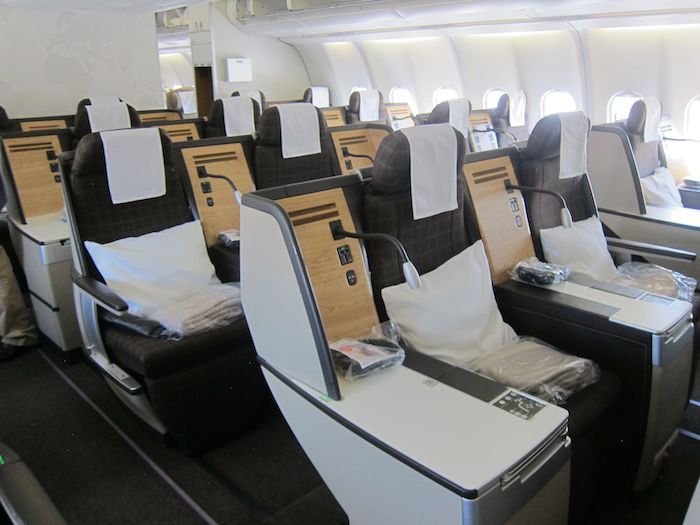 Swiss' new business class looks somewhat similar to the Vantage-style staggered seats they have on their Airbus fleet. However, it seems to be quite a bit more private and spacious. If you look at the area around the feet, it looks like there's not just a small cutout anymore, so you'll have lots more room when in the bed position. That's great news.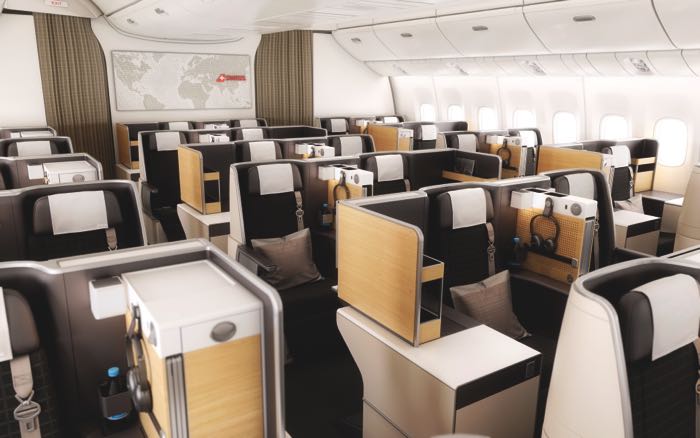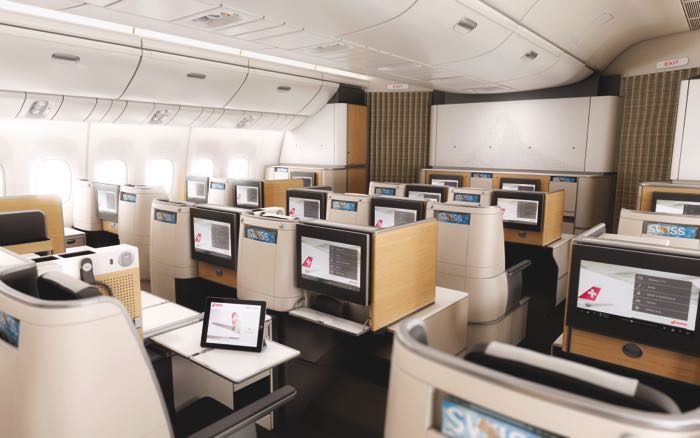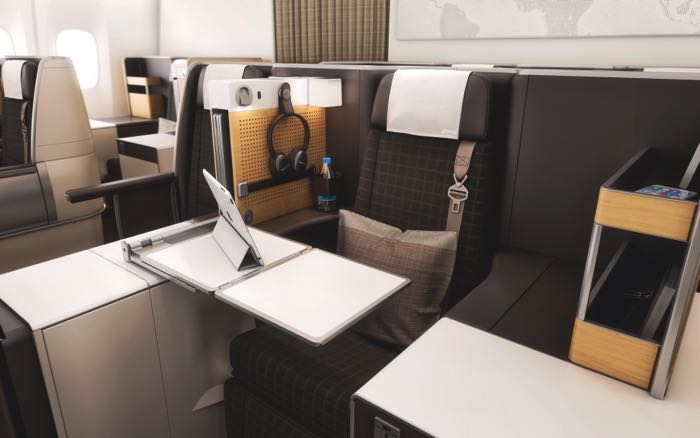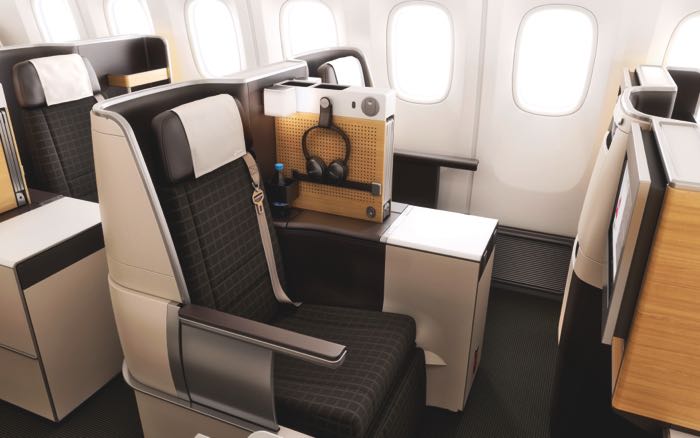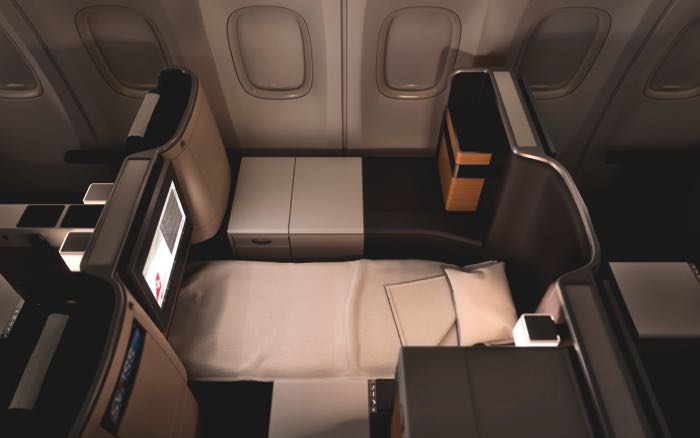 The entry area of the plane also looks really nice.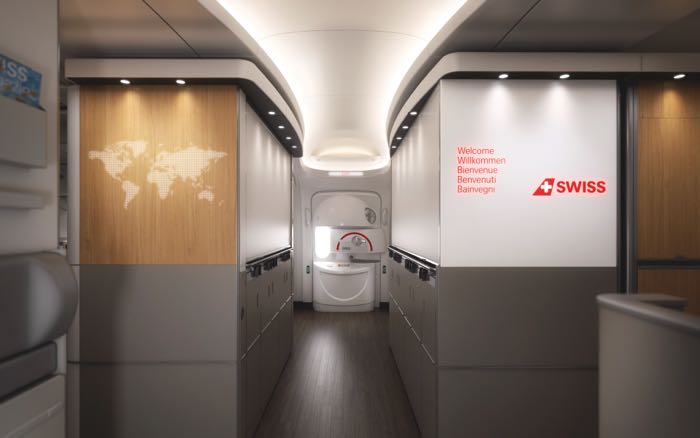 Here's how Swiss describes the new business class product:
SWISS Business travellers will enjoy an inflight product that has been further enhanced and refined on the basis of customer feedback. The seating arrangement offers optimum privacy and freedom of movement, while the seat cushion's firmness can be individually regulated. All the seats in the SWISS Business cabin can also be quickly and easily converted into a lie-flat bed that is over two metres long.
Swiss Economy Class Boeing 777-300ER
Economy on the Swiss 777 is what you'd expect. There are 10 seats per row, which is regrettably becoming the norm, but that's hardly surprising. That being said, the cabin has a nice color scheme, and the monitors appear to be quite large.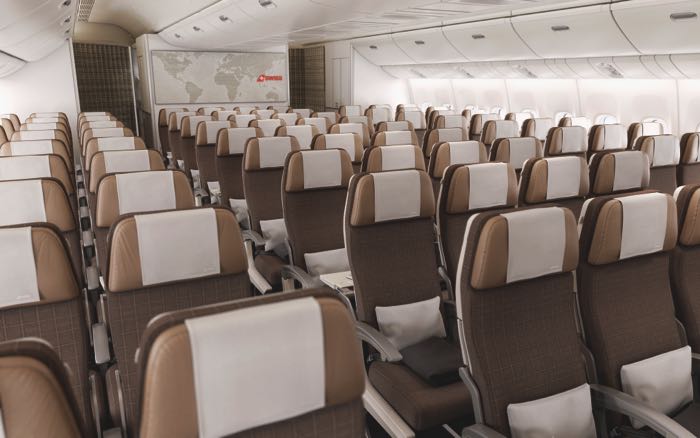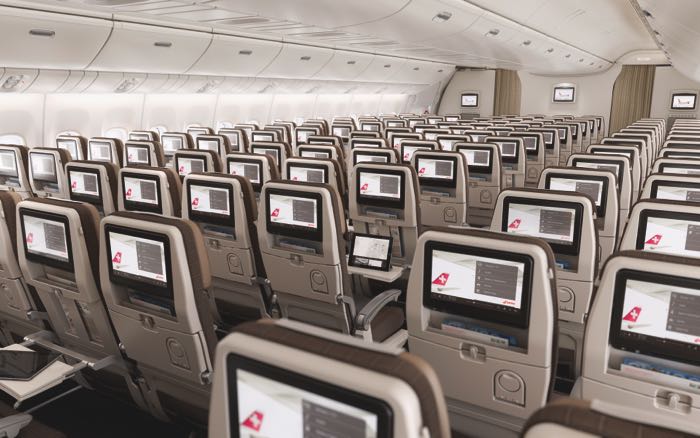 It looks like they might also have a self service bar setup for economy passengers in the back of the cabin.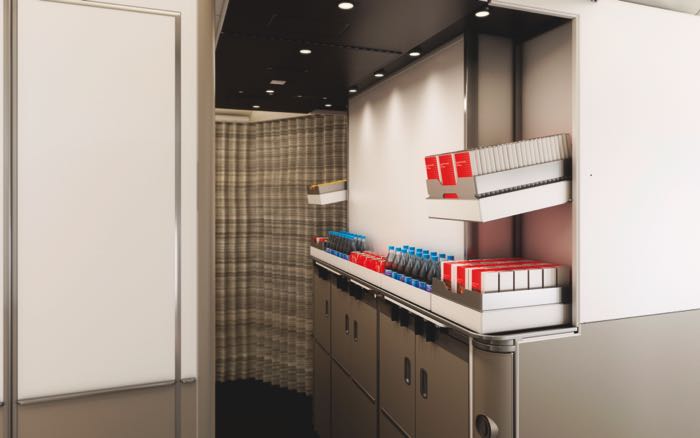 Here's how Swiss describes the new economy class product:
With new seat-cushion technology and further innovations that include a large personal touchscreen, SWISS Economy customers can also look forward to a new air travel experience. Outside the regular cabin service, all SWISS Economy guests will be able to make use of a self-service kiosk offering a wide range of drinks and snacks. All nine Boeing 777-300ERs will also feature wireless internet via a broadband connection, enabling passengers to surf or send emails on their laptop, tablet or smartphone device. "With our new Boeing 777-300ERs we will be setting new benchmarks in terms of our guests' overall comfort and travel experience," says SWISS CEO Harry Hohmeister.
Swiss 777-300ER routes
On which routes should we expect to see the Swiss 777-300ER?
The Boeing 777-300ER offers the ideal range to serve SWISS's farthest destinations non-stop from Switzerland. From the 2016 summer schedules onwards, the new aircraft will be deployed primarily on services to Hong Kong, Bangkok and Los Angeles. And San Francisco, São Paulo and Tel Aviv will also receive Boeing 777 service several times a week.
So starting in summer 2016, Swiss will primarily be deploying the 777-300ERs to Hong Kong, Bangkok, and Los Angeles, and then will also be rotating them in on frequencies to San Francisco, Sao Paulo, and Tel Aviv. None of those choices are surprising, really.
The above is the permanent route plane. However, it looks like Swiss will be deploying the 777-300ER on shorter routes prior to next summer. Per airlineroute.net, the 777-300ER is scheduled for the following flights:
Zurich to New York February 21 through March 25, 2016
Zurich to Montreal starting March 27, 2016
Zurich to Hong Kong 3x weekly starting April 10, 2016
Zurich to Los Angeles starting June 9, 2016
The logic of flying it to New York and Montreal first is probably that it can do more rotations that way. It's possible to do a daily roundtrip between Zurich and Montreal/New York with a single aircraft, though that's not possible if flying to the west coast.
Bottom line
Kudos to Swiss on their new Boeing 777-300ERs. Ultimately there's nothing they're doing with the plane that's revolutionary. That being said, the 777-300ER is a plane which more or less sells itself, given how fuel efficient it is, and how comfortable of a ride it provides. And that's especially true in comparison to the A340-300 (which Swiss is using the 777 to replace), which is a gas guzzler.
Too bad most of us won't easily see the first class cabin of the Swiss 777 due to the restrictions on redeeming miles for it.
What do you make of Swiss' new 777-300ER?