In the past, Sun Country was known as a full service airline with a loyal following in Minneapolis. While they were an airline that many people loved, the problem is that they couldn't really get much of a revenue premium for their service. As even full service airlines have moved towards an ultra low cost carrier model by introducing basic economy, Sun Country was left in a tough position.
The airline was recently sold, and as part of that, the airline announced that they'd transform into an ultra low cost carrier, largely eliminating the things that they were loved for. Obviously they're getting bad press for these changes, though that's not the only way in which they're getting bad press at the moment.
Sun Country played really dirty with flight cancellations in Mexico this past weekend, which stranded hundreds of people. Technically they didn't violate any laws with what they did, though to me this highlights why we need more government imposed rules when it comes to how airlines have to take care of passengers when things go wrong, as they have in Europe.
On Saturday, Sun Country canceled their flights from both Los Cabos and Mazatlan to Minneapolis. The cancelations as such were fair enough, since they was due to snow in Minneapolis, which caused the outbound flights to be canceled.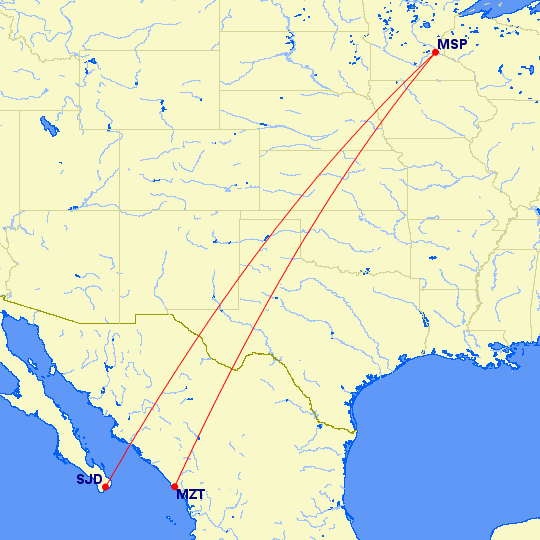 In this case there was another issue, though — these are both seasonal routes, and yesterday was the last day that either of these flights were supposed to operate.
It's not Sun Country's fault that the weather was bad, though it's how they responded that's unacceptable. The airline is saying they do not have another flight to reaccommodate passengers on, and that flights will need to be purchased on another carrier, and that they apologize for any inconvenience this may cause.
The Star Tribune quotes Sun Country's VP of Marketing, saying that the airline couldn't send another plane to pick up stranded passengers, and acknowleding that customers can't even get through to the airline on the phone:
"As disruptive as the current situation is for the affected passengers, the alternative — canceling other flights to other destinations — would have been more disruptive to even more passengers," she said in an e-mail.

Sun Country's telephone reservations line disconnected callers or said lines were jammed and directed them to "please call back later." No one was staffing Sun Country's airport counters, passengers reported from Los Cabos, Phoenix, Tampa and other locations.

Dodson-Smith acknowledged that Sun Country's call center is "still struggling to keep up with the call volume so it can be hard to get through."
The airline is offering to refund only the return portion of the fare, and says that they hope that the fare refund "will more than compensate for the cost of making alternative arrangements home."
Really? They think that a one-way refund for a ticket purchased on Sun Country in advance will be more than the cost of purchasing a one-way last minute ticket out of Mexico? Are they crazy? From doing a quick search, it appears as if the cheapest one-way ticket today from Los Cabos to Minneapolis is ~$550.
Again, I can appreciate Sun Country's struggle here. They have a small fleet and they were impacted by weather. However, this highlights a couple of important points:
This is one of the risks of booking a smaller carrier, and especially an ultra low cost carrier; Sun Country doesn't have any useful interline agreements, so in other situations the airline would rebook you on another airline, while Sun Country is telling customers to pound sand, and doesn't have any room in its fleet to operate an extra flight
This also highlights how the government really needs stricter laws when it comes to consumer rights in the airline industry; if I need to cancel a ticket 25 hours after I book, I'm potentially hit with a change fee of hundreds of dollars, while if the airline cancels a flight hours before we're supposed to fly, they can just refund us and call it a day, without offering any compensation
The right thing for Sun Country to do here would have been either to charter a plane to get passengers home, or to offer to refund people the fare they pay on the airline they book. But unfortunately with their new ultra low cost carrier business model, I suspect customer service is taking a hit as well.
While Sun Country isn't doing anything illegal here, they're taking the very low road for customer service, and deserve the bad press they're getting.
(Tip of the hat to Jon, featured image courtesy of Cory W. Watts)