For the most part the major hotel chains don't actually own the individual hotels, but rather just have management contracts to operate them. They get a percentage of the hotel's revenue, and in exchange for that they market and operate the property.
The major hotel chains are going for an even more asset-light strategy than before, given that several of the hotels actually owned by the major hotel chains (which represent a small percentage of their overall portfolio) have been sold over the past few years.
The fact that the hotel chains don't own individual hotels is another reason they're coming up with so many new brands. When Marriott's takeover of Starwood is complete, the chain will have 30 hotel brands, which is sort of insane. [Update: you can read all the details of the new Starwood/Marriott program here.]
In reality all these new brands aren't designed to sell directly to consumers, but rather are designed to sell to investors. There are only so many Westins you can put in a city, but if you create unique brands with different value propositions, like Aloft, St. Regis, Tribute Collection, etc., it's easier to justify more properties while keeping existing owners happy.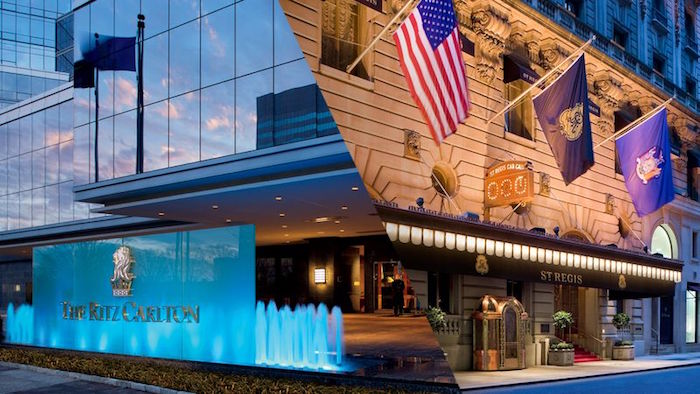 Throughout the merger process I've been surprised by the lack of protesting from individual hotel owners (at least publicly)
To give an example, I'm in Madrid at the moment, and there's one Starwood property (the Westin Palace Madrid), and one Design Hotels property. Marriott, on the other hand, has 10 properties. Surely the Westin isn't happy about the fact that they don't have the advantage of near exclusive access to a loyal member base anymore?

Westin Palace Madrid Hotel
Well, it looks like we're now finally seeing a lawsuit from an individual hotel against Starwood relating to the Marriott takeover. Per Bloomberg:
Cityfront Hotel Associates Limited Partners, the owner of the Sheraton Grand Chicago, and Dream Team Hotel Associates LLC, which owns the Westin Times Square in New York, sued Marriott and Starwood in New York state court Tuesday, arguing the merger would unfairly eat into their business. Sheraton and Westin are units of Starwood. The lawsuit seeks to block Marriott and Starwood from taking steps to finalize the purchase.

The plaintiffs say the deal would violate contract clauses that prohibit Starwood from owning, franchising, operating or managing other hotels within a specific geographical area around the two hotels.
This has the potential to set an interesting precedent. If the hotel does in fact have a clause preventing Starwood from operating another hotel within a certain geographical area, is Starwood counting on being able to get away on a technicality, since Starwood as such will cease to exist when the takeover is complete? I have to assume Marriott and Starwood considered this when they entered into an agreement.
I'm curious to see what happens in this case. I doubt Starwood will settle, given that they'd be opening themselves up to similar claims from many other individual hotels. I wonder whether Starwood will be able to get away with this on a technicality, or if this is the start of something big.
Regardless, I certainly do feel bad for the individual hotels. The Westin Times Square will soon be competing with the Marriott Marquis even among their own loyal member base, which is two blocks away and the second biggest hotel in the city.

Westin Times Square New York
What do you make of this lawsuit against Starwood?