Full disclosure: This stay was in conjunction with a trip to the US Open (which I'll cover in my next post) courtesy of the Starwood American Express. They covered the cost of my flights to New York, my two night stay at the Westin Times Square, and tickets to the US Open. That being said, all opinions expressed are my own.
While this hotel is called the Westin Times Square, fortunately it's located a couple of blocks from the "heart" of Times Square, which is a good thing if you ask me (it means I have to look at fewer naked cowboys, grown men dressed in Elmo suits, etc.).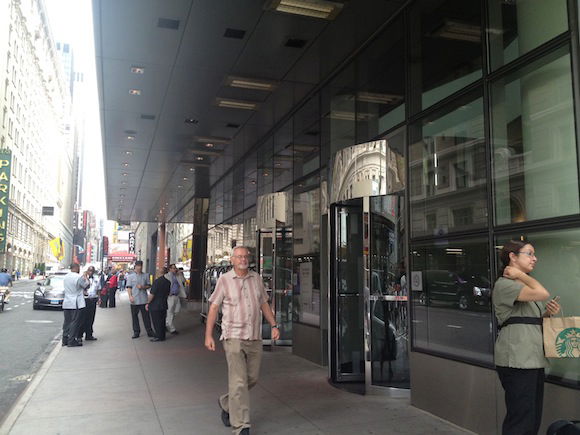 Hotel entrance
The ground floor actually had a US Open theme with a "fake" tennis court.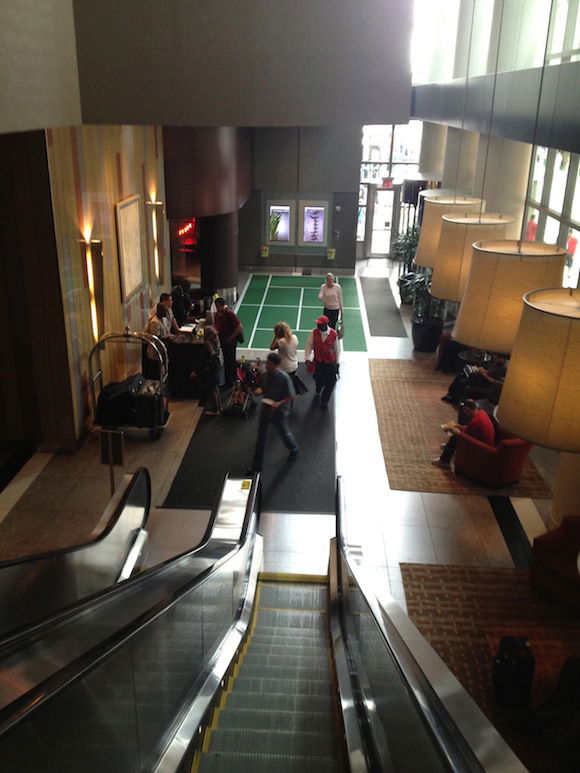 Ground floor
The lobby is located up the escalators and is spacious and quiet.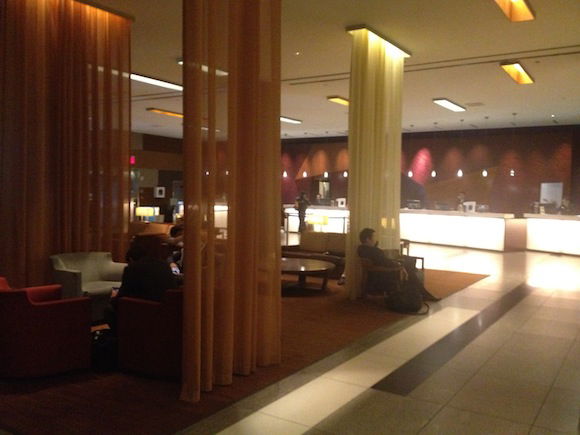 Lobby
There was no queue at check-in, and the agent helping us was friendly. We were booked in a premium deluxe two double bed room, and I asked about the chance of an upgrade, though the agent said they were sold out that night and had nothing available. The website showed no suites available, so that's exactly what I expected.
Our room was a decent size and located on a high floor. It featured double Westin Heavenly Beds, a desk with chair, flat screen TV, and a chair by the window.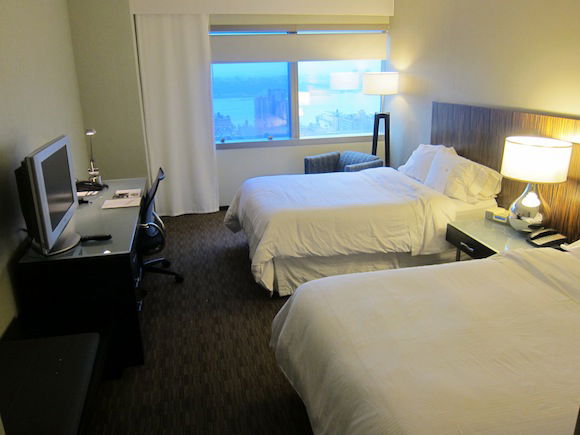 Room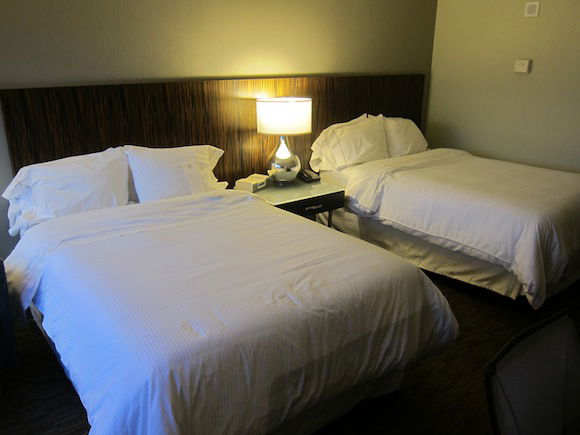 Beds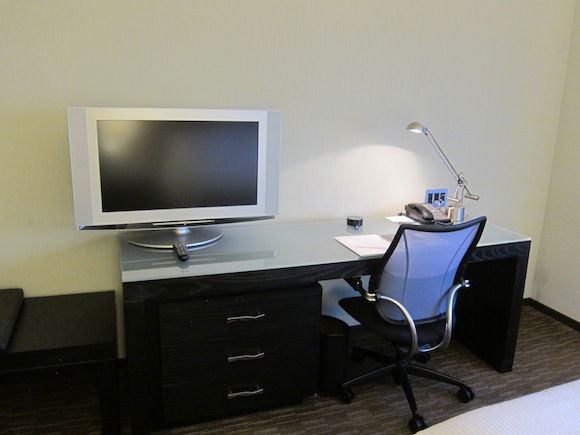 Desk
The room also had a nice view of the city and Hudson River in the background.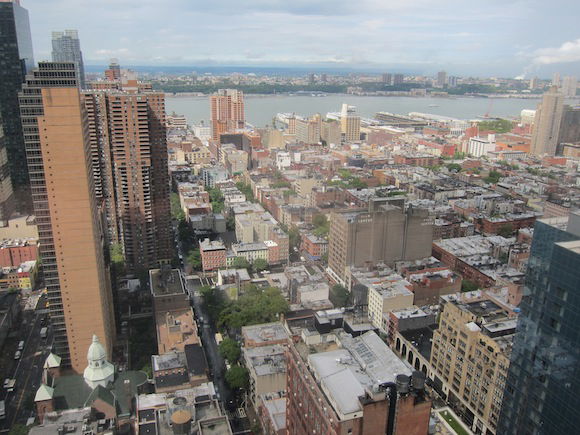 Nice view of the Hudson River
The bathroom was small but functional, with Westin branded amenities.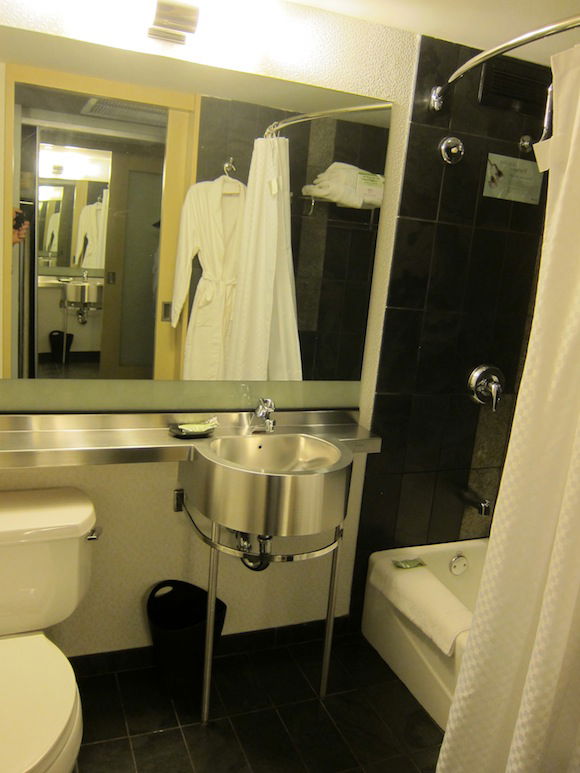 Bathroom
The shower had great water pressure, temperature control, and was easy to use. Sadly enough this was my first hotel stay in weeks where that was the case.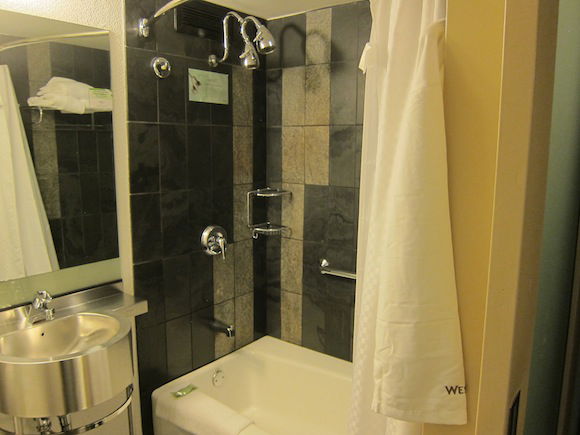 Shower
I used the gym twice during my stay, and it was really nice. The equipment was modern, but more than anything else I loved the views of the city. New York has an amazing skyline, so a gym with a view is always a plus.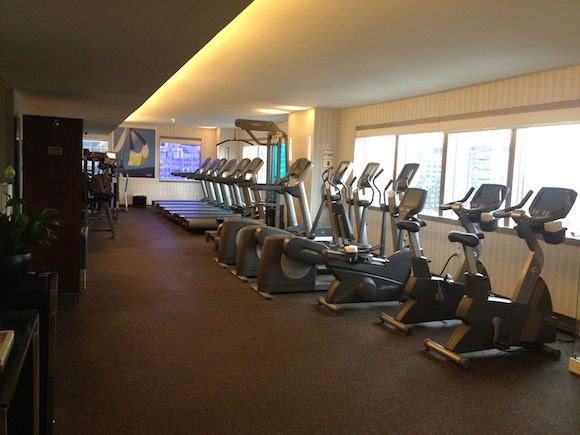 Gym
I had selected breakfast as the Platinum amenity, which could be had at Bar 10. They have a selection of juices, coffee, croissants, muffins, yogurt, fruit, etc. While it's not a restaurant breakfast, it was nice to be able to choose something as opposed to being told what to have. It's worth noting that this hotel used to have a club lounge, but it closed earlier in the year.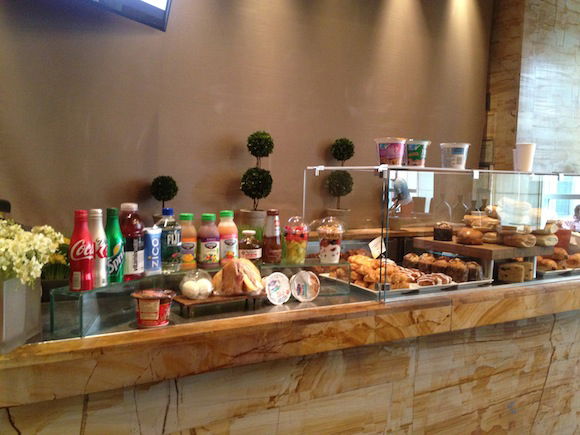 Bar 10 spread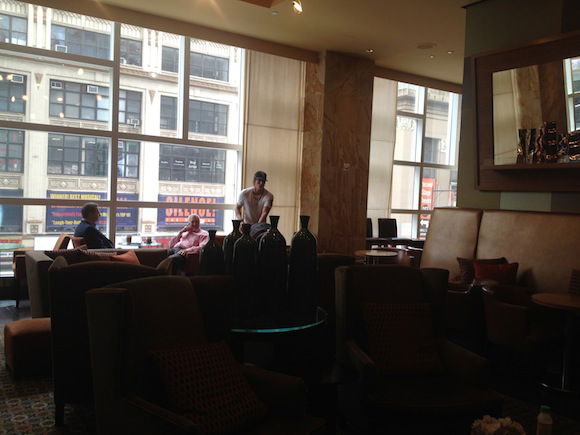 Bar 10
While this obviously doesn't compare to the St. Regis, it offers everything you'd expect from a Westin in the city — comfortable rooms with great beds, good service, and a simple design (I mean that in a good way, as you guys know). The rates at this hotel are often quite reasonable, sometimes even in the ~$200 range, in which case this hotel is a bargain. I'm not a fan of the location near Times Square, though if the price is right it's a hotel I'd consider in the future.