Every year Starwood publishes some fascinating member statistics (here's their 2013 year in review and 2014 year in review). Anyone who is passionate about loyalty programs probably wishes all programs published similar recaps every year. Some statistics are really surprising, others are what you'd expect, and some are even less than you'd expect.
Starwood has just published their 2015 year in review, which has statistics accurate as of December 11, 2015.
While I'll post the infographic below, first I'll share what I consider to be some of the most interesting statistics about 2015 activity:
One SPG member earned 30,328,030 Starpoints — wow, I guess someone is a really big credit card spender!
The Westin Maui Resort is the property at which most SPG members redeemed points — no surprise there!
The most Starwood properties visited by a single member is 73 — that's a high number of unique properties, though I guess isn't that surprising
The most countries visited by a single SPG member is 24 — of course these are presumably just countries where they stayed at Starwood properties, so the actual number of countries visited could have been much higher
As part of the partnership between Starwood and Uber, one member took 1,127 Uber rides in 2015 — that's a bit over three rides per day, which isn't actually that much [Update: the partnership between SPG and Uber ended in December of 2017)
One SPG member earned 247,560 Starpoints through Crossover Rewards with Delta — since you earn one Starpoint per dollar spent on Delta, that means they spent nearly $250,000 on Delta [Update: the partnership between SPG and Delta ended in July of 2018]
Here's the full infographic, with lots of other fun statistics: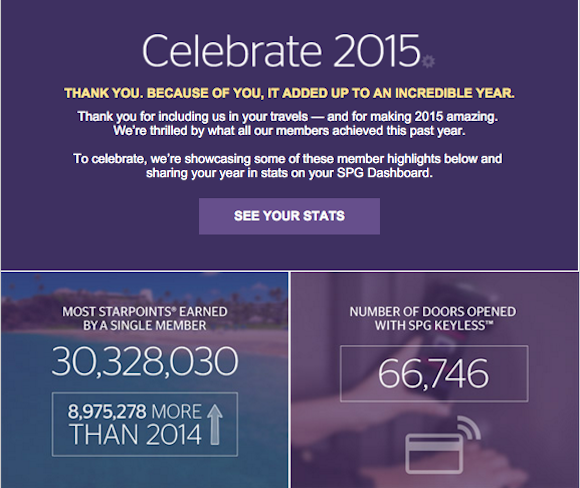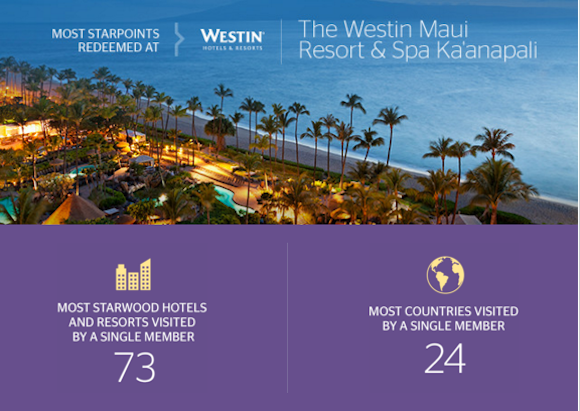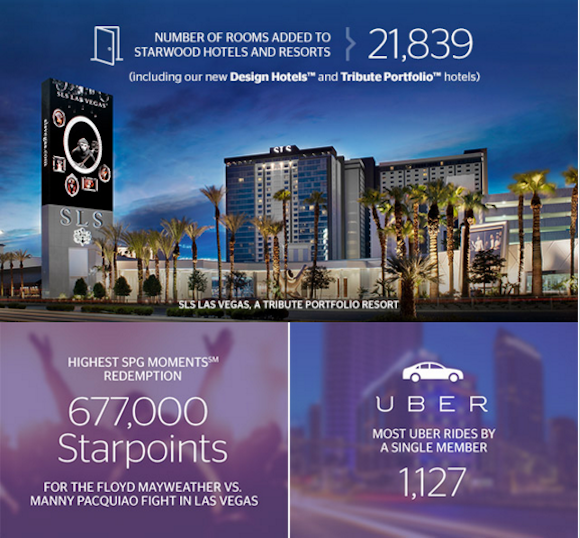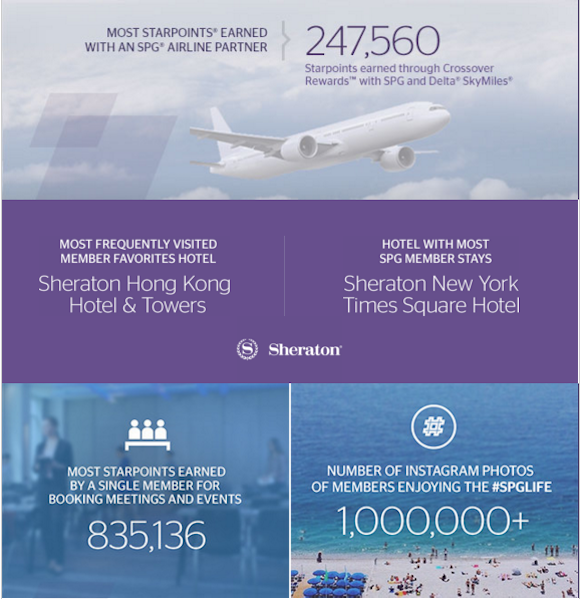 Bottom line
While all kinds of airlines and hotels publish customer infographics, I find Starwood does among the best jobs. The above statistics are ones which I actually find interesting. The ones I find most interesting are that someone likely spent ~$30 million on their Starwood American Express and someone spent ~$250,000 with Delta. Yow!
I wonder how the person who earned 30+ million Starpoints is feeling about the merger. Or perhaps if they're spending that amount on credit cards they don't actually care that much.
Which SPG member statistics do you find most interesting?
(Tip of the hat to Mike)