Starwood has a "year in review" website set up, whereby you enter your Starwood number and it reviews your 2013 Starwood year, and makes "personalized 2014 picks just for you."
So I entered my Starwood number and was presented with a pie chart.
What's the most interesting thing I learned about myself?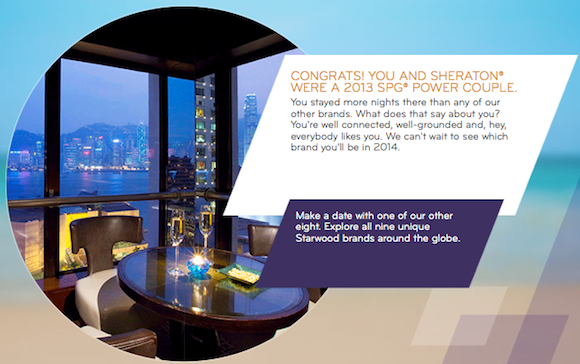 Apparently Sheraton and I make a great power couple:
You stayed more nights there than any of our other brands. What does that say about you? You're well connected, well-grounded and, hey, everybody likes you. We can't wait to see which brand you'll be in 2014.
Hmmm, I guess next year aside from trying to requalify for Platinum with Starwood, my goal should be to be a power couple with St. Regis. After all, whatever that description is seems like great stuff to put in an OKCupid profile under the "things people would say about me" section (or whatever it is).
I feel like if they're going to offer "personalized picks just for me" they should do better than telling me to stay at the Sheraton Times Square just because, or reminding me that if I redeem points at the St. Regis Deer Valley I get the fifth night free, or reminding me of the (now-defunct) Crossover Rewards program. Though at least there are a couple of interesting statistics:
Sky's the limit: The highest total Starpoints earned for Delta® flights by an SPG member in 2013 was 200,566. Can you top that?

Find your favorite: The Westin Maui Resort & Spa, Ka'anapali, was one of the most popular destinations for Fifth Night Free redemptions in 2013.
So someone spent $200,000+ on Delta and was enrolled in Crossover Rewards. Yowzers! The Westin Maui statistic isn't surprising at all, though.
Which hotel chain are you a "power couple" with, and what does Starwood say that says about you?