Yesterday I wrote about how Chase and Starbucks are going to be introducing a co-branded credit card in February. While I prefer travel rewards cards for my spend, I'm equally curious to see what non-travel cards are like, especially for a company like Starbucks, which has a robust rewards program and loyal following.
This week we learned for the first time that the card would be launching in February, though no further details were revealed. We now have some more info, as a video has been uploaded to Vimeo of two Chase executives talking about the new card. Here's the video:
As you can see based on the video, the card will be called The Starbucks Rewards Visa Card.
One thing I've been curious about is if the card would offer cash back as a reward, or whether the card would offer rewards in the form of Starbucks Stars, which is Starbucks' loyalty currency. Now we know.
The Starbucks Rewards Visa Card will offer Starbucks Stars as rewards. Specifically, you'll earn:
1 Star for every $4 you spend outside of Starbucks stores
Up to 3 Stars for every $1 you spend in Starbucks stores
On top of that the card will offer Starbucks Gold status, and will also offer "8 barista picks curated just for cardmembers throughout the year," which they describe as a barista "cultivating a special drink just for you."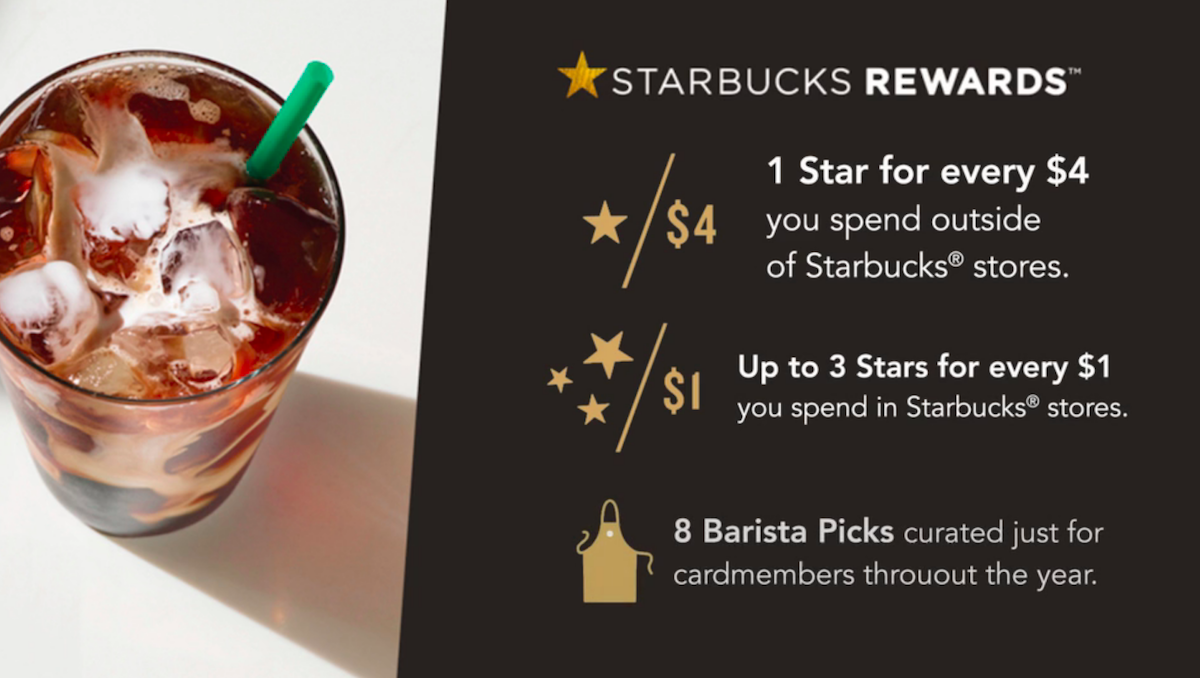 Let's take a look at that rewards structure. With Starbucks' current rewards system you earn a free beverage or food item after earning 125 Stars, and you receive two Stars per dollar spent at Starbucks.
In other words, for non-Starbucks purchases you'd have to spend $500 in order to earn 125 Stars, which is enough for a food or drink item. While you could redeem for a more expensive item, let's assume that most people redeem for an item that's around $5. That means you're only earning the equivalent of about a 1% reward, which isn't compelling.
We'll have to wait and see what's meant by earning "up to 3 Stars for ever dollar spent at Starbucks." Does the card offer an incremental three Stars per dollar spent on top of the two Stars you usually earn through Starbucks' reward program, or do you earn one additional Star per dollar spent with the card, in addition to the two Stars you usually earn, for a total of three Stars? We'll have to wait and see.
We'll also have to see what they mean by the eight barista picks per year. Does this just mean they're going to have certain drinks that are just open to cardmembers, or do you get eight of these special drinks free every year?
Bottom line
Now we know that the Starbucks Credit Card will offer Starbucks Stars as rewards. That makes sense, though I didn't assume that was a sure thing, since the Uber Barclaycard Card that was recently introduced just offers straight cash back.
Based on what we know about the Starbucks Card as of now:
This card won't make sense for everyday spend, as you'll have to spend $500 on the card to earn a free drink or food item at Starbucks
This card could make sense for Starbucks purchases, depending on whether the "up to" three Stars per dollar includes the two Stars you usually earn, or not
This card could be worth having just for the Gold status and the eight "barista picks" per year, though we'll have to wait and see what that entails, and if the card has an annual fee
What do you make of what we know about the Starbucks Credit Card so far?
(Tip of the hat to Doctor Of Credit)