I'm happy to announce that I've now officially seen it all.
The Caribbean is a region with a lot of potential when it comes to new airlines. For example, Richard Branson wants to invest in LIAT, and rebrand it using the typical "Virgin" name.
There's another Caribbean startup, based in St. Vincent. Some investors have gotten together and have acquired one plane in order to launch one route. Fair enough.
When I first saw that I assumed that maybe they acquired an ATR 72 to fly to Barbados. Nope, guess again.
Investors in St. Vincent have acquired a 747-400, and plan to use it to launch nonstop flights between St. Vincent and Dubai. I'm not kidding (though maybe they are?).
St. Vincent's News784 reports:
"St Vincent and the Grenadines would have its own 747 indigenous based airlines in the not too distant future, a group of Vincentian pilots and business people want to start a small locally base 747 service, it would link St Vincent from different airports, to which my government is going to give full support."
Then the story goes on to talk about how the plane will operate flights to & from Dubai. Nothing quite says "small locally based" airline like a 747 flying to Dubai!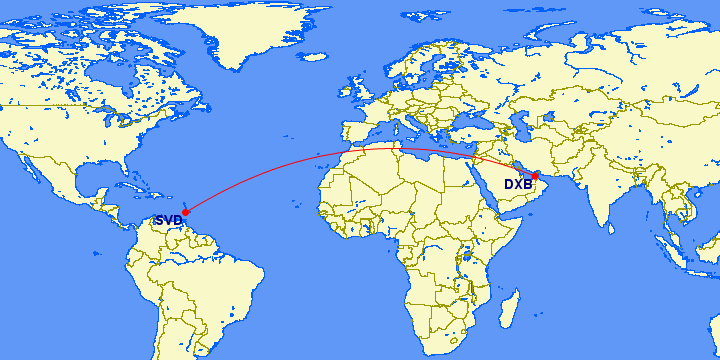 Just in case you assume this whole thing is made up, here's a video of the plane landing at Argyle International Airport several days ago:
For anyone wondering, the 747-400 in question has the registration code N508BB. It's a 21 year old 747 that flew for China Airlines until October 2017, when it was stored. On May 23 the plane was flown from Victorville to Phoenix, and then on May 24 it was flown from Phoenix to St. Vincent.
The plane hasn't flown since then, but apparently the airport has given space for a hangar to be built for the plane.
This might just be the strangest airline startup since Baltia. In the highly unlikely event this happens, you can bet I'll be on the inaugural flight.
Bottom line
Even if some details in this St. Vincent news story aren't accurate, the fact remains that a 747-400 has been acquired, and it does seem like they're going to base it in St. Vincent. I question if the information about Dubai is accurate.
While I bet they got the plane for next to nothing, I have no clue what on earth they're hoping to do with a 747-400. While Dubai seems crazy, so does basically any other destination with this type of plane.
I'll be tracking this one closely.
Can anyone make sense of what's going on here?