When it comes to hotel cancelation policies, this is one of the most outrageous things I've ever seen.
First let me share the less outrageous of the two things.
The St. Regis Aspen's cancelation policy
I recently made a booking at the St. Regis Aspen for this coming winter. Ford likes to ski, so I locked in a five night points booking before Marriott's recent award category changes.
When I booked, I noted the hotel's 60 day cancelation policy. The policy that I agreed to said "you may cancel your reservation for no charge" until 60 days before arrival.

When you click on the "Rate Details," here's what it says: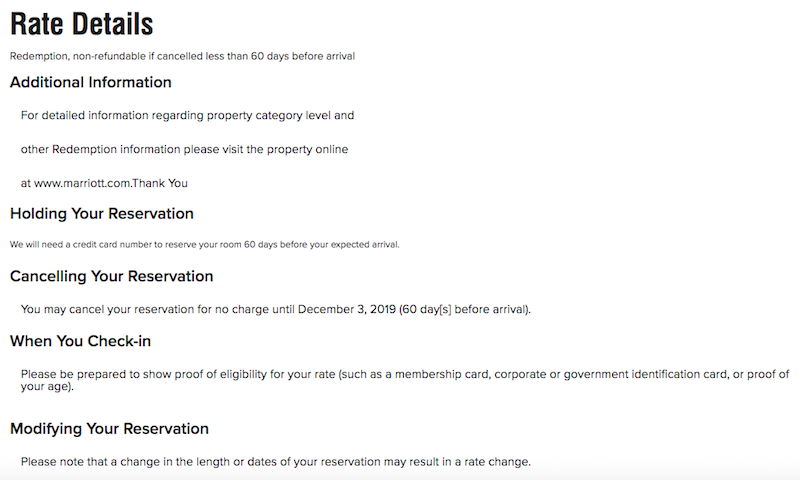 Logically you'd assume that this would mean that in the event that you need to cancel within 60 days, you forfeit all your points, right? That of course sucks, but I understand the policy.
Nope, it's actually much more ridiculous than that. After booking I got an email offering to customize my stay, etc., and hidden at the very bottom was this:
We would also like to bring to your attention that a 60-day cancellation policy is in effect for the dates of your reservation. If changes are required within 60 days of your arrival date, cancellation penalties and additional fees may apply. Due to our remote resort destination we strongly recommend you purchase travel insurance. Please note that a monetary fee will be assessed in the event of a cancelation within 60 days prior to arrival in the amount of $5,000.
So if you need to cancel your points booking you'll be charged $5,000 ($1,000 per night), and they'll refund you the points. That. Is. Outrageous.
And I'm sorry, "due to our remote location" is a complete BS excuse. This isn't St. Helena. Aspen has flights from most major US hubs, and lots of people plan ski trips only a couple of weeks out, so they could probably even sell a room again if it was canceled within a month or so.
But that's not the point.
You might think "oh, but I'm sure they'd never enforce that." Nope, it gets much worse than that. Much, much worse than that.
The St. Regis Aspen's cancelation policy in practice
As many people probably know, Aspen Airport can be a real pain to fly into & out of. In the event of snow it's common for flights to divert. Ford was in Aspen a couple of months ago, and let me tell you about the eight hours I spent trying to get him out of there (it ended up involving a car to Denver and a ticket on Spirit Airlines).
Weather cancelations are just part of the game in Aspen.
Well, a FlyerTalk member reports that this past week he had two rooms booked at the St. Regis Aspen (using points) for five nights each. His flight to Aspen was canceled, so they had to spend the night in Dallas, then had to fly the next day to Grand Junction, and drive to Aspen.
He called the hotel and let them know, and they said they'd "guarantee the room." It's not like this person was asking for a refund.
So what did the hotel do? When he checked out, he saw a charge of $1,000 per room on his folio. Why? Because he no showed for his first night.
Note that this wasn't mentioned when he called the hotel. He brought this up with the manager, and was told that's their policy.
The hotel did refund him the points cost for the first night.
What makes this even more outrageous is that he checked in the next day at 12:30PM, before the hotel's check-in time. You can always book a hotel the night before if you want to make sure you can have a room when you arrive. So while that was never the intention, arriving before the check-in time so you can use the room should even further support not being charged any no-show fees.
Worst of all, this isn't the only example of this hotel's egregious behavior. Here's another similar story from around the same time.
Bottom line
The St. Regis Aspen isn't the only hotel in the world to charge cash in the event that you no-show for your points stay. However, their execution of this is one of the worst I've seen from any hotel:
When you book, the terms don't actually state that you'll be charged cash in the event that you no-show; rather this is hidden at the bottom of a personalized follow-up email you get from the hotel
To charge that even when someone has the intention to come but has their flight cancel, resulting in them arriving a night late, is beyond outrageous
I have no skin in the game here, but I can't help but encourage bombarding this hotel on Twitter and Facebook to let them know how you feel about their policy. At a minimum this guy deserves a refund, and with enough coverage I think we can get this hotel to change their outrageous policy, at least for people who show up late due to problems outside their control.
Flight cancelations suck, and most people are bummed enough when they end up having to forfeit a night and stay at an airport, not being able to enjoy the hotel they booked. But to be charged $1,000 per night on top of that?!
(Tip of the hat to Dennis)