I've written in the past about SPG Moments, which allows you to redeem Starpoints for tickets to sold out events, including concerts, sporting events, cultural activities, etc.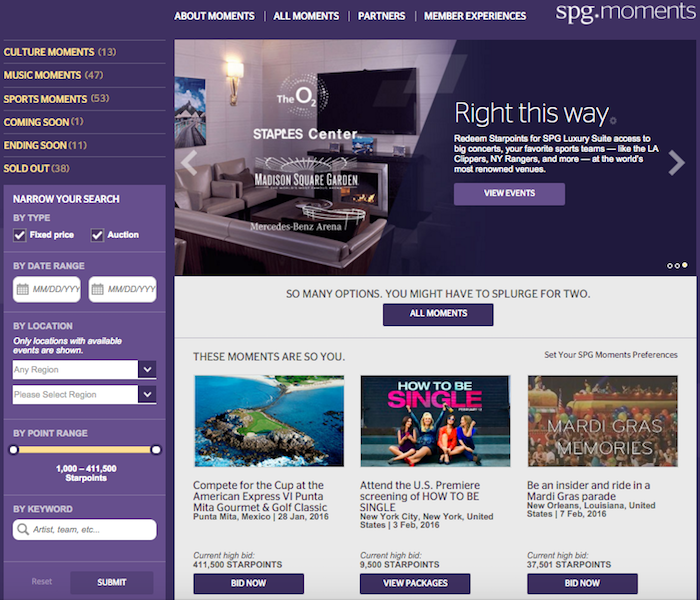 This really isn't a gimmick. SPG Moments not only represents a great value in many cases compared to what you'd pay for a similar experience in cash, but can also get you VIP access to otherwise sold out events. This is because SPG sponsors many events, and also has "suites" at some arenas/stadiums. I've experienced a few SPG Moments, including the SPG Suite at the US Open and the SPG Suite at a One Direction concert, and enjoyed them immensely.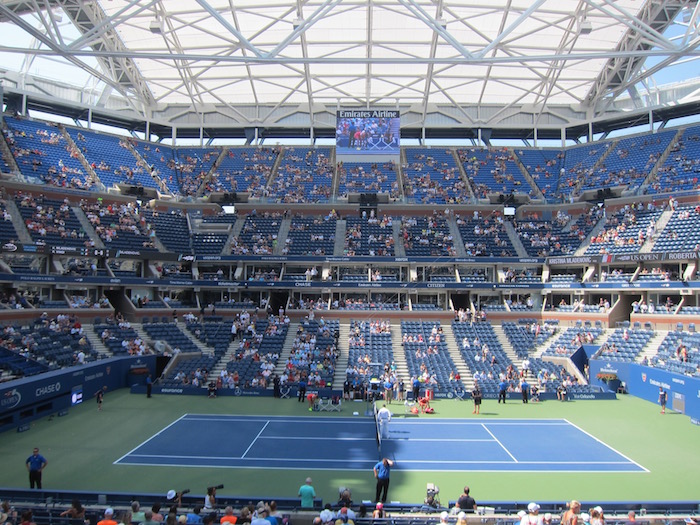 View from the SPG Suite at the US Open
Soon I'm even headed to London to see Adele in the SPG Suite at the O2 Arena, which I also redeemed Starpoints for.
Mike brought to my attention a cool SPG Moments package which is being offered in conjunction with Starwood's newest hotel brand, Design Hotels. Design Hotels finally seem to be more involved with SPG, and as of earlier this month it's even possible to redeem Starpoints at Design Hotels. They're still not fully integrated into SPG, though, and as of now it's just a marketing partnership.
This package involves their property in Iceland, which is the ION Luxury Adventure Hotel. This is one of the Design Hotels properties which interests me most, since I love Iceland.
What does this package include?
Three-night (3-night) stay for two (2) at the luxurious ION Luxury Adventure Hotel, Nesjavellir, a Member of Design Hotels™, checking in 24 June and checking out 27 June 2016
Essential Iceland helicopter tour for two (2)
Snorkeling trip for two (2) with the owner of ION Hotel
Champagne toast for two (2) with the owner of ION Hotel
Superjeep tour of the Golden Circle for two (2)
Trip to a secret lagoon for two (2)
Airport transfer for two (2) between the airport and hotel
This SPG Moments package is unique for a couple of reasons. First of all, this is an experience you could in theory pay for in cash, and I think for the most part you can crunch the numbers on how many Starpoints you'd be willing to pay for it.
Perhaps aside from the champagne toast and snorkeling trip with the hotel's owner (which is only unique if you're excited about spending time with him/her), everything can be bought. You're also tied into specific dates here.
This is an SPG Moments event with bidding, meaning you can't buy the package at a fixed price. Instead you can bid through March 22, 2016, and the highest bidder wins. As of now the highest bid is 155,000 Starpoints (or 465,000 Marriott Rewards points).
For what it's worth, the rate at this hotel around similar dates is ~$330 per night, or 60,000 award points.
So even if you were to redeem points, the three night stay would cost you 180,000 reward points. But arguably in this instance redeeming Starpoints already isn't a good deal. If you value them at ~0.73 cents each, then really you should just pay cash, since 60,000 points are worth more than ~$330.
So this might be an instance where the SPG Moments package actually doesn't represent a good value.
I still love the concept of this. It's great to see Design Hotels participating in an SPG Moments package, and especially an intriguing property like this. It seems like great cross-marketing. Now I'm just curious by how much people overpay for this package.
How many Starpoints would you be willing to redeem for this package?