I'm excited to offer an incredible opportunity exclusively to OMAAT readers. Here's the deal — you send me $100 every month for the next 12 months (that's $1,200, for the mathematically challenged among us), and by the end of 12 months, I'll give you $805. Maybe even a little bit less, depending on my mood. So sharks, are you with me?!
Probably not, but that's exactly the opportunity that Southwest Rapid Rewards has just introduced.
Southwest Rapid Rewards subscription plan
Southwest has just introduced a new Rapid Rewards points subscription plan, intended to be a way to "buy now, adventure later." The idea is that you sign up to purchase a set number of points each month at a "discounted" price, and then you're awarded bonus points every three months.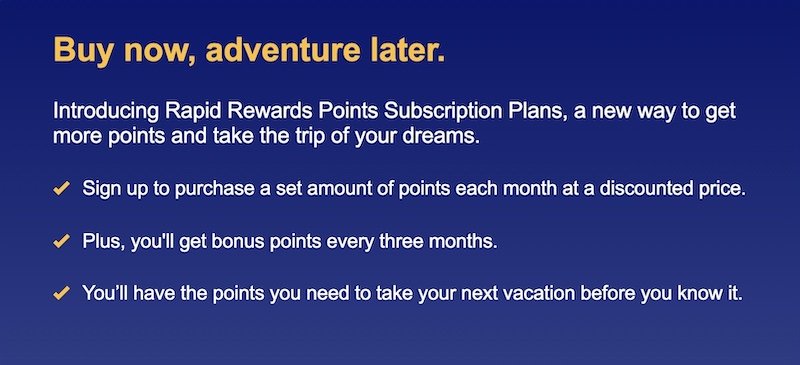 There are three different tiers, with the following pricing over the course of 12 months:
With the 30K plan you can buy 30,000 Rapid Rewards points for $618.72, which is a cost of 2.06 cents per point
With the 40K plan you can buy 40,000 Rapid Rewards points for $769.92, which is a cost of 1.93 cents per point
With the 80K plan you can buy 80,000 Rapid Rewards points for $1,429.92, which is a cost of 1.79 cents per point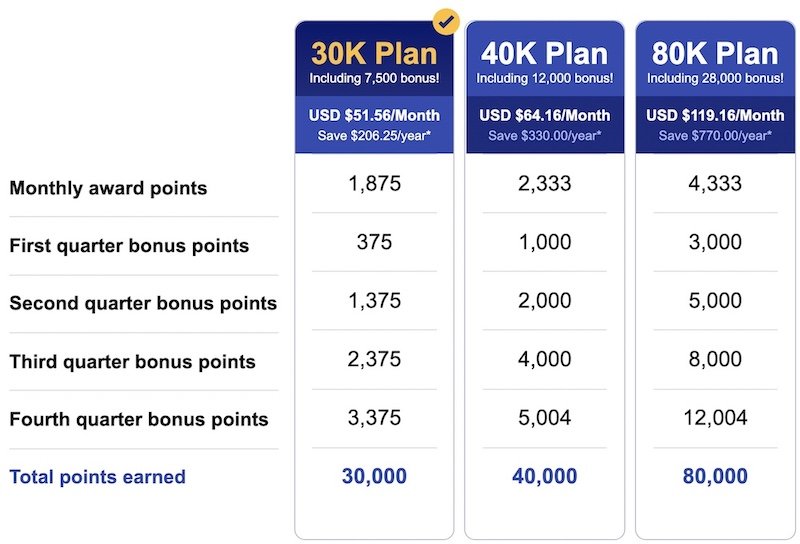 Again, you're not getting all of the points at once — rather you're paying something every month, getting a fixed number of points every month, and are then getting bonus points once every quarter.
As you can see, this is a way to purchase Rapid Rewards points for 1.79 to 2.06 cents each.
This is an absurdly bad value
Southwest Rapid Rewards isn't the first airline loyalty program to offer a subscription plan like this. However, the difference is that other programs that have offered these have award charts and airline partners, so there are ways to get outsized value.
Southwest Rapid Rewards' new subscription plan is a downright awful value, period, full stop, end of story:
Rapid Rewards is a revenue based frequent flyer program, and it takes 83 points to get one dollar of airfare; in other words, Rapid Rewards points can each be redeemed for 1.2 cents of airfare
Now Rapid Rewards is offering to sell members points for anywhere from 1.79 to 2.06 cents each, which is a premium of 49-72% over their actual maximum value
What's worse, you're converting cold hard cash into points that can be devalued at any time (and Southwest just devalued Rapid Rewards points last week), and you're fronting the money, earning most of the points after the fact
Southwest Rapid Rewards often has promotions on purchased points, and that often offers a lower cost than this; for example, the program recently sold points for 40% off, which was a cost of 1.65 cents each
This is as bad as it sounds — Southwest will take your money now, and in a year it will give you back two-thirds of your money in a less flexible form, in order to "reach [your] travel goals."
I get that a lot of people aren't great at managing money, and that being able to pay monthly for something can be helpful. But my gosh, if you're literally going to pay a minimum of 1.79 cents today for something that will be worth no more than 1.2 cents in a year, you're doing it wrong.
If you want to save money towards your next trip but aren't good at saving, I'd literally recommend taking the cash out of your bank and putting it in a piggy bank. Then open the piggy bank after a year. You'll be 49-72% better off.
Bottom line
Southwest Rapid Rewards has introduced a new points subscription plan, allowing members to pay an annual membership fee to earn a fixed number of points.
While Rapid Rewards isn't the first loyalty program to introduce a concept like this, it is the worst value proposition I've seen for such a subscription to date. Southwest is basically giving members the opportunity to purchase points for a minimum of 1.79 cents each, and then they can be redeemed for no more than 1.2 cents each.
And that's not even accounting for the fact that you're committing to a price now for points in the future, even though they could be devalued without notice again.