A Facebook user shares a description and video of what she witnessed today on Southwest Airlines flight 1683 from Chicago Midway to Atlanta. This incident caused a 46 minute delay on departure, though the flight only landed 26 minutes late.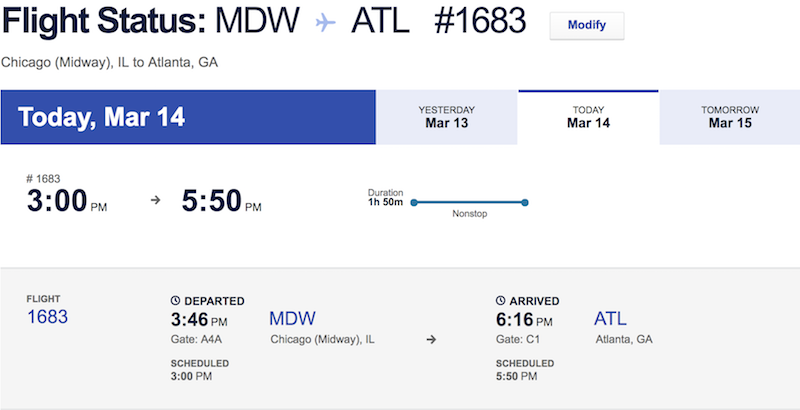 Here's how the Facebook user describes what happened:
#southwest #shame #on #you #southwest #airlines kicked a man off the plane with his two year old daughter because she was afraid and not sitting in her own seat.. he asked the lady for a minute to calm her down she walked away and called people to remove him. The baby was already calm by now and sitting in her own seat. Captain then came over intercom to say we will be going back to the gate to handle a customer service issue. They then told me stop filming and this issue did not involve me, and that me and another woman who spoke up will be the next off he plane. The flight attendant then came to tell me be quiet stop talking ( to the person next to me ) no one around me wants to hear about the situation. #Flight1683 #MDW to #ATL ABC 7 Chicago NBC Chicago Southwest Airlines #Michelle was the flight attendant
Here's the video of the incident:
It would appear that the flight was taxiing out, and that the two year old wasn't sitting in her seat properly because she was scared. The father just asked for a minute and didn't seem to have an attitude. However, because the toddler wouldn't be seated properly right away, the flight attendant called the captain, and the plane returned to the gate so the man and his daughter could be removed. Even though the daughter was quietly sitting there when they got back to the gate, they still kicked her off, because "the decision has been made."
I understand that flight attendants need to enforce FAA regulations, and that the daughter needed to be in her seat. I also understand that at a busy airport you're potentially holding up other planes if you get out of sequence and delay the flight until someone is seated (though returning to the gate also delays a flight).
However, she's also two years old. If she was scared to fly on this flight, can you imagine how scared she'll be next time, after she was kicked off a plane once?
So I get the flight attendant was technically trying to enforce the rules, but this seems to me like a case that should have been handled differently, at least based on what we know. As humans we have to show more kindness and compassion, and that even applies in situations like this, in my opinion. Assuming the father wasn't being aggressive and argumentative, I just feel like it shouldn't have ended this way. The father tells the gate agent that the flight attendant was yelling at his baby and he was trying to calm her.
Here's how Southwest describes their mission:
"The mission of Southwest Airlines is dedication to the highest quality of Customer Service delivered with a sense of warmth, friendliness, individual pride, and Company Spirit."
I don't feel like the flight attendant here embodies that. Actually, she seems to have quite an attitude, especially as she tells the passenger filming to mind her own business because "this has nothing to do with you."
What do you make of this situation?
(Tip of the hat to Supicha)