A couple of days ago Southwest Airlines generated a lot of buzz when they started selling flights to Hawaii. The airline published fares of just $49 one-way, including two checked bags, which is an incredibly good deal.
When will Southwest fly to Hawaii?
The airline will be operating the following flights to Hawaii, and also between Hawaiian islands:
Nonstop Oakland to Honolulu flights start March 17, 2019
Nonstop Oakland to Maui flights start April 7, 2019
Nonstop San Jose to Honolulu flights start May 5, 2019
Nonstop San Jose to Maui flights start May 26, 2019
Inter-island flights from Honolulu to both Kona and Maui start May 12, 2019
Problems booking flights on Southwest to Hawaii
Many people have been confused when they've found themselves trying to book flights on Southwest's website, only to be told that there are no flights available. Specifically, this applies for people booking connecting flights.
For example, say you want to fly from Chicago to Honolulu. You can book a flight there without issue: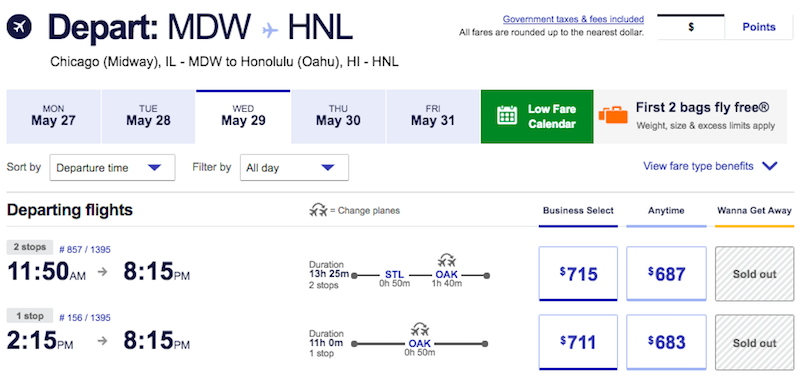 But if you try to book a return from Honolulu to Chicago, you'll be told there are no flights that are scheduled to operate:

No, the flight probably isn't sold out, and this isn't some website glitch. There's a reason this is happening, and it's sort of dumb, but it's a thing.
Why Southwest doesn't sell Hawaii tickets from many cities
One quirk to understand about Southwest Airlines is that they don't operate redeye flights (where you take off late at night and land the following morning). They're the only major US carrier to have that policy, and frankly it's a surprising policy, given that it means their aircraft utilization is lower than with other airlines.
With Southwest's Hawaii schedule, this means that flights fly from the mainland to Hawaii either in the mornings or afternoons, and then they return from Hawaii to the mainland either in the mornings or afternoons (if they return in the mornings then the planes sit on the ground in Hawaii for a night).
The absolute earliest flight from Hawaii to the mainland on Southwest gets in at 5:15PM. That's already 8:15PM on the East Coast, and in many cases there aren't same day connections available to many points throughout Southwest's network.
However, not only does Southwest not operate redeyes, but they don't sell overnight connections. So you'd think they'd at least give people this option — say you fly from Honolulu to Oakland in the afternoon, and then from Oakland to Chicago the following morning (and you'd spend a night in a hotel at your expense). But that's not even something they offer.
The workaround
This isn't a perfect workaround, but the next best option is to book your ticket as a multi-city itinerary. Since Southwest won't let you book an overnight layover on a one-way ticket, you're essentially building your own ticket.
So say you want to fly from Honolulu to Chicago. You could enter the date for which you want the Honolulu to Oakland flight, and then enter the next date for the Oakland to Chicago flight.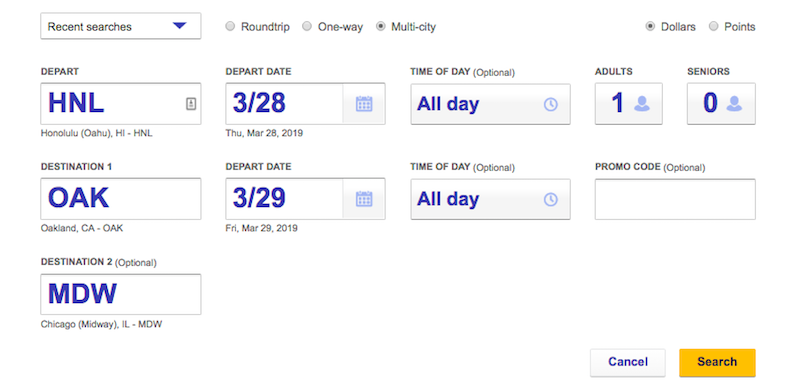 Then you can pick the flights you want.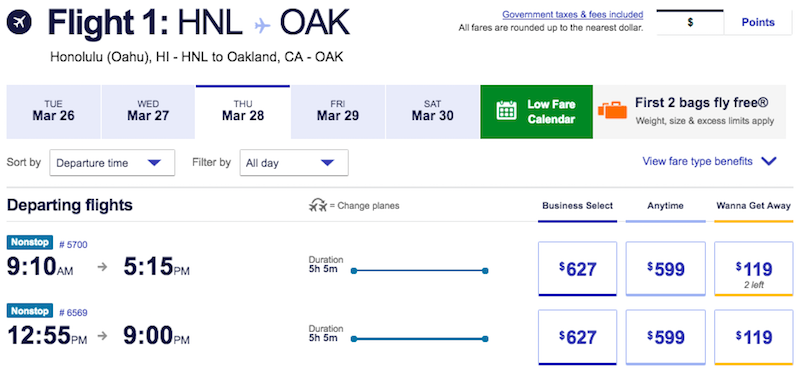 Then it will present you with the cumulative price.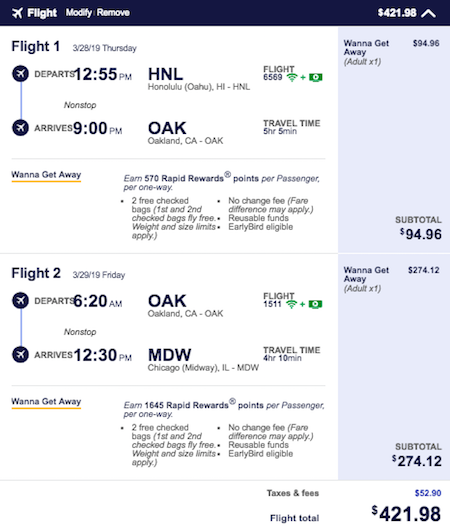 The downside here is that you're paying the cumulative price of the segments. In other words, Southwest may ordinarily have one price between Chicago and Honolulu, while they'd have a difference price from Honolulu to Oakland and Oakland to Chicago. Sometimes it will be higher, and sometimes it will be lower.
Bottom line
I've always been surprised that Southwest Airlines doesn't operate redeyes, so I'm curious if their new Hawaii service makes them rethink this policy. They're alienating a lot of non-West Coast flyers by not offering practical connections to a majority of their markets.
At a minimum you'd think they'd sell overnight connections as part of one ticket, since many people probably wouldn't mind that (heck, they could even start a program where they advertise a "free" stopover at the West Coast city). My hope is that they update their technology, and they just haven't done it up until now because they haven't had a need to.
Worst case scenario you can just book your ticket using the multi-city feature, with the flight from Hawaii to Oakland or San Jose on one day, and then the connecting flight the next day. Unfortunately it will be cumulative pricing, but in many cases this could still represent a good deal, especially if redeeming points earned from the Southwest credit card, or if you have the Southwest Companion Pass.
Earn Southwest Rapid Rewards points with these cards:
Has anyone run into this issue trying to book Southwest flights to Hawaii?