South African Airways has been in a horrible financial situation for a long time. The airline has been losing money for years, and their losses keep getting bigger, with no signs of that changing. The airline has an inefficient fleet, an inefficient route network, and there are also reports of a lot of corruption. The airline has gone through seven CEOs in the past five years, which gives you a sense of the situation they're in.
The airline has missed several payments to creditors, and South Africa's deputy finance spokesperson last year said that "essentially they are insolvent and should have filed for liquidation." Ouch.
So the airline has been looking for investors, but not surprisingly there hasn't been much interest. In 2017 the airline lost 473 million USD, which is a loss that's three times bigger than what they had in the previous year.
The airline has now revealed their plan to break even within three years. We'll have to wait and see if they're successful, though it's more of a strategy than they've had in years. The airline is hoping to shrink their way into profitability. Per Bloomberg, here's what SAA's CEO had to say:
"We now have a clear strategy and clear path to profitability defined by the board," said Jarana, who became SAA's first permanent CEO in three years when he started work in November. "We are looking at a three-year window to get to a break-even point. We continue to revise the strategy as we see more opportunities."
What does this turnaround plan look like? It consists of two main concepts.
First of all, the airline plans to reduce the number of money-losing routes they operate. They haven't provided specific examples of what this will look like going forward, though they note that last month they halved frequencies to Heathrow, and in 2017 they reduced flights to some African capitals.
The other part of their plan is that South African Airways intends to transfer some of their unneeded planes to Mango Airlines, which is their low cost subsidiary that makes money.
While SAA was previously relying on new investors, SAA's new CEO says that he is putting that on hold until they're in a better financial situation. Instead they're talking to the National Treasury in hopes of getting further funding from them, now that they have a clear plan:
A fund-raising plan laid out by Jarana last year to sell a stake to an equity partner will have to be shelved until the balance sheet has been repaired, the CEO said. A new investor would "most likely be attracted to an SAA that's actually dealt with its own challenges and restructured," he said in a phone interview Monday.

"We are busy talking to the National Treasury about how to fund the new plan," Jarana said. "We are quite clear that the new plan is solid and we are very aggressive about implementing it."
Only time will tell if South African Airways succeeds with their new strategy.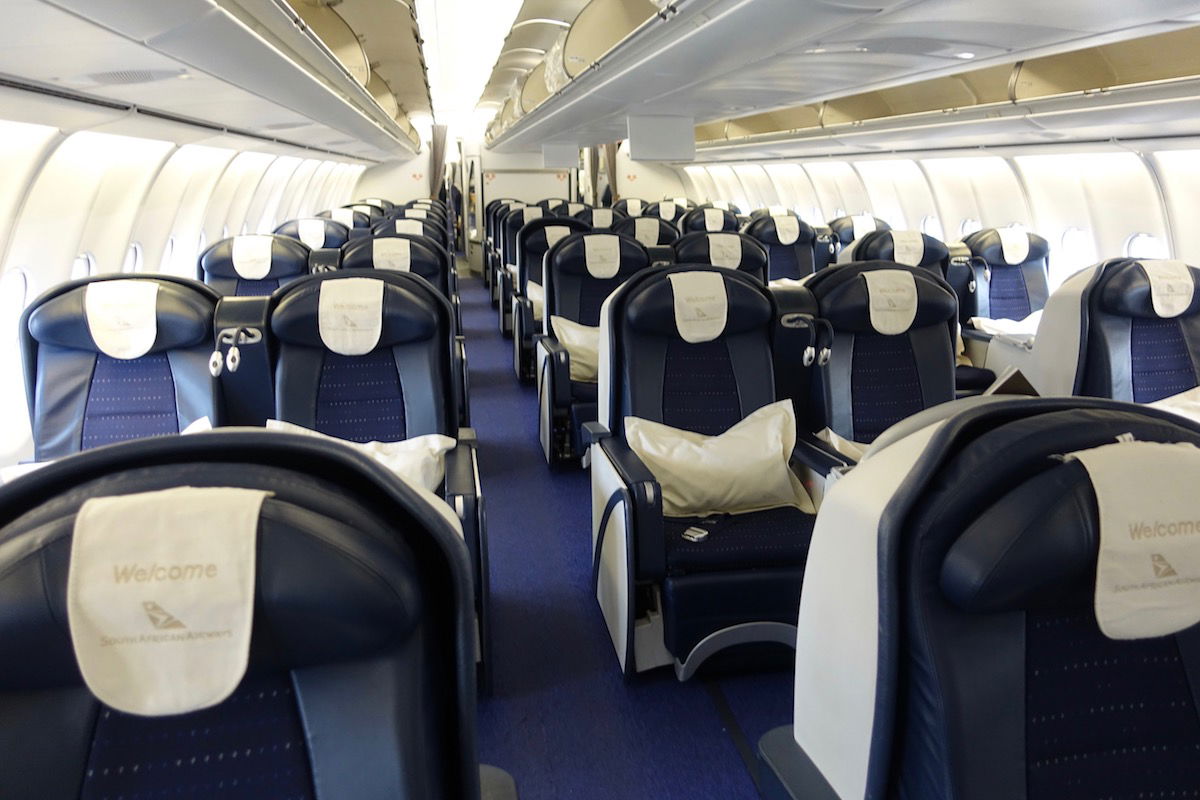 South African Airways' A340 business class
Bottom line
It sounds to me like SAA has a clearer strategy than they've otherwise had in the past decade, not that this is saying a whole lot. At least based on the quotes, I'm impressed by SAA's new CEO, so here's to hoping he can actually make the airline more sustainable. It's sad when an airline has to make the tough decision of shrinking their way out of losses, though it seems like the only option the airline has.
(Tip of the hat to Simon)