Yesterday was a rough day for airports acr0ss the Northeast due to bad weather, though it looks like some passengers had an even rougher night at JFK. Aerolineas Argentinas 1301 (operated by an A330) was scheduled to fly from New York to Buenos Aires, and was already delayed by about eight hours due to the blizzard.
Then it tried to take off, when this happened:
https://www.instagram.com/p/BQUdx7qBv7F/
Man, I'd be scared like hell if my plane were rolling down the runway and I heard that noise. Here's what this incident looked like from outside the plane, per Twitter user @alicexz, who was on a nearby plane at the time of the incident: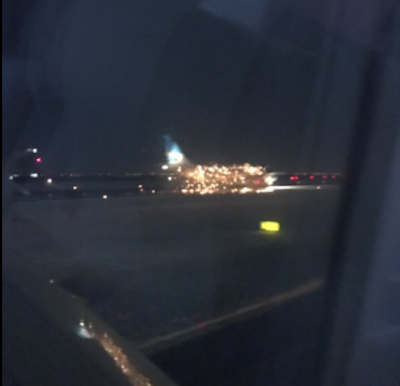 I can't decide whether the incident seems more horrifying from the outside or inside — it's a close call!
You can listen to the ATC audio of the incident here (thanks to @AirlineFlyer for finding the audio), though you'll want to fast forward to just over 21 minutes in to get to the part where the incident occurs:
The Aerolineas Argentinas plane is cleared for takeoff
Moments later the pilot tells ATC that they're rejecting the takeoff
A pilot of another plane chimes in and says that he sees that the plane has a fire by the right engine
The Aerolineas Argentinas pilot indicates that he has no indication in the cockpit of an engine fire
The plane sat on the runway for a bit, though after shutting down the right engine it was determined that no further services were needed
Is the sound in that video terrifying, or what?