First the good news — I still have all my teeth, and I didn't wake up with a pet tiger. That's half the battle, right? Good, cause it's also where the good news ends.
I wasn't going to blog about this, but in a way blogging is like therapy. Since I don't have the ability to "unsee" things, sharing them here is the next best thing I can do.
I don't really "go out." Ever. Well, unless you consider dinner at the Cracker Barrel or Outback Steakhouse "going out." But I've never really experienced life in Bangkok after 8PM, and I'm told that I've been missing out.
So last night I decided to go to Patpong Night Market with a couple of friends purely for entertainment. I'll keep this brief — I saw things done with ping pong balls, goldfish, eels, and razors, that I can never eliminate from my memory. And I saw horns and whistles blown with body parts that I didn't even know existed. In a way it was like watching the ultimate train wreck — you just couldn't look, but you also couldn't look away. I've showered three times since last night, and still feel like I might have caught something through my eyes. Bleh!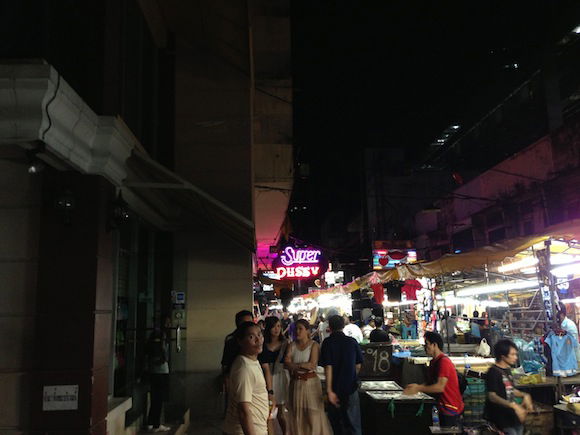 To prevent everyone else from being as miserable as I am after last night, I'll stop sharing there. There are two other things worth mentioning, though. First of all, the toughest part about walking around Patpong is that you don't have any time to make decisions. The second you stop to look you're swarmed by dozens of people, all of whom ask if you want "special massage" or "sexy lady."
We went to several places, though had one common issue. As soon as we sat down we'd ask how much drinks were or if there was a cover charge — "100 baht per drink." That's a bit over $3USD, which is perfectly reasonable for the "entertainment," and I'd even pay more. But then after a round of Diet Cokes you get the bill from someone else, and it's 1,800 Baht (~$60). At one place yesterday it went something like this (mind you, this "waitress" was a lady in her mid-60s that was smoking as she "served" us):
Lady: "You pay now. 1,800 Baht."
Us: "When we ordered we were told it was 100 Baht per drink, so 300 Baht total."
Lady: "No, 600 Baht per person entertainment charge, see it say it right there."
Us: "But we were told it was 100 Baht per person per drink with no entertainment charge when we sat down."
Lady: "You talk to someone else, now you talk to me, and I right. 600 Baht is charge, it say right here."
Mind you, she's pointing to a handwritten piece of paper that's not visible anywhere…
Us: "We're paying 300 Baht and leaving."
Lady: "I don't like you…"
Ditto!