Singapore has just rolled out an interesting new redemption option for KrisFlyer members whereby miles can be redeemed towards the cash cost of a ticket. Now, the value isn't very good in most cases, especially if wanting to redeem for premium itineraries, but new options (without taking anything away) are always a good thing, in my opinion.
Through this option each KrisFlyer mile can be redeemed for 0.0102SGD (~0.0081USD) towards the cost of a ticket. To take advantage of this, simply check the "Pay with KrisFlyer miles" box when making a booking.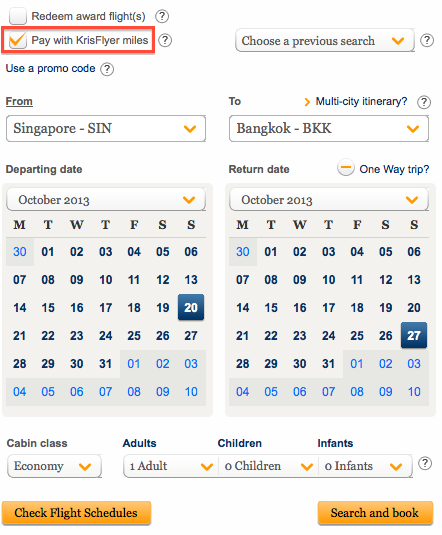 After selecting flights and getting to the payment page you'll be given the option to select for how much of the ticket you'd like to redeem KrisFlyer miles.
This isn't a great way to redeem your KrisFlyer miles. In almost all cases you can get a better value by outright redeeming miles for an award ticket, especially if you're redeeming for Suites, First, or Business class.
But at the same time if you have a smaller quantity of miles that are about to expire, this is a better use of them than just letting them expire. You have to redeem a minimum of 5,000 miles to use this payment option.
It's also interesting to note that you can still earn miles for the portion of your fare you're paying. So if you pay for 50% of your ticket with miles you'd still earn 50% of the miles you'd usually earn for the portion of the ticket you're paying for in cash.