A couple of days ago I wrote about how Singapore Airlines KrisFlyer published award redemption rates for travel on Alaska Airlines. That might not sound terribly exciting on the surface, since I'd rather fly Singapore than Alaska. However, the two airlines don't exactly compete directly. There are two things that make this new partnership especially lucrative:
However, there are a few things to be aware of, as I've been digging deeper into this:
Alaska awards aren't yet bookable with KrisFlyer miles
Singapore KrisFlyer published their award chart for travel on Alaska on September 27, and you need to book by phone. The catch is that I've called Singapore four times, and every time I've been told that Alaska awards aren't yet bookable with KrisFlyer miles. Twice I was told that Alaska wasn't a partner, and twice I was told that they knew of the partnership, but that Alaska availability hasn't yet been loaded into Singapore's system.
I'm working on figuring out what exactly is going on, but in the meantime you won't yet want to transfer points to KrisFlyer for the purposes of Alaska redemptions.
Award redemption rates are only for nonstop travel?!
KrisFlyer redemption rates on Alaska are really good, in many cases even lower than through British Airways Executive Club, which otherwise has among the best rates on Alaska.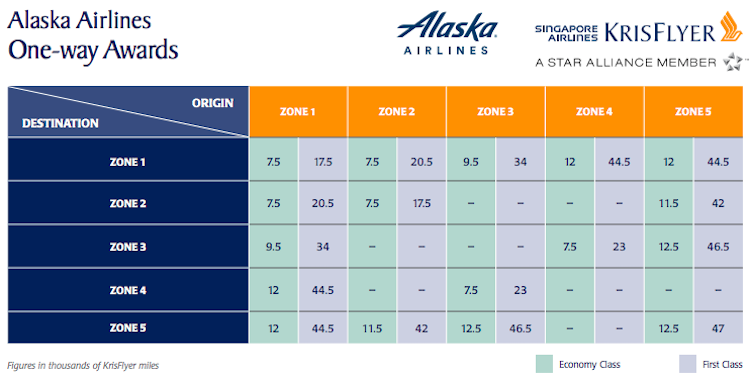 However, if you look at the footnotes of the chart, you'll see the following listed:
Transfers and stopovers are not permitted
Okay, fair enough that stopovers aren't permitted, but no "transfers?" Assuming this refers to connections, this is definitely something to be aware of, and takes away one of the benefits of booking through KrisFlyer rather than British Airways Executive Club.
I'm still not convinced they actually don't allow connections, or that it will be enforced in practice. So for now we'll mark this one as "developing."
No matter what, the chart doesn't make sense
Regardless of whether KrisFlyer intends to allow connections on Alaska awards or not, the award chart doesn't make a whole lot of sense.
If they do intend to allow connections, why do they publish award costs between Hawaii (Zone 5) and Texas (Zone 3), but not between Hawaii and New York (Zone 4)? It could be that they intend to just have additive pricing, but then you'd think they could at least list the cost of a Zone 4 to a Zone 1, plus a Zone 1 to a Zone 5.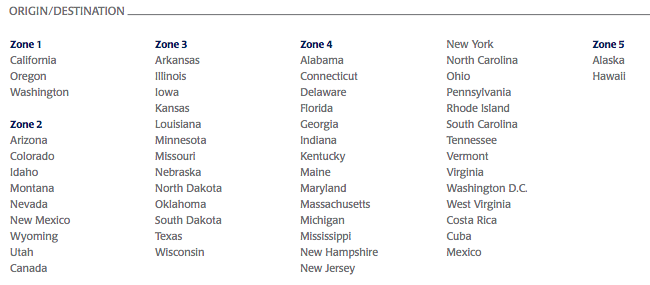 If they don't intend to allow connections, why do they even publish award costs between markets where Alaska doesn't operate nonstop flights, like Zone 5 to Zone 3?
Bottom line
No matter what, the ability to redeem KrisFlyer miles on Alaska is a fantastic new option, given how attractive the redemption rates are, and how many transfer partners Singapore has. Whether this is a really really really great opportunity or just a great opportunity depends on the connection situation, which I hope to have an update on soon.