Years ago Singapore Airlines used to offer a premium economy product on their ultra-longhaul equipped A340-500 aircraft. These are the planes that they used to fly between Singapore and Newark/Los Angeles. Because these were the longest flights in the world at the time, they had to keep the weight of the aircraft down, meaning the plane was sparsely configured with just business class and premium economy class.
Then a couple of years back they changed the configuration so that the plane was configured exclusively with business class seats (100 seats total), before axing the flight entirely late last year.
Anyway, while Singapore Airlines has certainly been a trendsetter in the industry, one trend they haven't set — or even followed, up until now — is premium economy. For whatever reason they haven't installed premium economy on most of their fleet, though that will soon change.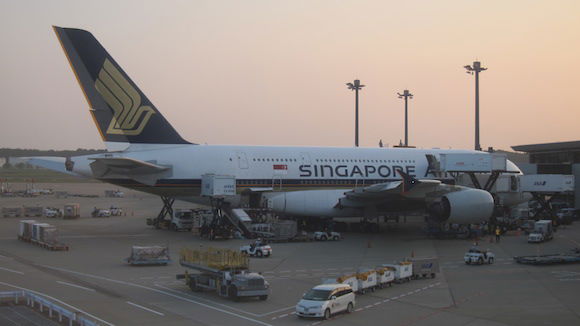 Singapore Airlines A380
According to Australian Business Traveller, Singapore Airlines will be introducing a premium cabin product on their Airbus A380, Airbus A350, and Boeing 777-300ER aircraft starting the second half of next year:
The new premium economy seats and cabin will be launched in the second half of next year, the airline revealed this morning.

A spokesperson for Singapore Airlines confirmed to Australian Business Traveller that premium economy "will enter service in the second half of 2015, initially on Boeing 777-300ERs and very soon after on A380s… as well as the A350-900s that will operate on long-haul routes."
So why hasn't Singapore introduced a premium economy product up until now? The reality is that very few airlines offer four classes of service throughout most of their longhaul fleet. You have first class, business class, premium economy class, and economy class, and while there's a market for all of them individually, most airlines can't economically fit all four on a plane. Many airlines think that there's no longer a market for first class so have eliminated it and added premium economy.
Because while there's lots of money in first and business class, there's also lots of risk, especially when you want a common fleet type. It's much tougher to profitably fill premium cabin seats than to fill the "cheap seats" at above the marginal cost. For example, British Airways has a longhaul 777-300ER with just 299 seats, while Emirates fits 427 seats on their regional configuration of the plane.
Typically when a new cabin is added, something has to "give" to make up for the reduction in seats. Singapore Airlines has "only" nine seats per row in economy class on their 777-300ERs, so my money is on them reconfiguring the cabin with ten seats per row, a la American, ANA, Emirates, Etihad, etc. I certainly hope I'm wrong.
And hopefully premium economy doesn't come at the expense of a first class cabin.