As of September 2016, Singapore Airlines launched an interesting "Capital Express" route, from Singapore to Canberra to Wellington (connecting Singapore to the capitals of Australia and New Zealand). The flight was operated 4x weekly using a Boeing 777-200.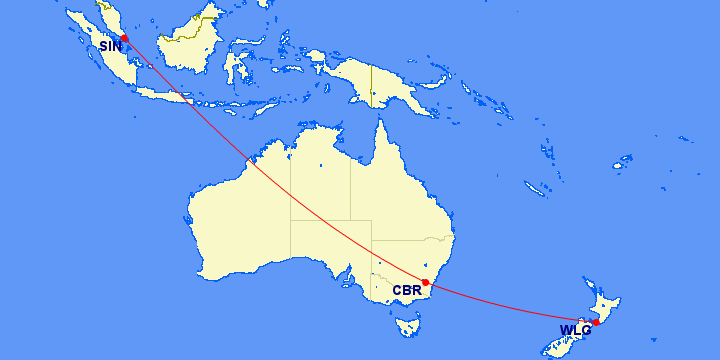 Singapore Airlines was getting some indirect subsidies from the Australian government for the route. I was skeptical of whether the route would ever make money, especially given that no other airline even operates a flight between Canberra and Wellington. I was raked over the coals for daring to question the sustainability of the route (as usual). A couple of my favorites:
"Learn some geography instead of giving Americans a bad name by further perpetuating the stereotype of them being geographically illiterate."
"Lucky, I'd wager your 'hard time' understanding this decision shows your lack of knowledge into the market."
In fairness, I expect to be called out on every post, though in some cases it's rewarding when you can go back and reread some of the comments.
Guess what, guys? Singapore Airlines is discontinuing their Capital Express flight as of April 30, 2018, about 18 months after it launched.
But don't worry, Singapore Airlines isn't completely discontinuing service to Canberra or Wellington. Their new route structure is much more logical.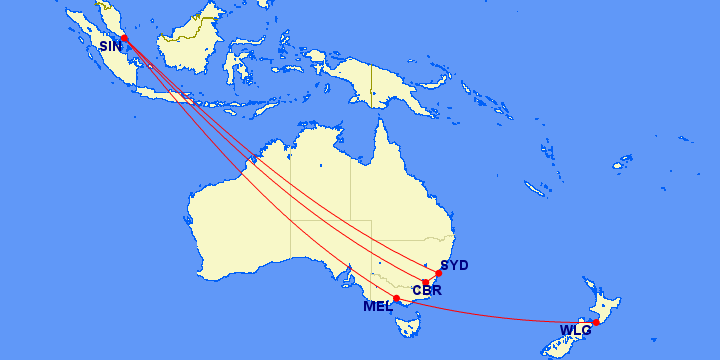 Here's what they're doing:
Singapore Airlines is adding a triangle flight to Canberra
As of May 1, 2018, Singapore Airlines will be adding a triangle flight from Singapore to Sydney to Canberra to Singapore. This flight will operate with the following schedule, using a Boeing 777-300ER:
SQ288 Singapore to Sydney departing 10:30AM arriving 8:10PM
SQ288 Sydney to Canberra departing 9:20PM arriving 10:20PM
SQ288 Canberra to Singapore departing 11:15PM arriving 5:15AM (+1 day)
The flight from Sydney to Canberra covers a distance of just 147 miles. Since Singapore Airlines won't have the ability to sell seats exclusively on the domestic sector, I suspect this one-way flight will be fairly empty, though at least Singapore Airlines can maintain service to Australia's capital, presumably at a much lower cost than just operating a roundtrip flight directly from Singapore.
With this route they'll be able to capitalize on the (presumably) fairly high yield traffic between Singapore and Canberra (due to the flight being nonstop in one direction), while still selling seats between Sydney and Singapore to fill up the plane.
Singapore Airlines is adding a tag flight to Wellington
As of May 3, 2018, Singapore Airlines will operate 4x weekly flights from Singapore to Wellington via Melbourne. Obviously there's a sizable demand between Singapore and Melbourne (Singapore Airlines operates multiple daily flights in the market), and they'll be able to sell seats between Melbourne and Wellington, which is a market that's bigger than Canberra to Wellington.
The flight will operate with the following schedule, using a Boeing 777-200ER:
SQ247 Singapore to Melbourne departing 7:45PM arriving 5:10AM (+1 day)
SQ247 Melbourne to Wellington departing 7:00AM arriving 12:20PM
SQ248 Wellington to Melbourne departing 1:45PM arriving 3:30PM
SQ248 Melbourne to Singapore departing 4:50PM arriving 10:45PM
Bottom line
While the concept of a "Capital Express" flight sounded nice, clearly the numbers didn't work out for Singapore Airlines. This new route structure seems to make a lot more sense. Singapore Airlines can continue to serve both Canberra and Wellington with less downside, given that they have no problems filling planes to Sydney and Melbourne — Singapore Airlines should be able to sell a good number of seats on the flight between Melbourne and Wellington, and with the triangle flight to Canberra, they'll have no trouble largely filling the plane with people traveling between Sydney and Singapore.
The one thing being lost is the flight between Canberra and Wellington, which was the whole point of the "Capital Express." As was the case from the beginning, I'm not surprised to see it go, given that Air New Zealand, Qantas, etc., don't even operate a significantly smaller plane between the two airports.
Are you surprised to see Singapore Airlines discontinue the Capital Express?