Even though Singapore Airlines is generally very well regarded for their service, they're not doing very well financially. As a matter of fact, they've been losing money on a majority of their longhaul flights since 2009, due to the competition they've faced from low cost carriers on regional flights and from the Gulf carriers on longhaul flights.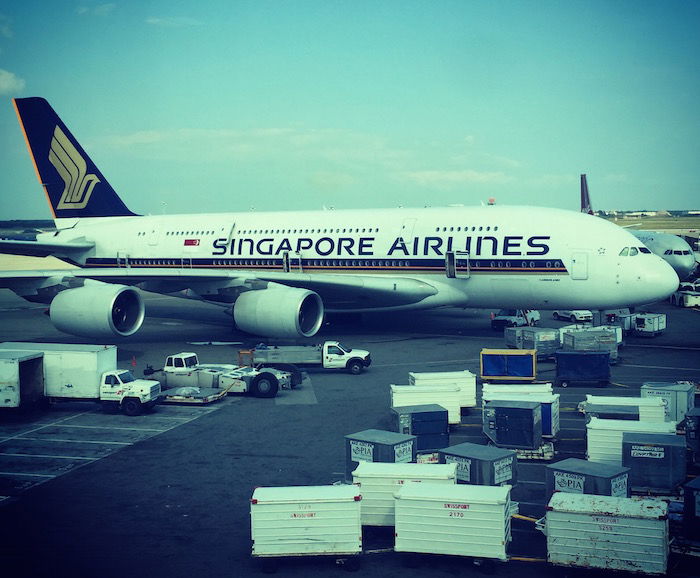 Singapore Airlines has long operated a variety of fifth freedom routes, many of which have been necessary due to Singapore's location. For example, all of their routes between the US and Singapore operate via a third city, ranging from Frankfurt to Hong Kong to Moscow to Seoul to Tokyo (though they're hoping to restart nonstop service between the US and Singapore in a few years).
Singapore Airlines has just announced a rather creative new capital to capital to capital route, including a fifth freedom sector, which I'm still trying to make sense of.
As of September 20, 2016, Singapore Airlines will be launching 4x weekly flights between Singapore and Canberra, with connecting flights to Wellington. For those not aware, Canberra is the capital of Australia, while Wellington is the capital of New Zealand, so this is being referred to as the "Capital Express" route, as it's connecting the capitals of three countries.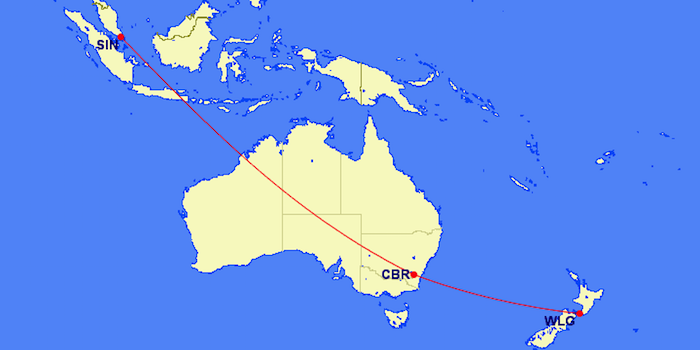 Via airlineroute.net, the flight will operate with the following schedule:
SQ291 Singapore to Canberra departing 11:00PM arriving 8:35AM (+1 day)
SQ291 Canberra to Wellington departing 9:50AM arriving 3:05PM
SQ292 Wellington to Canberra departing 8:15PM arriving 10:05PM
SQ292 Canberra to Singapore departing 11:30PM arriving 5:50AM (+1 day)
The flight will be operated by a 777-200ER, featuring 38 business class seats and 228 economy class seats.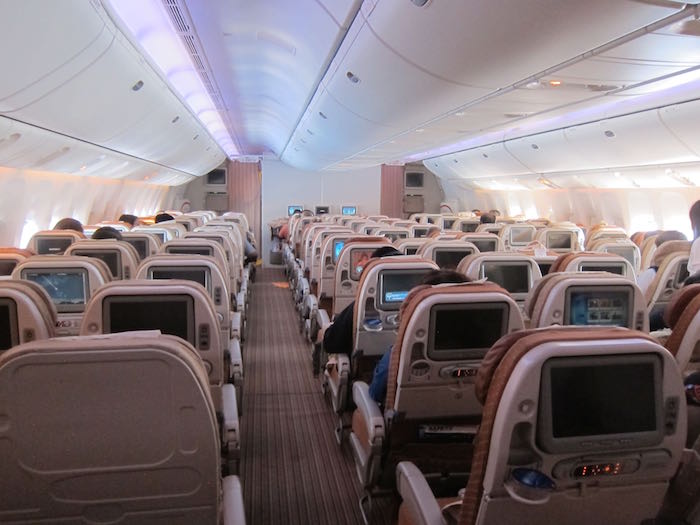 Singapore Airlines 777 economy class
Presumably there will be some amount of government traffic on the route (both between Singapore and Australia, as well as between Australia and New Zealand), though I think it's pretty significant to note that no airline flies nonstop between Canberra and Wellington. Not even Qantas or Air New Zealand on a much lower capacity 737 or A320. That says a lot as to the demand in those markets.
Furthermore:
The flight's arrival and departure times in Singapore aren't especially conducive to connecting to Europe, so it seems like the route is mostly intended to connect passengers between Asia and Australia/New Zealand
For people in Wellington traveling to Singapore, this route isn't faster than several other one stop options through Australia
My guess is that they'll be relying heavily on cargo to make this route work, along with some premium government traffic. While I can kind of make sense of the Singapore to Canberra route, it's the add-on to Wellington I can't really rationalize, given the terrible aircraft utilization it causes, as well as additional crew costs.
The flight will have some indirect subsidies from the Australian government, which presumably contributed to the decision to launch the route. Via The Canberra Times:
The airline is the first carrier to fly directly to Canberra from overseas in more than a decade, after previous attempts to establish international routes were abandoned. The deal, welcomed by business and tourism groups, comes after years of lobbying by the ACT government and the creation of a $1.1 million co-operative marketing package.

A new departure and arrival lounge will cost $25 million, paid for by Canberra Airport. It is part of a $32 million investment by the business, which said it would offer more if other airlines followed and offered international flights, too.

Construction of a new customs and arrivals area inside the Canberra terminal will begin within weeks. The cost of customs and immigration staff is paid for by taxpayers.
Bottom line
Starting a fifth freedom flight on a route which presently isn't served by any airline at all is interesting, as there aren't many of those out there. Even with the indirect subsidies, I have a hard time imagining this flight has the potential to make any money. But then again, that puts it in the same league as most of Singapore's other longhaul routes, apparently. 😉
What do you make of Singapore Airlines' new Capital Express route?