Earlier today, Singapore Airlines posted a rather mysterious puzzle to their @singaporeair Instagram account:
https://www.instagram.com/p/BGoRNK2Gms2/?taken-by=singaporeair&hl=en
That seems like a rather unique way to generate buzz. It's a math equation, and the answer is 24.

The other clue is that the caption for the post is the following:
Coming, months earlier. #FlySQ #SingaporeAir
Okay, so it seems like something is coming 24 months earlier. There are hundreds of comments, though interestingly @singaporeair only responds to those who reference service to the US, without confirming or denying their speculation.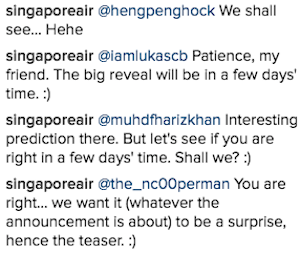 What makes this interesting is that Singapore Airlines is planning on restarting nonstop flights between Singapore and the US in 2018, when they take delivery of their first ultra long range Airbus A350. They discontinued their nonstop flights to Newark and Los Angeles in 2013, when they got rid of their A340-500s, which were the only planes in their fleet capable of operating the route.
Now all of their flights between the US and Singapore operate via other cities, including Frankfurt, Hong Kong, Moscow, Seoul, and Tokyo.
United beat Singapore to the punch in operating nonstop flights between the US and Singapore, as they just recently launched nonstop flights between San Francisco and Singapore using Boeing 787-9 aircraft, making them the only airline to operate nonstop flights between the US and Singapore. Presumably Singapore Airlines is feeling the pressure in that regard.
So I'm not sure what it could be, though I guess we'll find out in a few days. I do strongly feel that it has something to do with 24 months, and also has something to do with the US, based on the hints above.
Could Singapore Airlines be announcing an additional US destination? They haven't announced a new US destination in a very long time. Or perhaps they'll try operating one of their current A350s between the US and Singapore? Airbus states that the range of the A350-900 is 8,100nm (~9,300 statute miles), which would be right at the operating limit of a flight from the west coast to Singapore. I suppose with a premium heavy configuration, it might be possible nonstop.
Any guesses as to what Singapore Airlines' big announcement will be?
(Tip of the hat to @phize in the Ask Lucky forum)