Over the weekend I asked you guys how I should fly back from Europe to the US, and after reading your feedback went with the majority suggestion, which was Singapore Airlines business class from Frankfurt to New York. I transferred points from Chase Ultimate Rewards to book this ticket.
Confession time — I came into this flight expecting to be disappointed. For the past five years, all my longhaul travel on Singapore has been in first class. What ultimately makes Singapore Airlines so special is the service, and I figured that there's no way they could deliver on that with an 86 seat business class cabin. I even selected a seat in the last row of business class, figuring it would give me the slowest service and also a good overview of what can be expected.
Boy, was I wrong. Really, really wrong. This flight was possibly on par, if not better, than most of my Singapore Airlines first class flights.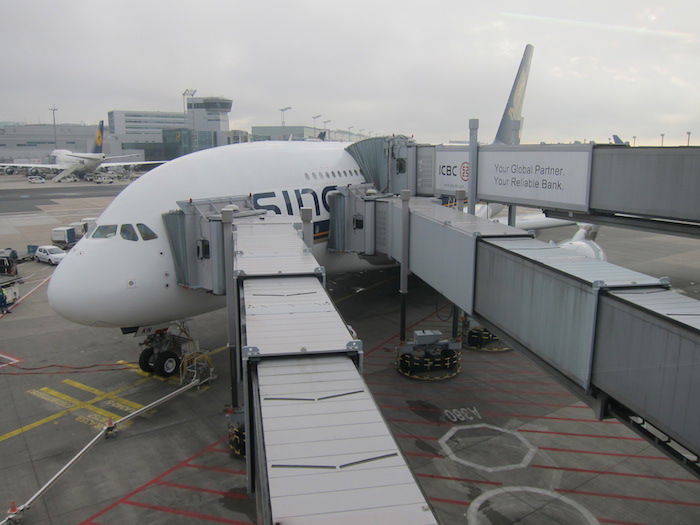 Singapore Airlines A380
While I'll have a full review soon, here are my initial thoughts:
Singapore Airlines Business Class Seat
I explained the Singapore Airlines A380 business class configuration in great detail yesterday. The cabin is massive and super sleek, and really the upper deck feels like an all business class jet.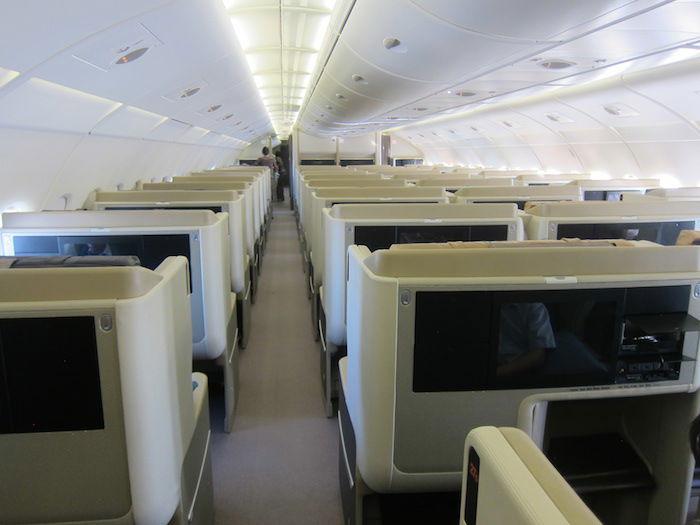 Singapore Airlines A380 business class cabin
I selected seat 96A, located in the last row of the cabin.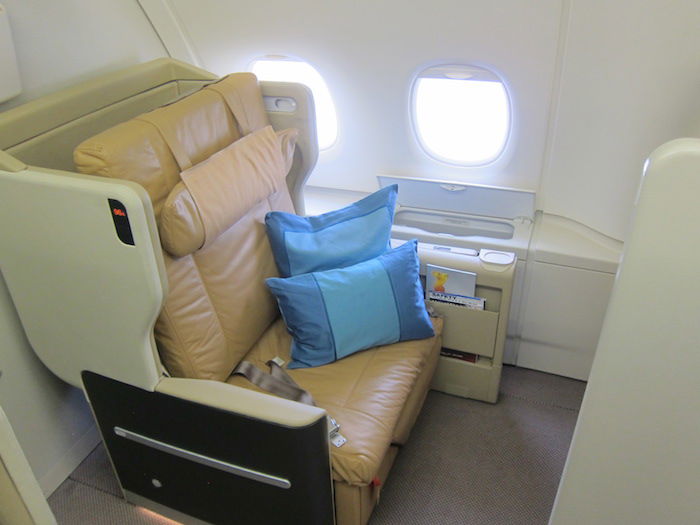 Singapore Airlines A380 business class seat
It's a mini-cabin of sorts, since there's a partition between it and the forward part of the cabin, due to the emergency exit row.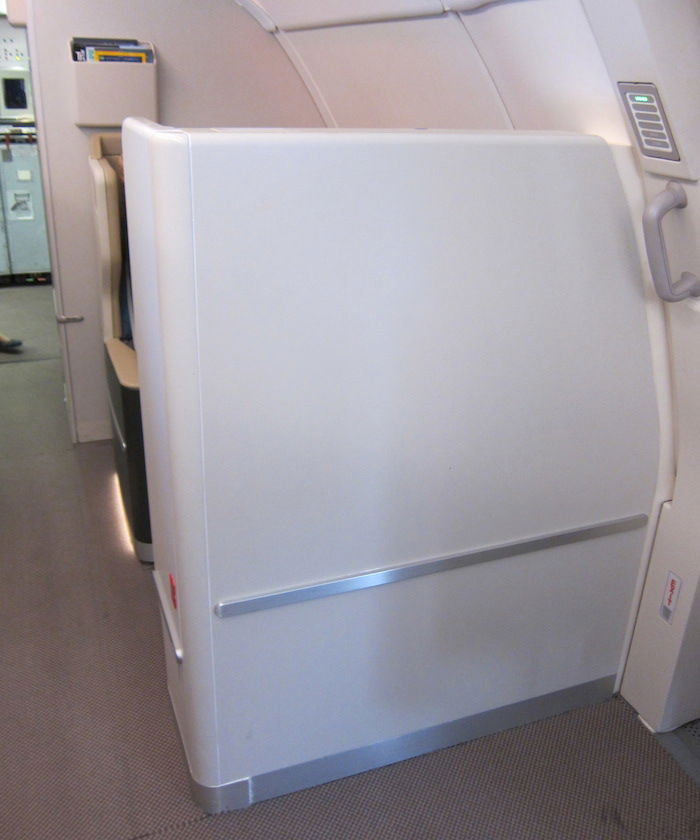 Singapore Airlines A380 business class partition in front of row 96

I love the bulkhead seats since you have much more room for your legs. That makes it more comfortable both when lounging and sleeping.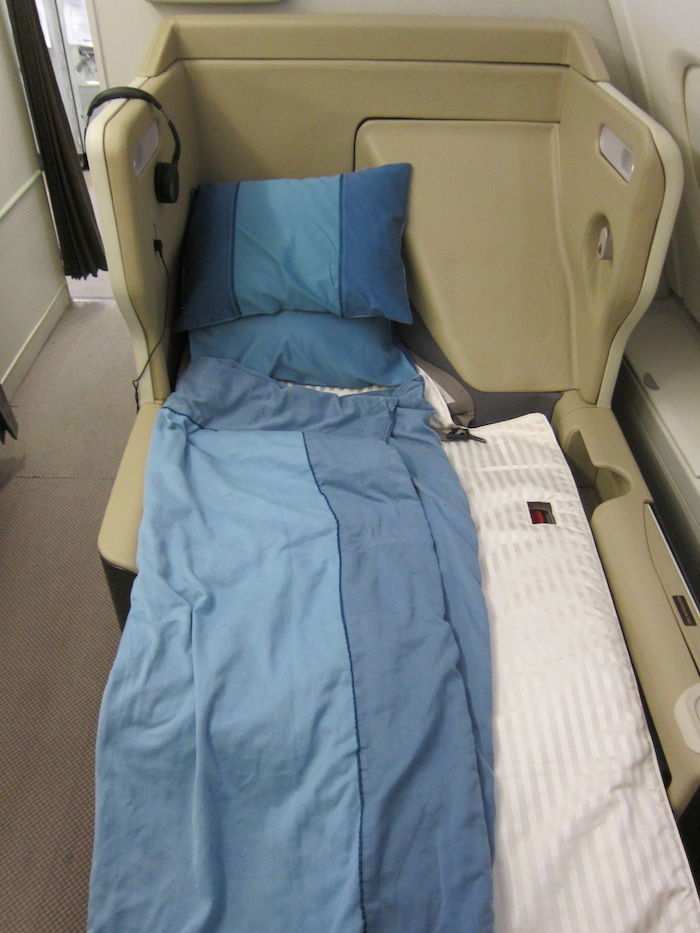 Singapore Airlines business class bed
In the bed position, the seat is about as spacious as any first class suite out there.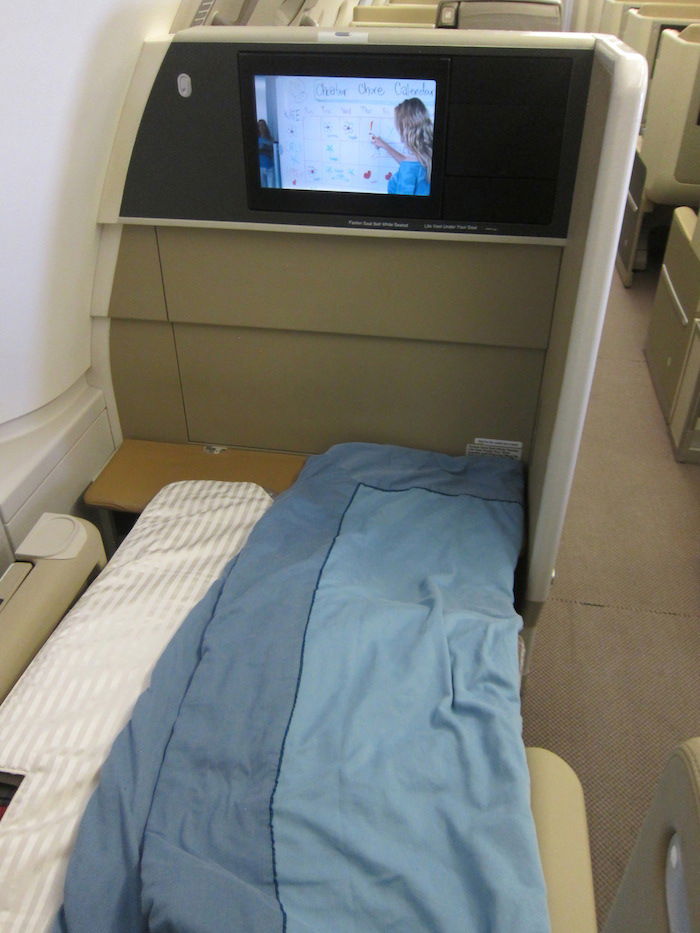 Singapore Airlines business class bed
In order to put the seat in bed mode you actually fold it over. The one downside is that the configuration isn't ideal for "lounging." That's because the seat only reclines a bit without being flipped into bed more, so there's not much "middle ground" when it comes to recline.
The other cool thing about the A380 vs. the other aircraft is that you have lockers next to your seat where you can store things. That's always convenient.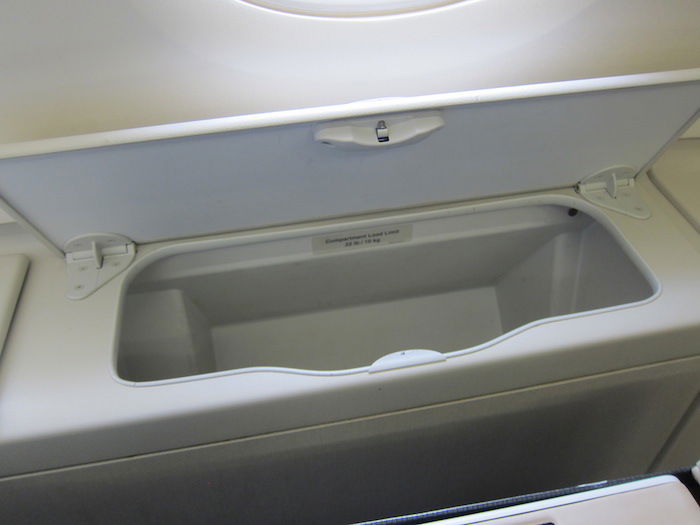 Singapore Airlines A380 business class bin
Singapore Airlines Business Class Food
This flight is one of the earliest transatlantic flight out of Frankfurt, departing at 8:30AM and landing in New York at 11AM. As a result it's a brunch service after takeoff, with lunch before landing.
I had low expectations for the food, given that I rarely find airline breakfast/brunch to be very good.
The food on this sector was top notch in terms of quality and presentation. As usual on Singapore, you could tell that each course was plated in the galley and not in some catering facility, and the small touches were impressive.
The brunch service began with warm nuts (I of course had champers to accompany them — Bollinger was on offer).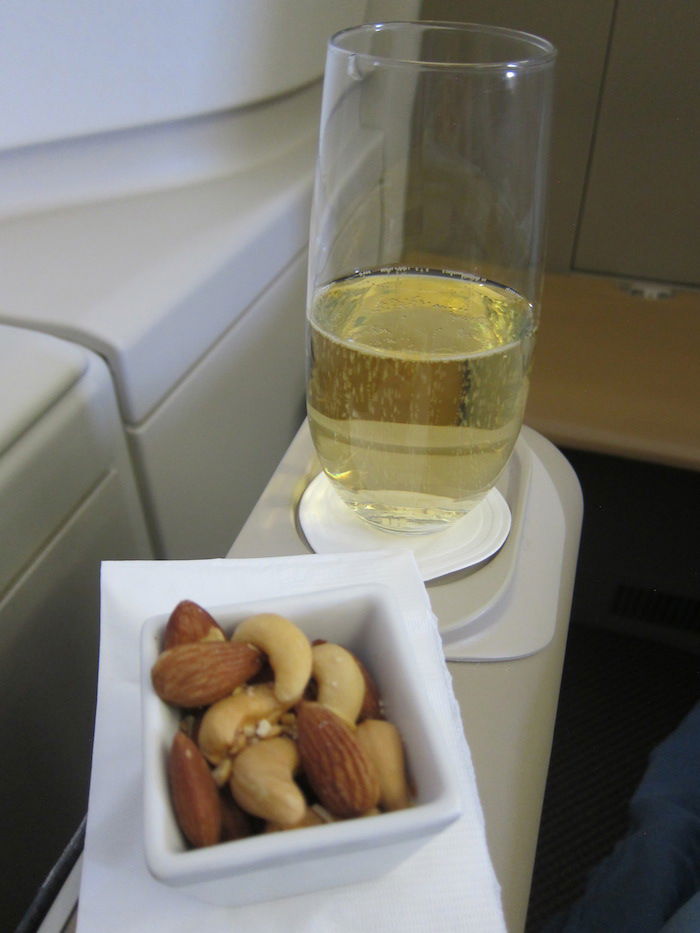 Singapore Airlines business class champagne and warm nuts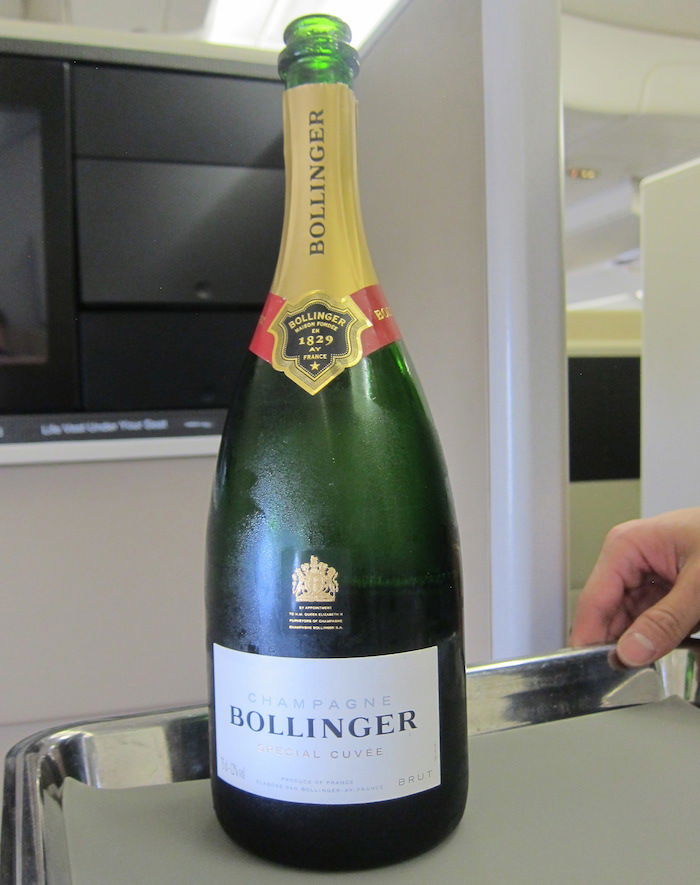 Singapore Airlines business class Bollinger champagne

The meal service began with a fruit plate.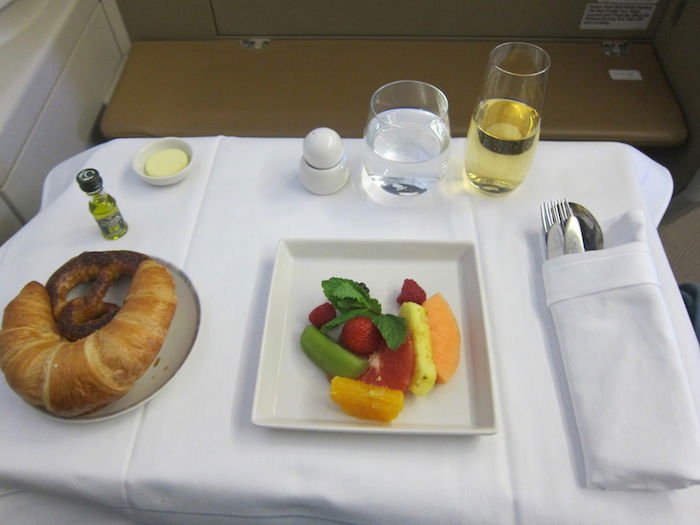 Singapore Airlines business class brunch

Then muesli.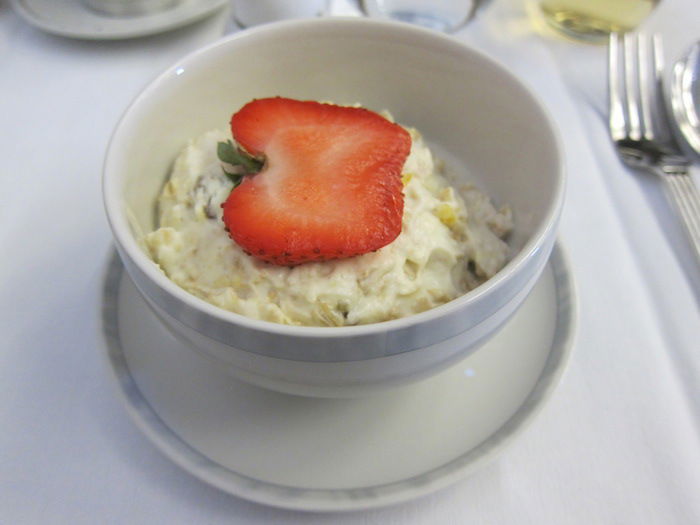 Singapore Airlines business class brunch
And then chicken picatta with gnocchi, which was really good. I loved that they had both breakfast and lunch entree options for the service.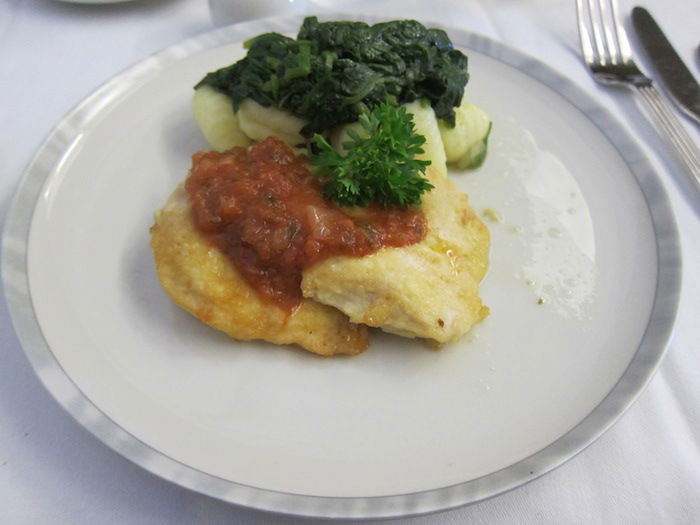 Singapore Airlines business class brunch
And then for dessert there was a passion fruit mousse cake.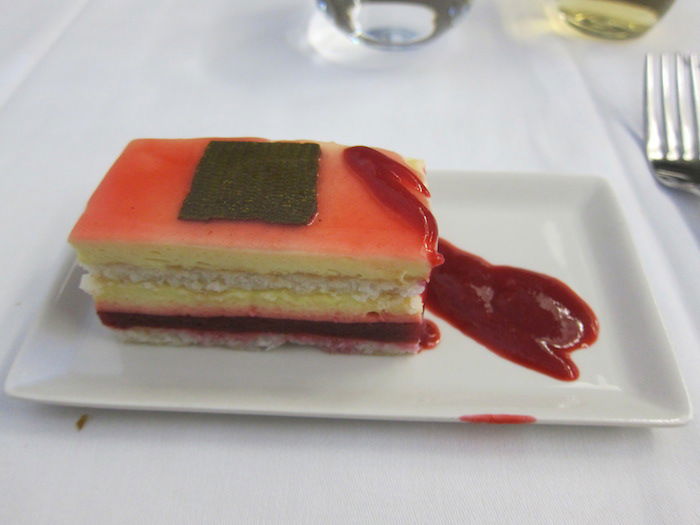 Singapore Airlines business class brunch
Then for lunch there was parma ham with mozzarella cheese (though on Singapore the show-stopper is always the garlic bread).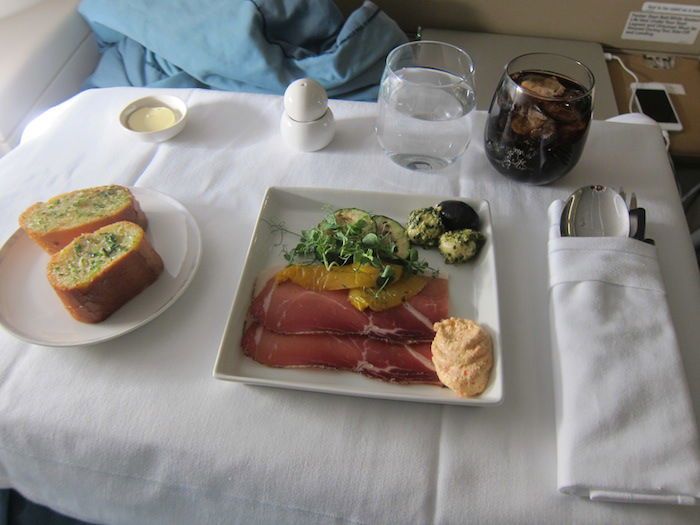 Singapore Airlines business class lunch
For the main course I had a grilled fillet of beef.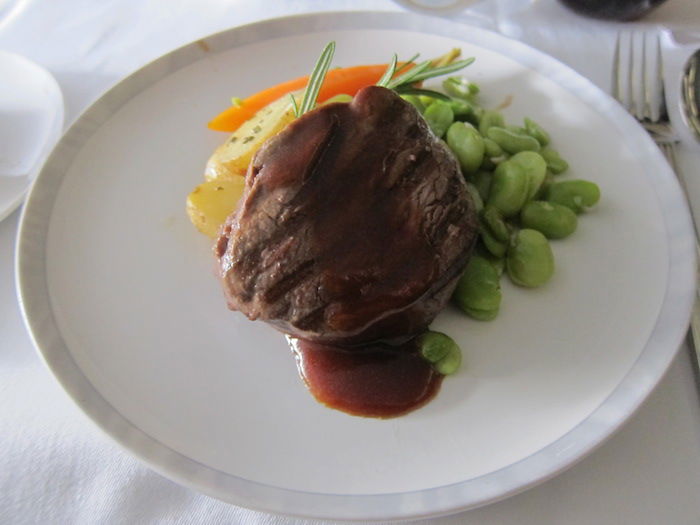 Singapore Airlines business class lunch
And then for dessert strawberry ice cream with apricot.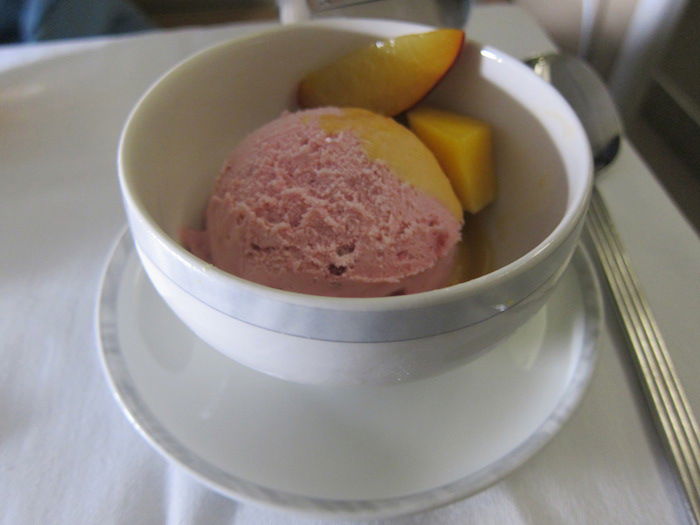 Singapore Airlines business class lunch
Then I finished off the meal with a cappuccino.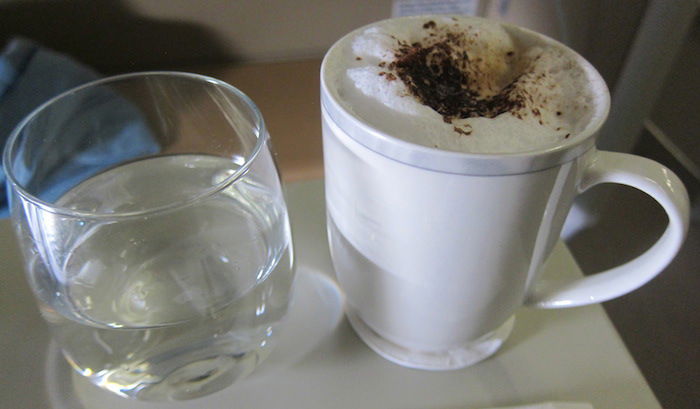 Singapore Airlines business class cappuccino
Simply two spectacular meals.
Singapore Airlines Business Class Service
I don't even know how to begin to describe the service. This was hands down the best service I've ever received in business class on any airline. Even though the upper deck is huge, they do a good job breaking up flight attendants into sections.
I had leading stewardess Ee, steward Justin, and stewardess Yiwa taking care of me. Ee addressed me by name before I even got to my seat to welcome me aboard, and I was addressed by name by all crew members with just about every interaction.
They really made me feel like I was the only passenger on the plane. I'm used to that in first class on Singapore, but wasn't expecting that in business class. I think it may have partly been that I felt like I was in my own "cocoon" given how separated my seat was from the rest of the cabin.
They were efficient, friendly, and just downright freaking amazing. The meal service was done within 90 minutes of takeoff. Not once was my glass more than half empty — not just during the meal service, but during the flight as a whole.
After the meal service I went to the bathroom for what must have been 60 seconds, and when I returned there was a "coaster" under my drink which wasn't previously there.
It was dark in the cabin midflight and I took a peek at the menu, since I was curious what the pre-arrival meal was. Ee appears out of nowhere and said "Mr. Schlappig, would you fancy something to eat? Perhaps I could get you something from the brunch menu, or maybe you would like your pre-landing meal now?" HOW DID SHE SEE I WAS LOOKING AT MY MENU?!? I said "no, that's okay, I was just curious what the pre-arrival meal was." "Are you sure, Mr. Schlappig? How about a small snack, like some potato chips or cookies?" "That's very kind, but I'm okay."
It was literally that level of attention to detail with every single interaction.
When I woke up from a nap, Justin appeared. "Mr. Schlappig, would you care for something to drink? Perhaps another glass of champagne or a cappuccino?"
Guys, this is what puts Singapore in a league of their own. There's not an airline that's as proactive and and pays as much attention to detail as Singapore, and I think the above interaction sums that up perfectly.
It would be impressive if Justin noticed that I woke up and offered me a drink. It would also be impressive if I pushed the call button and when he appeared he recalled what I had to drink last time. But when both happen, that's the "Singapore touch."
Being Treated Like A Dignified Second Class Citizen
Funny enough I had a blog reader in Suites Class on this sector, and he apparently came by to say hi while I was asleep. As soon as I woke up, Yiwa stopped by to say that "Mr. ___ from Suites Class has visited." Over the next few minutes all three of the flight attendants serving "my" section informed me of the same, as if I had missed a call from President Obama.
Then when he finally did visit, he was of course escorted by crew, and was invited to sit down across from me. Ee basically acted as the private butler for the next 30 minutes, offering us both drinks, hot towels, etc.
"Mr. ___ and Mr. Schlappig, while you are having your small conversation, may I offer you a light snack?" She then also asked if he wanted to eat a business class meal in addition to the Suites Class meal. It was hilarious.
I've never been treated as a second class citizen with such finesse.
Singapore Airlines Business Class Entertainment
Singapore has the KrisWorld entertainment system, which I'd argue is one of the best entertainment systems in the sky. I rarely watch airline entertainment since I bring my own, but Singapore almost always has something I want to watch (and not just the airshow!).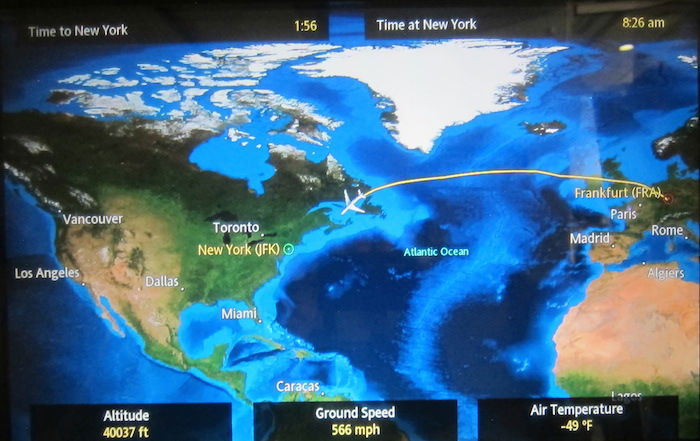 Singapore Airlines airshow
This flight also had Wi-Fi, though unfortunately that's one of the only areas of the Singapore Airlines experience that's lacking, between the speed and cost.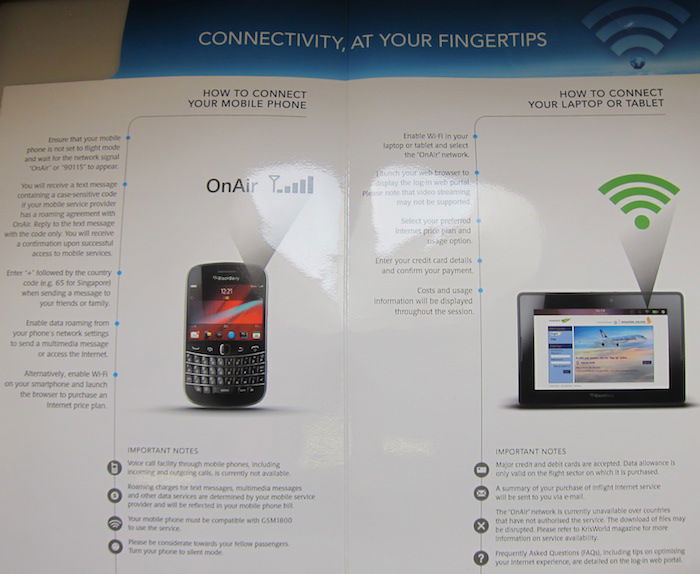 Singapore Airlines inflight Wi-Fi
Singapore Airlines Business Class Amenities
Singapore doesn't offer amenity kits, but instead offers eye shades and socks, and then has all the traditional amenities in the lavatory. I actually appreciate that since it's more practical, and from their perspective, less wasteful.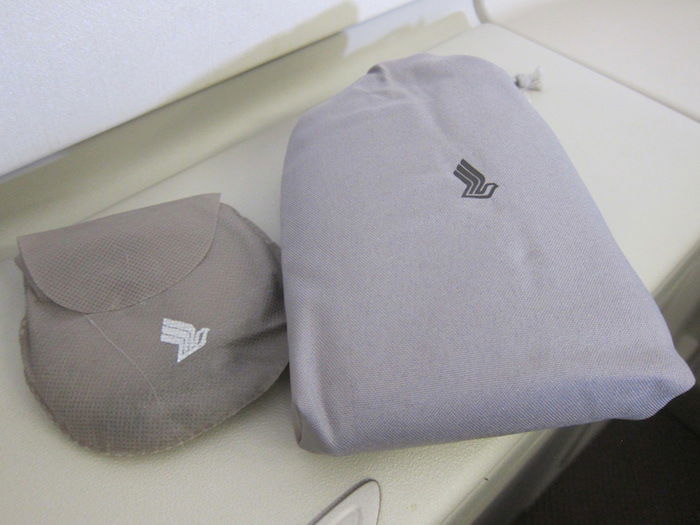 Singapore Airlines business class amenities
Each seat comes with two large pillows and a comfortable blanket. As I mentioned above I don't like how you have to "flip" the seat over, which makes it tough to lounge, but having two large pillows helps, since it means you can sit up against them fairly comfortably.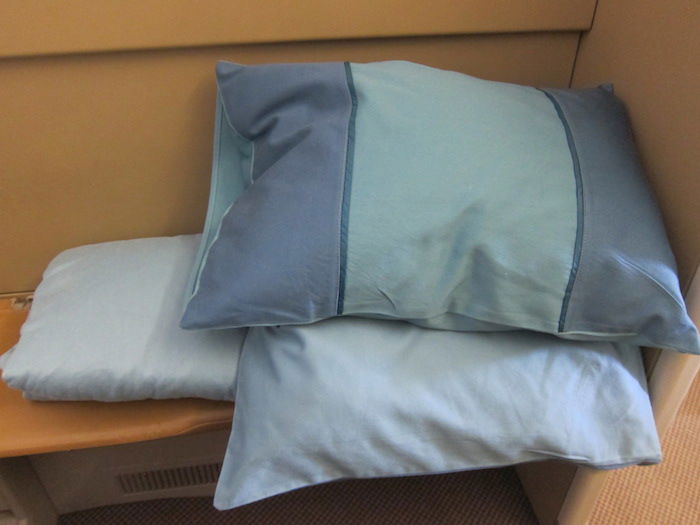 Singapore Airlines business class pillows and blanket
Singapore Airlines Business Class Bottom Line
I was blown away by my Singapore Airlines business class experience, and think they may just have my favorite business class product in the world.
All that being said, I do think Suites Class is still worth the premium in miles if available. Between Frankfurt and New York, for example, they charge 48,875 miles in business class or 57,375 miles in Suites Class. Availability permitting, it's totally worth an 8,500 mile premium for Krug alone, let alone all the other services you get as a first class passenger.
The catch is that in my experience, Singapore releases a lot of last minute business class award space, while they release very little last minute Suites Class award space.
Singapore, you're a great way to fly!