Yesterday I flew Singapore Airlines A380 business class from Frankfurt to New York. While I've flown Singapore's A380 in Suites Class and have flown Singapore's 777-300ER business class (which is in theory an almost identical product), I was excited to finally ride on the upper deck of Singapore's A380.
Before my flight I really struggled with which seat to choose, given that everyone I asked seemed to have a different favorite. So I figured I'd chime in and share my thoughts.
First of all, Singapore has two versions of the A380:
I was on the version with 86 seats, which meant the entire upper deck consisted exclusively of business class.
Initially I thought I'd hate that since it's such a big cabin, but it really felt more like an all business class jet. Singapore Airlines retired their all business class A340-500 service between Los Angeles/Newark and Singapore last year, though this felt like the next best thing. You really wouldn't know that there's another level to the airplane.
The version of the A380 I flew has three "cabins" in business class.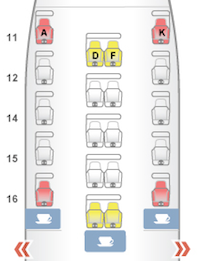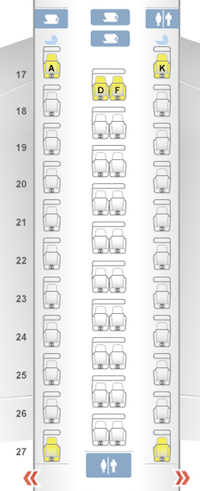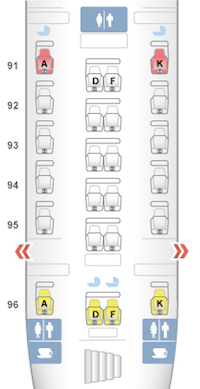 There is a forward cabin with 20 business class seats.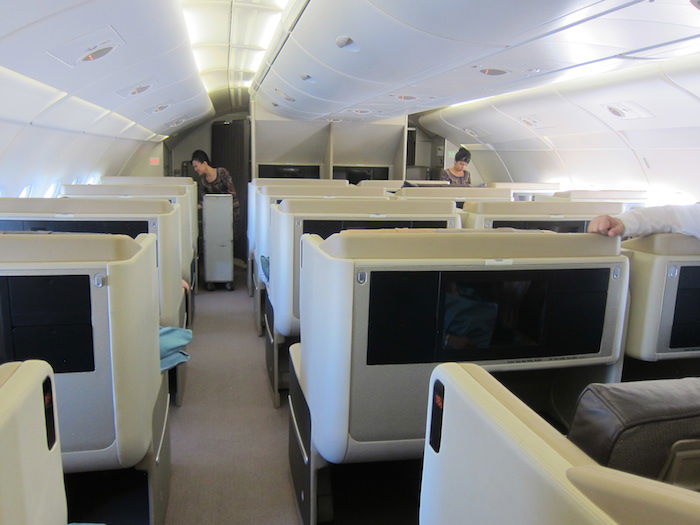 Then there's the middle cabin, with 42 business class seats.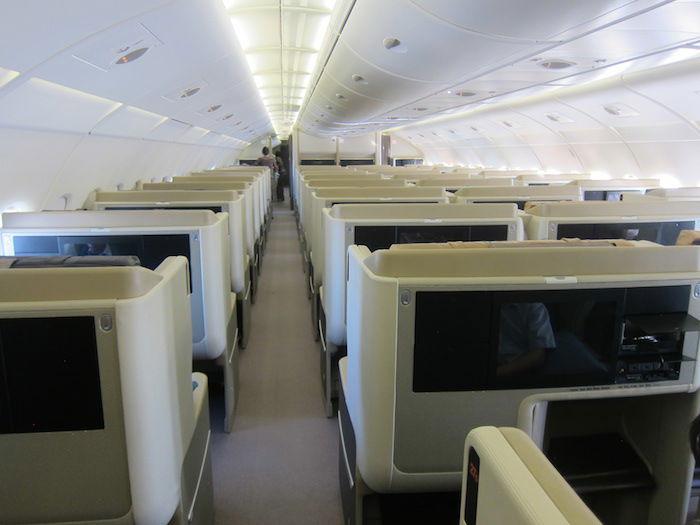 And then there's the rear business class cabin, with 24 business class seats.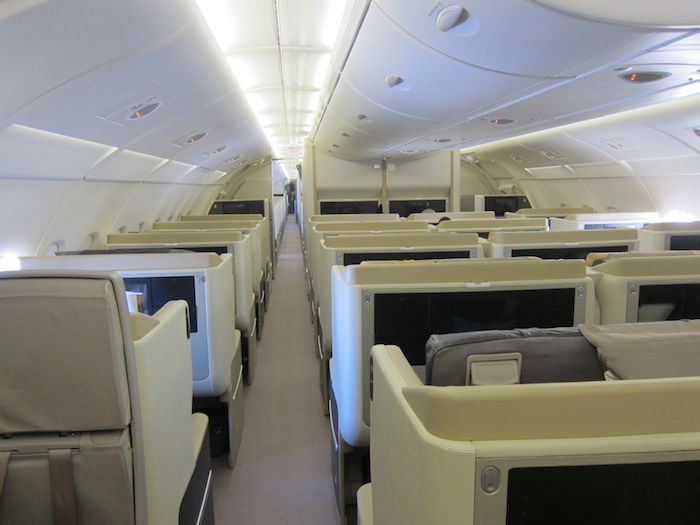 As you can see based on the above seatmaps, it kind of looks like there's another mini-cabin for the last row. That's not quite the case.
Instead there's simply a partition between the third cabin and the final row.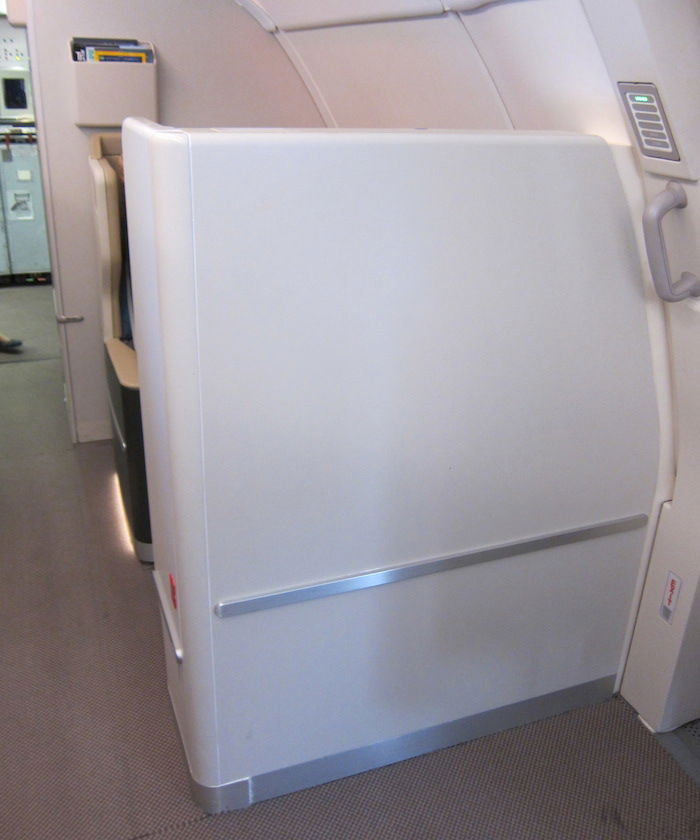 What are Singapore Airlines' business class seats like?
To understand which seats are best, I think it's important to understand how Singapore's seats are designed. They're the widest business class seats in the world and are in a 1-2-1 configuration.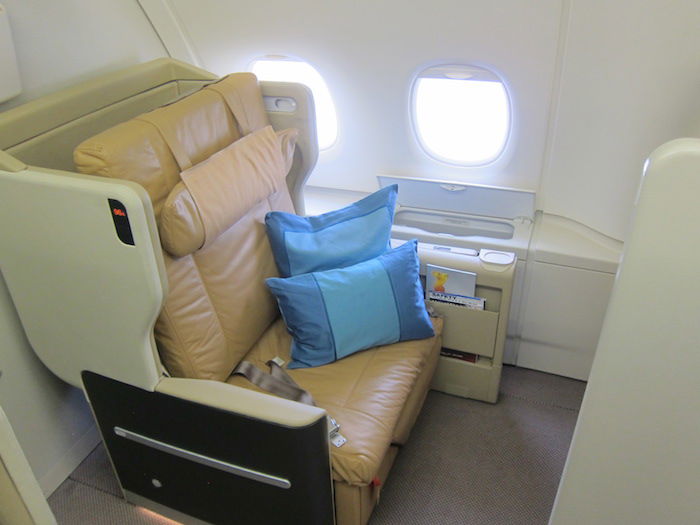 That being said, the pitch itself isn't actually that great. Rather there's a cutout in the seat in front of you where you put your feet. It's not especially restrictive, but it's definitely noticeable.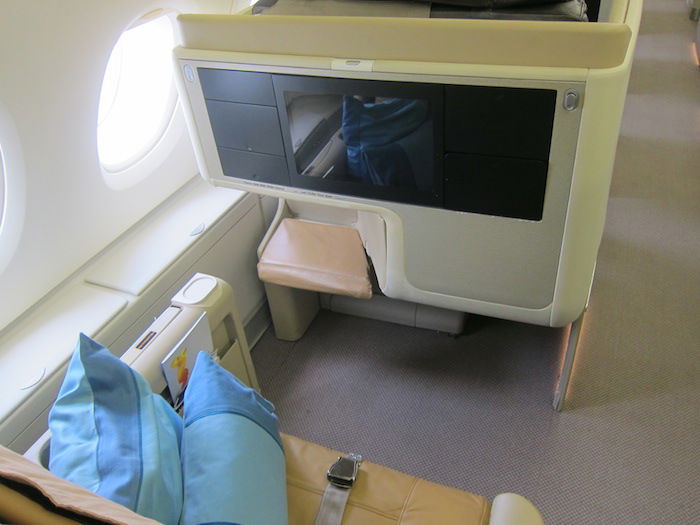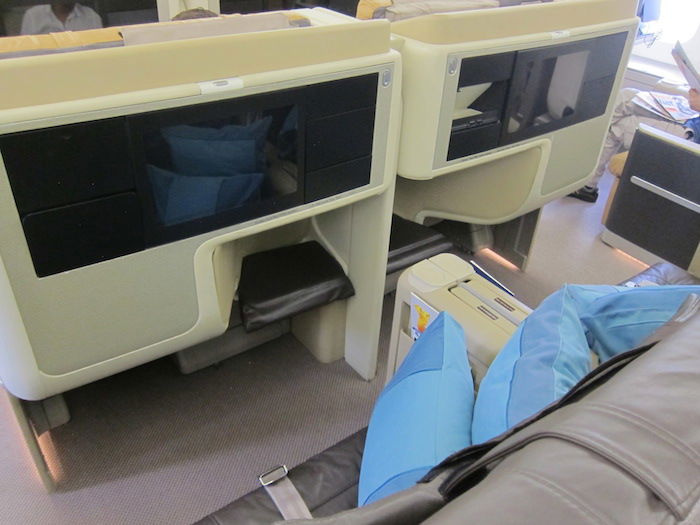 The awesome thing about the bulkhead seats, however, is that since there's no seat in front of them, there's no cutout. Instead you have the "full" area for your feet.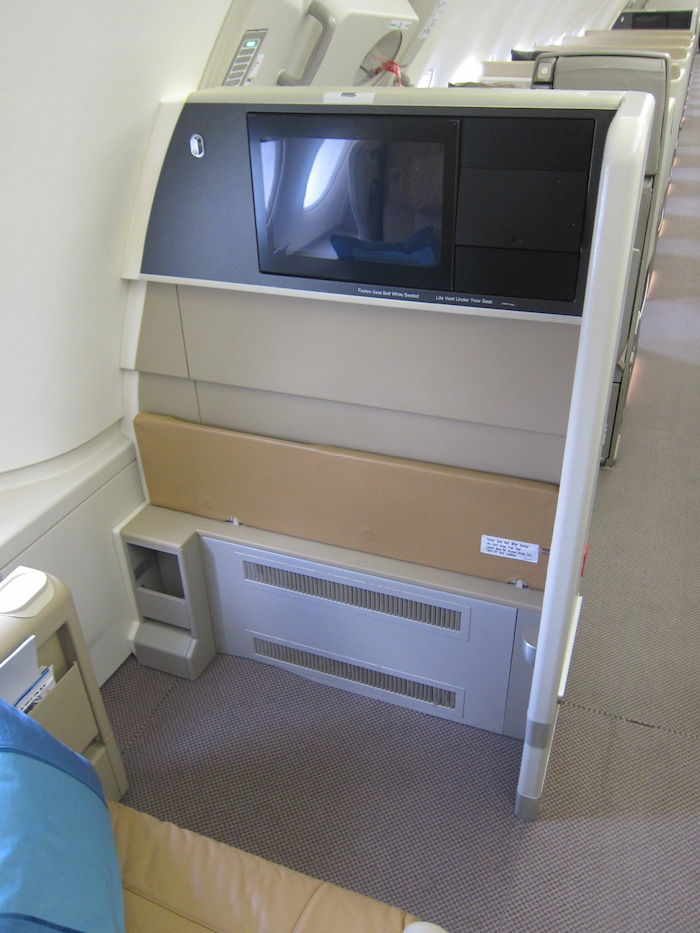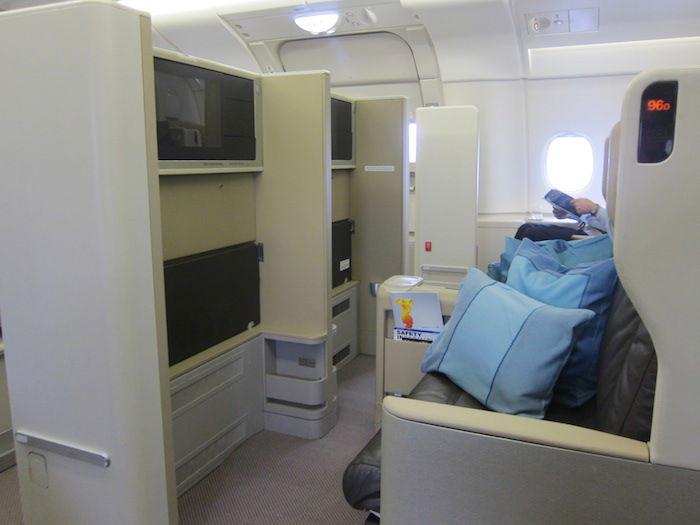 The bulkhead seats in each cabin have a "bench" which is latched upright during takeoff and landing, but can otherwise be lowered and be used as an ottoman. So you have a lot more legroom.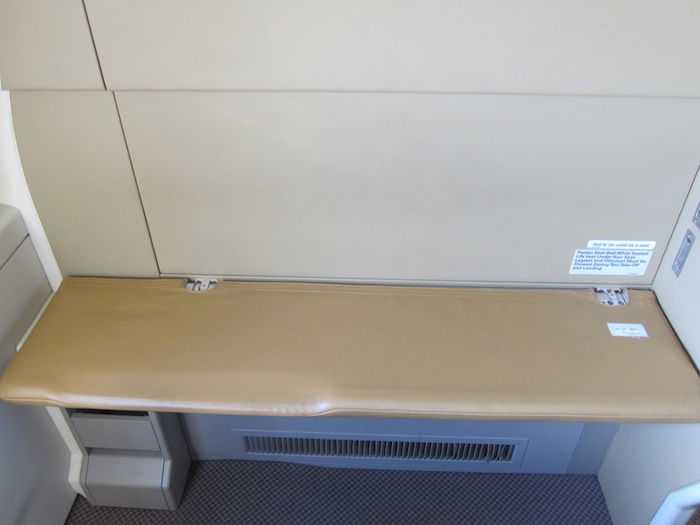 The one thing worth noting about the bulkhead seats is that the entertainment screens are the same size as at the other seats, except they're further away. So they'll appear somewhat smaller when you're watching them.
The business class bulkhead seats on this configuration of the Singapore Airlines A380 are rows 11, 17, 91, and 96.
Which of those rows is best?
Row 11: This is possibly the most private row on the plane, to a fault. It's the first row on the deck, and the lavatories are behind the forward business class cabin. So you have utmost privacy.
There are two catches. First of all, the seat is still where the fuselage curves slightly, so it does feel a bit more claustrophobic. But more importantly, there are no windows at this row. You'd have to turn your neck backwards and lean in order to look out the one window adjacent to the seat.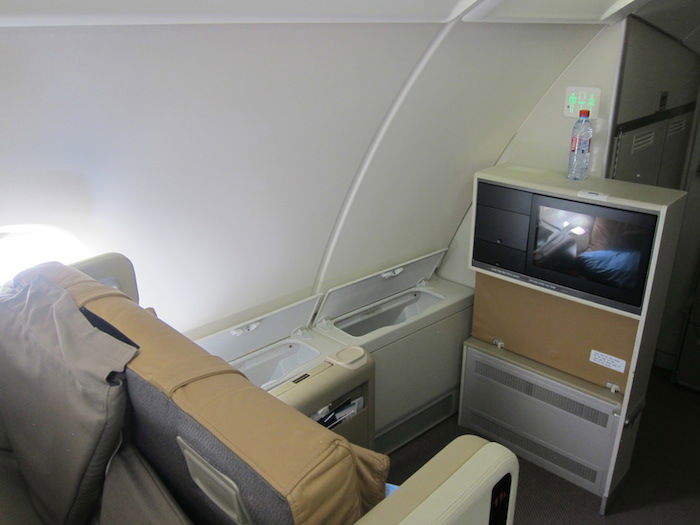 Row 17: This is the first row of the big business class cabin, so 17A or 17K are great choices.
Between the two I'd go with 17A, since the one lavatory is located near 17K, while it's just the galley in front of 17A.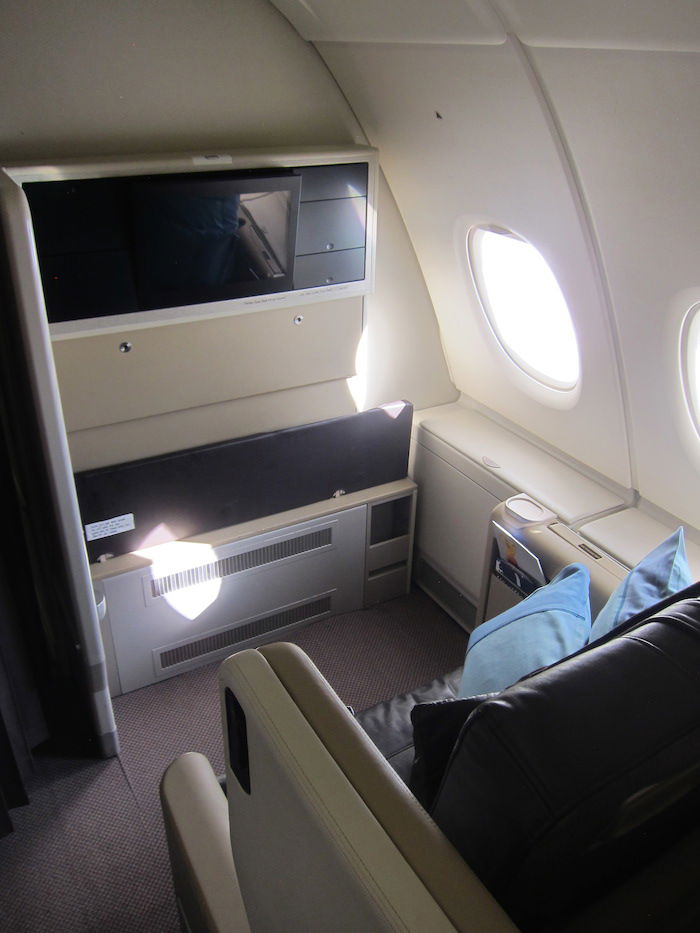 Row 91: It's about the same as row 17, though in general I'd say it's a bit quieter since it's in the forward part of one of the smaller cabins. While there are lavatories in front of it, they shouldn't be too disruptive.
Row 96: This is where I sat, and I loved it. Where do I begin with the positives?
First of all, it really feels like a single row mini-cabin thanks to the partition in front of the row. Second of all, most people want to avoid the last row of the cabin, so you're much more likely to have empty seats around you.
While there are lavatories behind the cabin, in practice everyone seems to use the ones mid-cabin. There's a galley in the rear of the plane, so flight attendants are constantly walking past you. On Singapore that's a great thing, since the crew is so damn attentive. The flight attendants checked on me roughly every 30 seconds throughout the flight to see if I might need something, so the service was as attentive as I've ever experienced in any class. Just unbelievable.
The other thing worth noting about row 96 is that it gets really cold. I saw someone mention that online but didn't totally believe them. It's 100% true. The cabin gets progressively colder the further back you go, and row 96 is like an ice box. That's awesome, in my opinion though, since my biggest complaint on non-US airlines is typically that they're like saunas. There's nothing a hoodie and couple of blankets can't solve, though, and I'd certainly rather be too cold than too hot.
One other thing I was concerned about going into this flight was if service would suffer because of the number of seats.
The service I received was on par with what you'd get in first class. What Singapore does so brilliantly is split flight attendants up by section, so it's really a personalized experience where every flight attendant in your section knows your name.
More on the service later, though, which was comically good.
Singapore A380 business class seating recommendations
So given all that, which seats would I recommend? Well, I love the bulkheads, so given the choice would absolutely choose them.
If traveling alone I'd choose seats in the following order:
96A or 96K
91A or 91K
17A
17K
11A or 11K
If traveling with someone I'd choose seats in the following order:
11D & 11F (since you benefit from the privacy, but the lack of windows and curvature of the plane isn't an issue)
96D & 96F
91D & 91F
18D & 18F
If you've flown Singapore Airlines business class, what was your favorite seat?