A couple of weeks ago Sichuan Airlines began flying between Los Angeles and Hangzhou, China, with connecting service to Chengdu. What made this especially interesting is that the airline announced the route just a few days before they began service. I don't ever recall seeing an airline provide such little lead time before starting a route.
We've seen Chinese carriers expand their US route networks a lot lately. This is probably largely caused by the regulation that only allows each longhaul route to be served by one Chinese airline. As a result, there's an incentive for Chinese carriers to add these routes as soon as possible, so they can prevent their competitors from operating the routes first.
When you include Xiamen Air's requested route between Los Angeles and Xiamen, there is service from LAX to Beijing, Changsha, Guangzhou, Hangzhou, Nanjing, Shanghai, and Xiamen.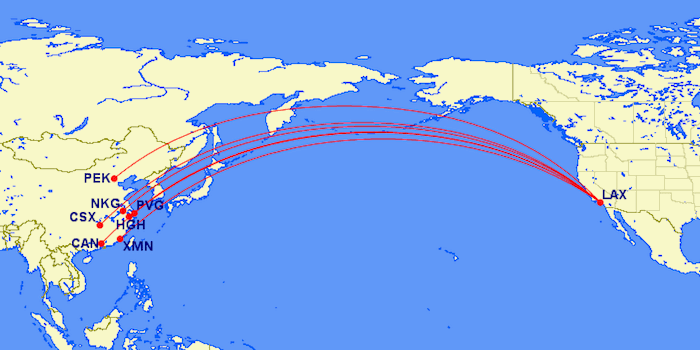 Well, in addition to Sichuan Airlines' new twice weekly flight between Los Angeles and Hangzhou, it looks like the airline is now adding a second route to Los Angeles. Per @airlineroute, Sichuan Airlines will be adding twice weekly flights (Tuesdays and Saturdays) between Los Angeles and Jinan as of December 6, 2016. Much like the flight to Hangzhou, there will be continuing service to Chengdu on the same plane.
The flight will operate with the following schedule:
3U8699 Chengdu to Jinan departing 9:25AM arriving 11:50AM
3U8699 Jinan to Los Angeles departing 1:50PM arriving 10:50AM
3U8700 Los Angeles to Jinan departing 12:50PM arriving 6:50PM (+1 day)
3U8700 Jinan to Chengdu departing 8:50PM arriving 11:25PM
This route will also be operated by an Airbus A330-200, which unfortunately features angled seats in business class.
Much like Sichuan's previous route to LAX, we're also seeing great introductory fares on this route. A roundtrip business class ticket from Los Angeles to Jinan will cost you ~$1,636 including all taxes and fees. The fare is the same if continuing on to Chengdu.

Bottom line
It's crazy to see the pace at which Chinese carriers are adding flights to the US. While it's cool to see Sichuan's expansion, it's unfortunate that they're not in any alliance, and also that they're the only Chinese carrier flying to LAX without a flat bed business class product.