No joke, when I first saw this I assumed it was something from The Onion, but nope. It's real, and I can't decide if it's the best or worst thing to ever happen to an airport.
The Shot Bar at SEA basics
The Shot Bar at SEA has just opened, and it's a first of its kind walk-up shot bar at Seattle-Tacoma Airport. Specifically, the shot bar is a pop-up at Rel'Lish Burger Lounge in Concourse B at the airport. There's a walk-up counter, and you can order either a single shot ($7) or a double shot ($10). It'll be served in a two ounce solo cup, just like you used to have at college parties (I can't speak to that, because I was busy mileage running at the time).
Chilled liquor choices include Brown Sugar Bourbon, Fireball, Hornitos Crystalino Tequila, Ketel One Botanical Cucumber Vodka, and Skrewball Peanut Butter Whiskey.
Drinks need to be consumed right there at the counter, since you're not allowed to roam the terminal with alcohol. Cutting people off is at the discretion of the bartender.
Here's what Chef Kathy Casey, who is behind this concept, had to say:
"Limited seats are available for passengers to have a cocktail at the airport due to physical distancing protocols, but the interest from travelers for adult libations remains high. SHOT BAR addresses that in a fun and pioneering way! Plus, there's nothing more fun than a quick shot to kick off vacation."
Seattle-Tacoma Airport's Director of Commercial Management also had positive things to say about the concept:
"2020 was difficult for our airport and the businesses here due to the pandemic and its impacts on travel. It is exciting to embrace innovations like Shot Bar to continue to create positive experiences for travelers during their journey."
The Shot Bar at SEA
Best idea ever, or worst idea ever?
First of all, I think we can all agree that the restaurant business has been hit hard during the pandemic, and especially the airport restaurant business. So this is an innovative concept that should allow a (probably struggling) business to generate a significant amount of revenue.
Beyond that I have a few different thoughts:
I love this concept and think it's so fun; unfortunately I also recognize not everyone is fun after a couple of drinks, and/or knows their limits
In theory this is a more coronavirus friendly way to have an adult beverage, since you only remove your mask briefly, rather than potentially sitting at a bar for an extended period of time with your mask off
I'm kind of surprised the airport didn't somehow object to this concept, as something tells me there are going to be some misbehaving passengers as a result of this
While this is the first walk-up shot bar, I did always love the distillery at Portland Airport, which had some great drinks
Will this place join Priority Pass? I would think that a Priority Pass "swipe" should entitle you to two double shots, no? 😉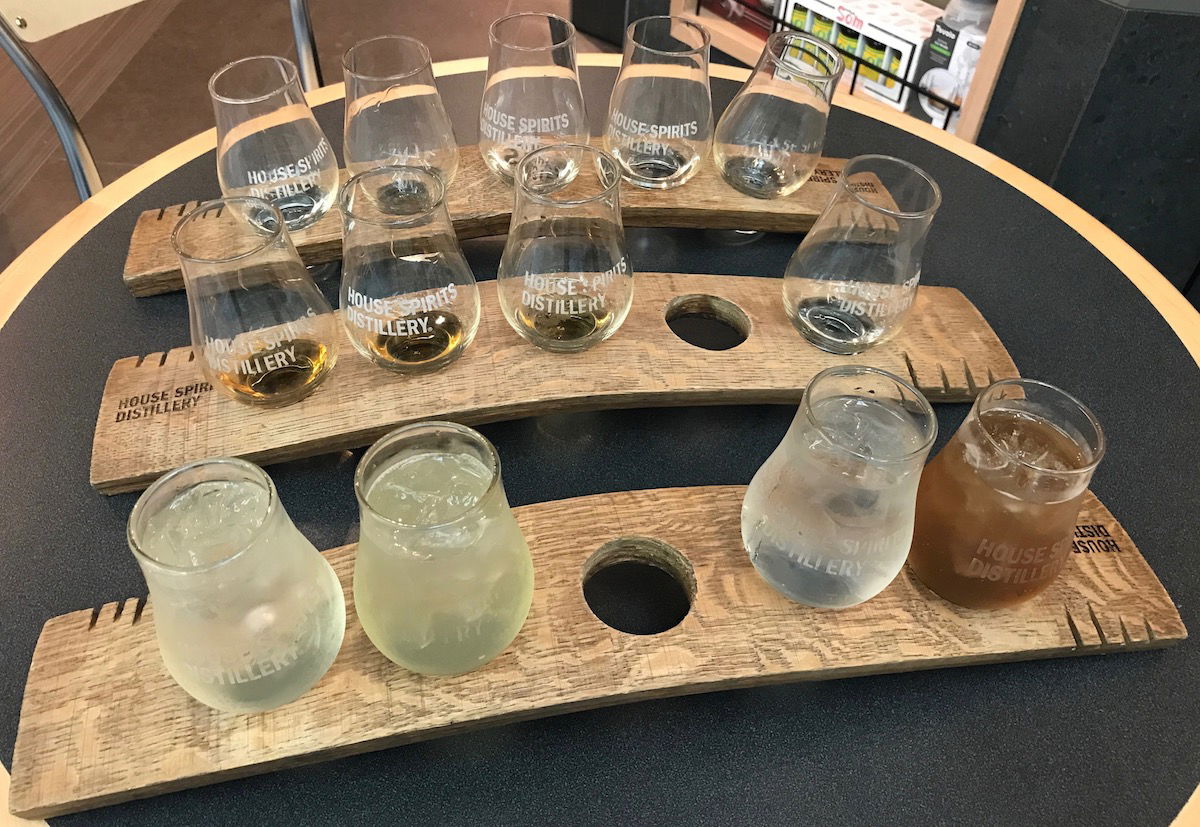 There's a spirits distillery at Portland Airport
Bottom line
The Shot Bar at SEA is now open, so if you're at least 21 years old and can consume one or two shots without acting like a total fool, then consider checking this out the next time you pass through Seattle-Tacoma Airport. With a double shot of tequila, maybe boarding an American Airlines plane with the "Oasis" configuration will almost seem pleasant?
What do you make of the new walk-up shot bar at Seattle Airport? Best or worst idea ever? I feel like responses will be pretty polarizing here…
(Tip of the hat to @EricaToelle)