Collectively I've spent months of my life in the Middle East, and I've never even felt a little bit scared. And that's only natural, since I'm mostly hanging out in countries like the UAE, and not Yemen.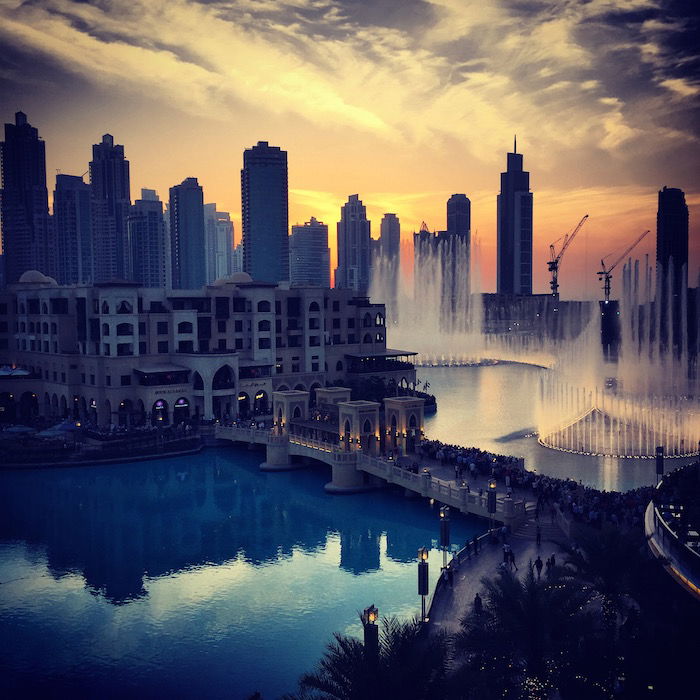 The "modern" Arab countries are sort of facing their own crisis, though. They're torn between traditional roots and trying to build a long-term sustainable economy, which requires foreign labor. So while most of the Gulf countries have very strict laws when it comes to human rights, they're virtually never enforced, since people would run.
But that doesn't mean weird things don't sometimes happen. For example, cussing via text message in the UAE can get you a prison sentence and/or a massive fine, and it's illegal to write "bad words on social media." All of which is to say that most of the "modern" Middle East operates under a system of unofficial tolerance, unless you tick off the wrong person.
Like I said, I've never felt unsafe anywhere in the Middle East, despite having published many thoughts on Middle Eastern countries, made some jokes about executives at certain Gulf carriers, and being an all around deviant. 😉
Anyway, a couple of days ago I had a ~20 hour layover in Doha, so went into the city for the night. The following day I returned to the gorgeous Hamad International Airport, and headed to the Al Safwa First Class check-in area.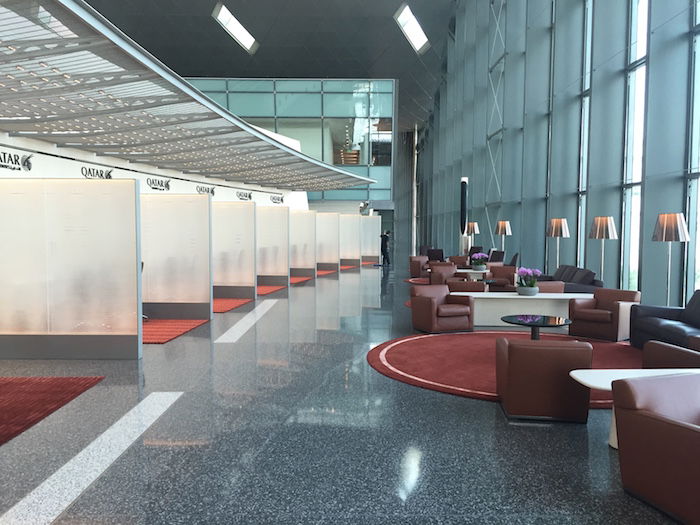 There's a dedicated first class immigration checkpoint at the end of the hall. There was only one counter open, which was being operated by a lady.
There was no queue, so as I went up to the counter she was just chatting away on the phone, as I find to be the norm in the UAE and Qatar. She kept talking, and after maybe 30 seconds hung up. However, she kept mumbling in Arabic — I couldn't figure out who she was talking to, since she wasn't on the phone, best I could tell.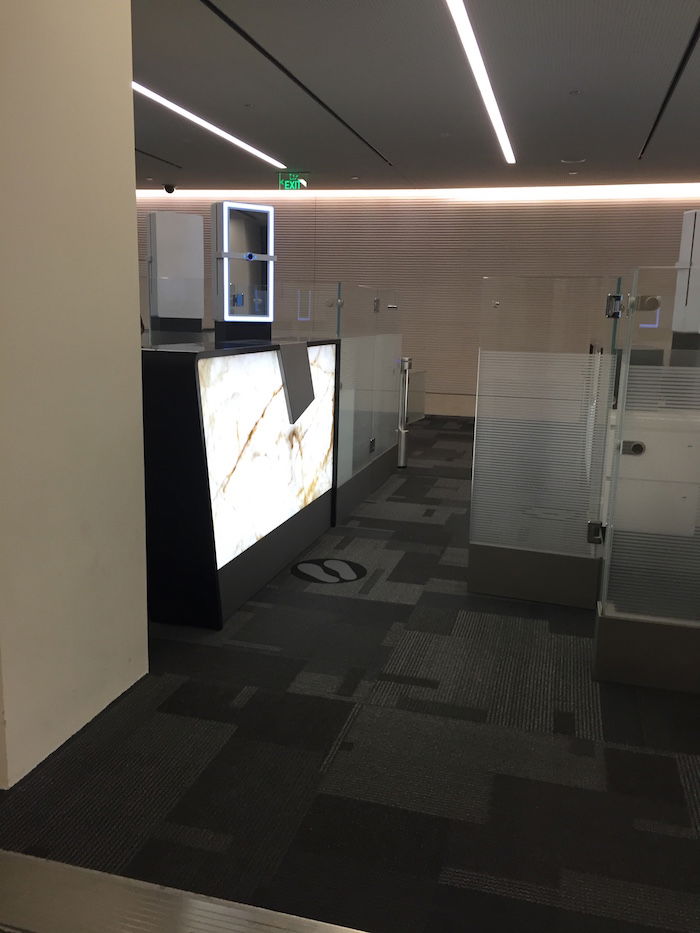 She kept typing and scrolling and whatnot. After maybe three minutes she said "please wait a while."
"Sure, no problem. Where should I wait?"
She pointed for me to stand maybe six feet from the counter. There were no other passengers who were being processed, so it reminded me a bit of this scene in "Meet The Parents," where it's not Greg's turn to board yet, even though there's no one else in the gate area:
https://www.youtube.com/watch?v=kwlQY8I3Uoo
I stood there for maybe five minutes, at which point I went back to the counter and said "should I keep waiting over there?"
"Yes, you wait."
Alrighty.
Some more passengers arrived, who assumed I was queueing for immigration. I said "go ahead, please." They said "no, you first." "No, it's not my turn yet, apparently."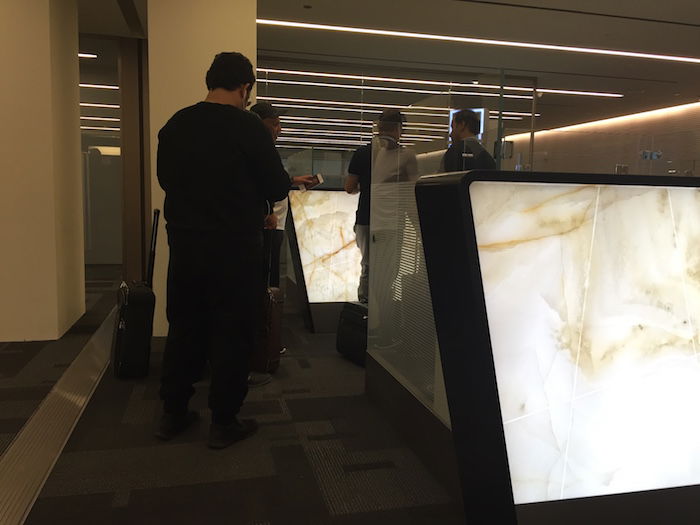 A similar interaction happened with the next dozen or so people who passed the checkpoint.
I actually didn't put much thought into what was going on until I had been standing there for about 10 more minutes, at which point I went from complete calm to sort of internally panicking.
"Oh shoot, did I piss someone off?" was the first thought which came to my mind. I've certainly had some commentary on Qatar's treatment of workers, and of the airline's CEO, and of the airline in general… and I suppose I'm orientationally deviant.
A few minutes later a guy showed up in a police uniform, which is different than the more "traditional" dress usually worn by the immigration officers.
He took me over to the next counter, where he started doing a lot of typing and scrolling, had me look in the camera (as is the norm when processing people at the immigration counter), etc.
At this point I wasn't sure if my next stop was a glass of Krug at the Al Safwa Lounge or a Qatari prison (maybe they serve Krug in Qatari prisons?! Being the richest country in the world has to get you some perks, no?).
Fortunately just as quickly as it all started, I was sent on my way, as the guy opened the immigration "gate" and said "go." A minute later I was in the Al Safwa Lounge!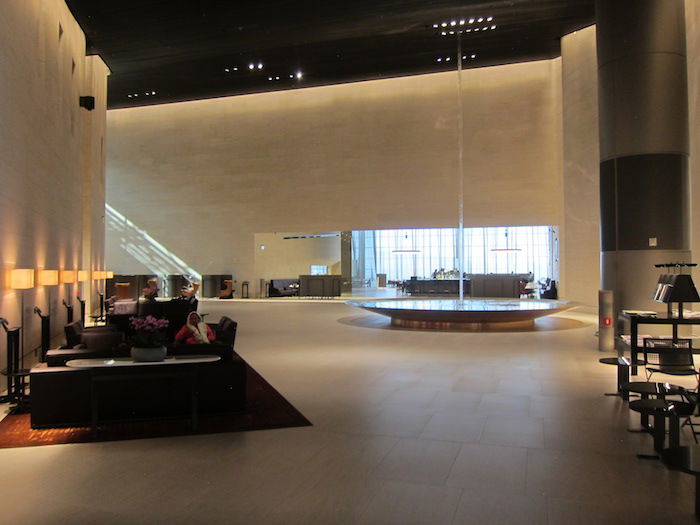 Certainly one of the stranger situations I've faced at immigration, which sent me into a brief panic, if for just a moment.
Anyone have any theories?