For the first time ever Saudi Arabia is issuing tourist visas. The scheme was officially announced yesterday, and today the country is accepting e-visa applications.
Now that this functionality is live, I've gone through the process of applying for an e-visa. While I don't have any immediate plans to visit Saudi Arabia, I was curious what the process was like, and figured others would find it interesting as well.
Saudi Arabia E-Visa Basics
To start with the very basics:
Saudi Arabia e-visas are available to nationals of 49 countries (you can find eligible countries here)
E-visas are valid for multiple entries over the course of one year; you can stay up to 90 consecutive days, and up to a total of 180 days in a year
The entire e-visa, including mandatory medical insurance, will cost you 463.44SAR, which is ~123.50USD
How To Apply For A Saudi Arabia E-Visa
Below I'll outline the process you have to go through to apply for a Saudi Arabia e-visa. The entire process should take only about 10 minutes, and overall I found the site to be well designed and nice-looking, with a few exceptions.
So here's how the process of applying works:
Step 1: Visit The Official Saudi Arabia E-Visa Website
The first step is to visit the official website for Saudi Arabia e-visas, which is https://visa.visitsaudi.com/. Other websites will definitely pop up and will look like the official website, though these will be companies trying to charge a fee for helping you with the process.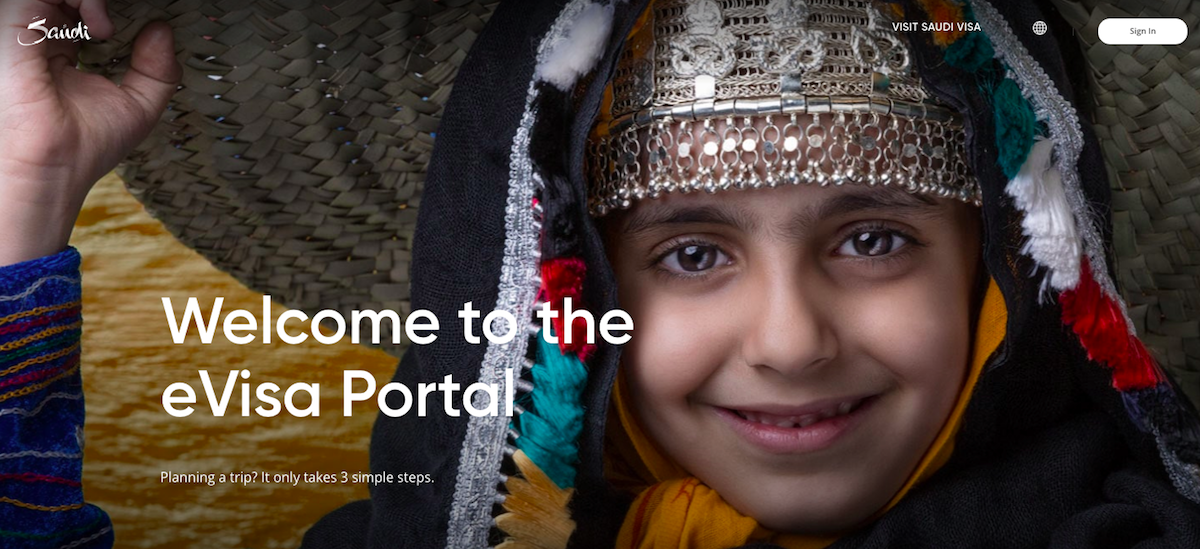 Step 2: Create Saudi Arabia E-Visa Account
Before you formally start the application process you'll want to create an e-visa account. This way you can get started, and then you can return online at any point to check on the status of your application, or to complete it later.
To get signed up you first need to enter your passport type and the country your passport is from.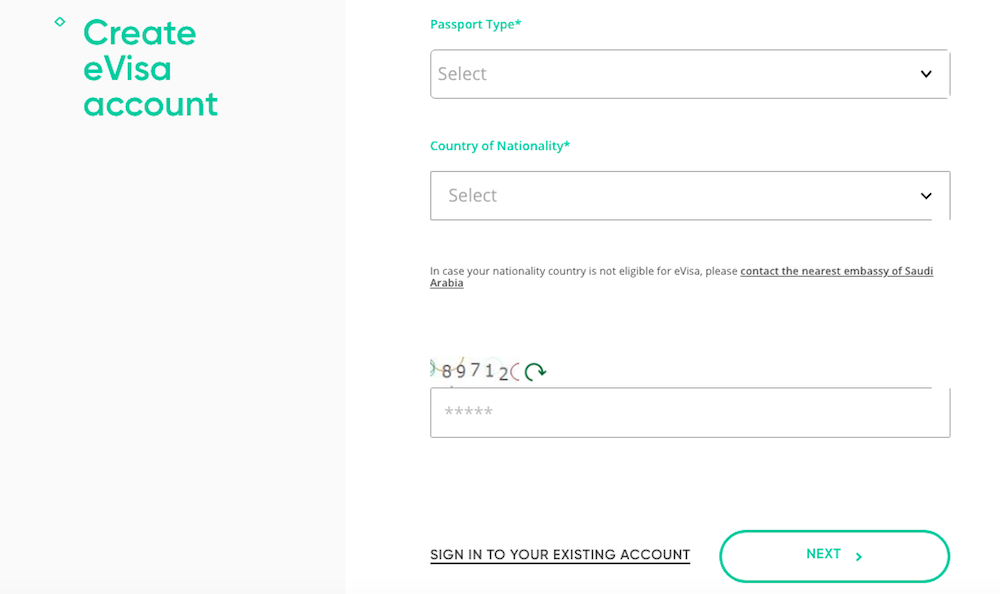 On the next page you'll have to enter your name, phone number, email address, and create your log-in info, including your username and password.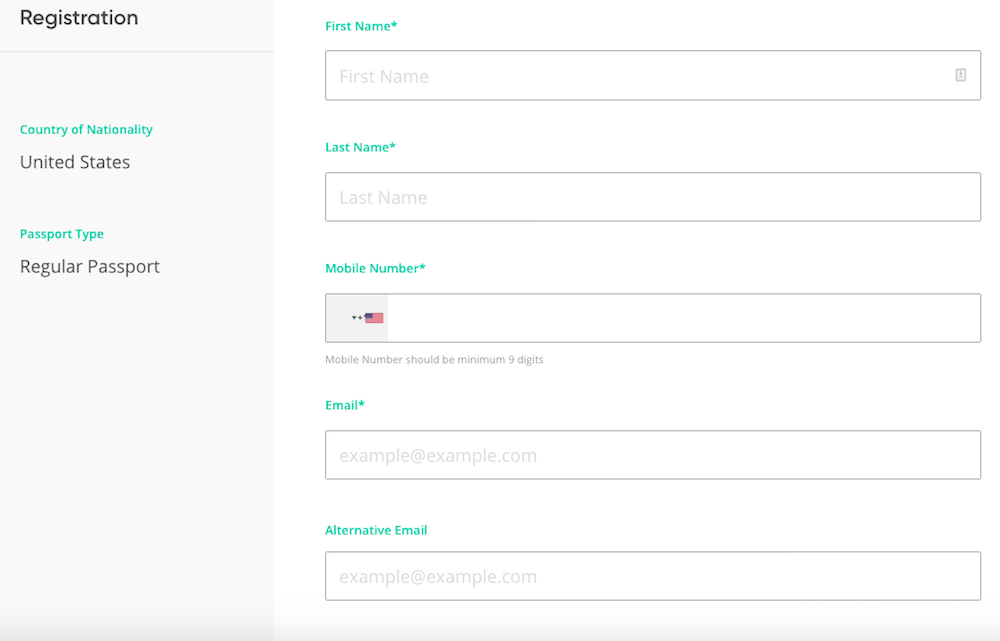 You'll then be emailed an account activation link, which you have to click within 24 hours.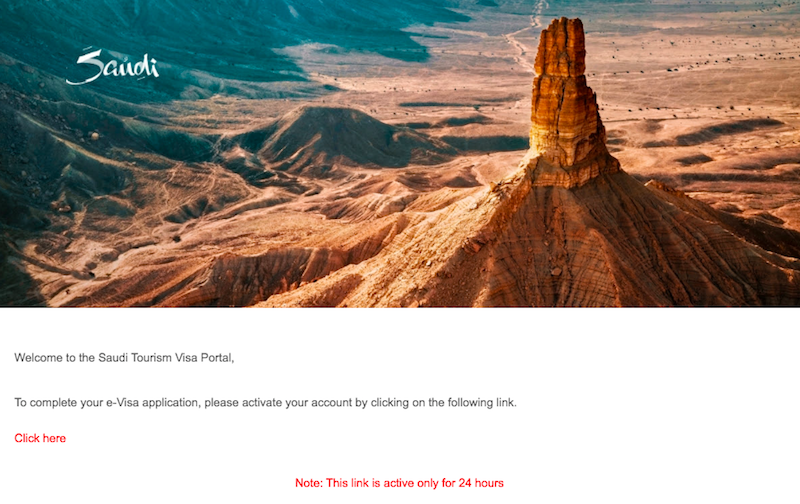 At that point your account will be official, so you could return later to complete your application. When you log in with your email address and password the next time you'll likely have to enter a verification code, which will be emailed to you.
Step 3: Apply For Saudi Arabia E-Visa
Once you've verified your account it's time to actually start the process of applying for an e-visa. This application is spread across several pages, and you have just 10 minutes to complete the details on each page, or you'll be kicked out.
I find it quite interesting that the featured image on each of these pages shows a woman not wearing an abaya. For the first time ever Saudi Arabia won't require women to wear abayas, and they're quite actively promoting that based on the picture. So I guess that's kind of progressive, by Saudi Arabian standards?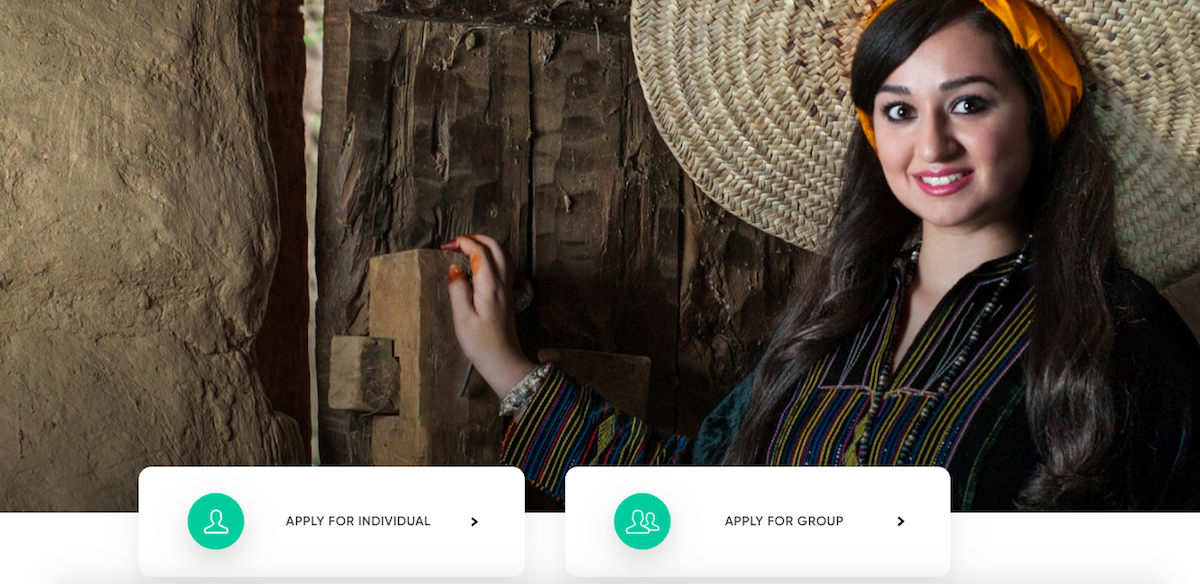 On the first page of the application you'll have to enter some personal information. This will start with uploading an image of yourself:
The dimensions need to be 200×200 pixels
It needs to be somewhere between 3kb and 100kb in size
Acceptable formats include .jpg, .jpeg, .png, .gif, and .bmp
You'll then have to provide information like your full name, gender, marital status, your country of birthday, your profession, and your residential info.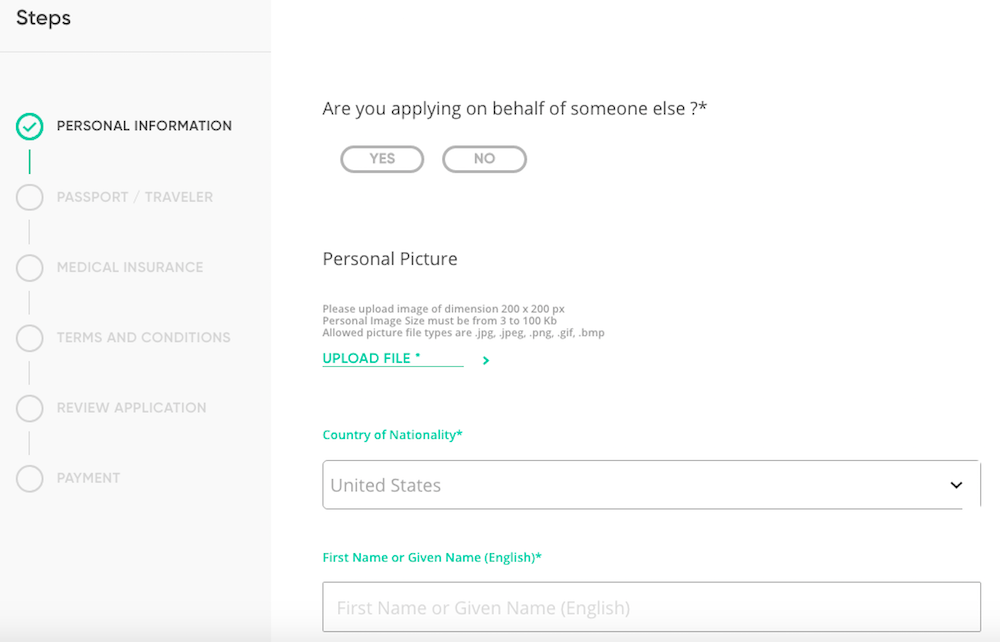 On the next page you'll have to enter your passport info, as well as your expected arrival and departure date in Saudi Arabia (though you can arrive anytime when your e-visa is valid, so these details don't have to be 100% accurate).
You'll also have to provide the purpose of your visit, as well as your contact info while in Saudi Arabia, and where you'll be staying.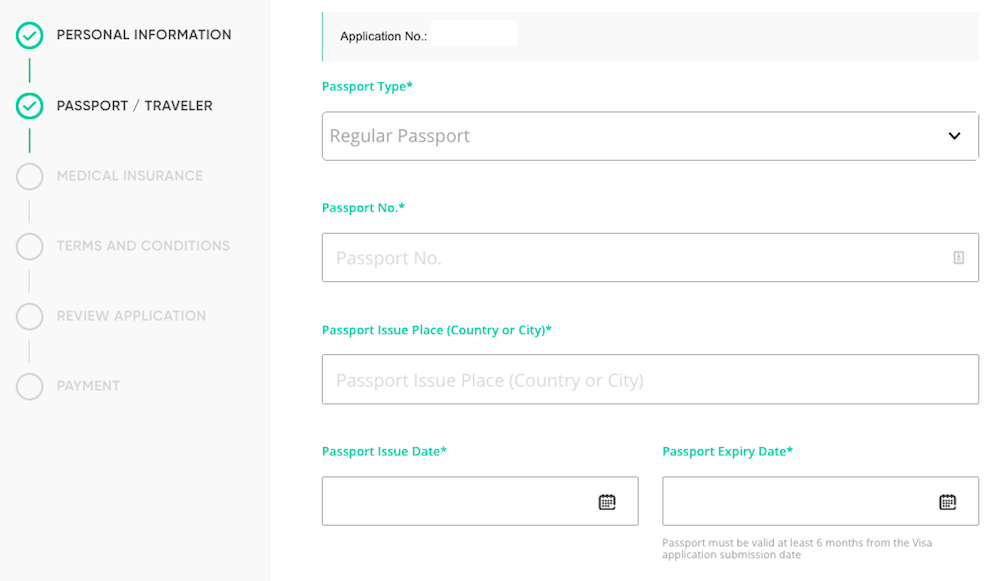 On the next page you'll have to agree to purchase mandatory medical insurance. You're agreeing to purchase it for 140SAR (~37.30USD), which includes a 5% VAT.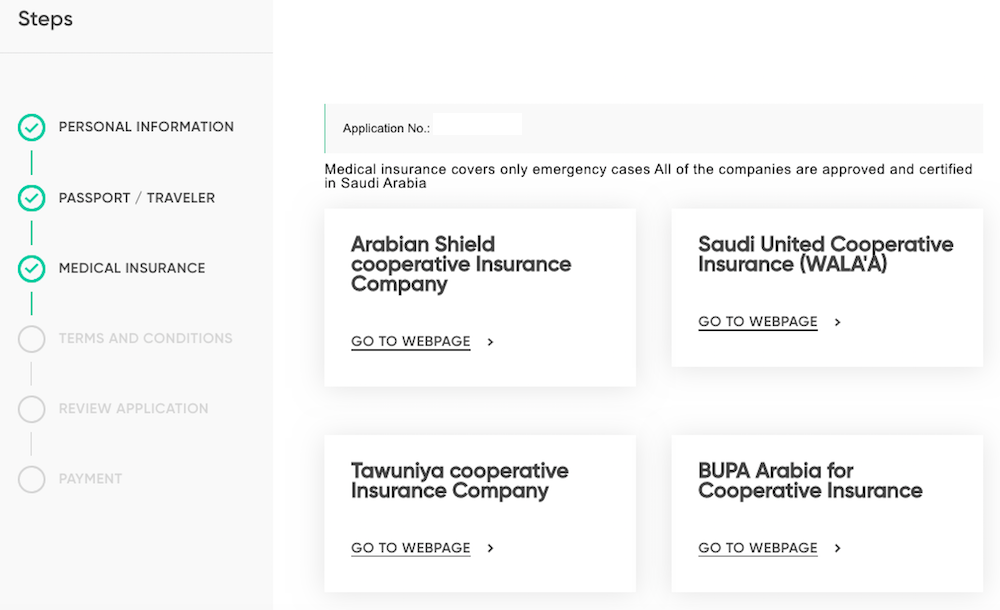 On the next page you'll be asked to agree to the terms and conditions of visiting Saudi Arabia. I'll talk more about those below.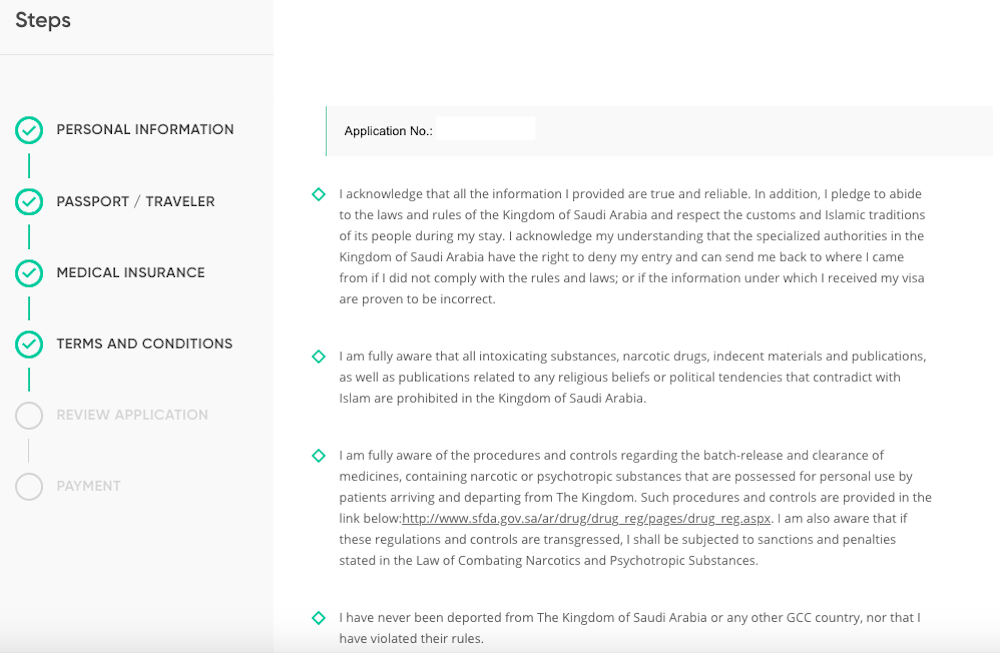 Step 4: Pay For Saudi Arabia E-Visa
Once you've confirmed that all the information you provided is accurate you'll have to pay the fee for the visa. This comes out to a total of 463.44SAR. You can pay this amount by credit card.

What Are The Terms Of Visiting Saudi Arabia?
As mentioned above, during the application process you have to agree to certain terms & conditions for visiting Saudi Arabia.
Here are some of the highlights of the terms:
You promise to abide by the laws and rules of Saudi Arabia and respect the customs and Islamic traditions
You are aware that all intoxicating substances, narcotic drugs, indecent materials, and publications, as well as publications related to any religious beliefs or political tendencies that contradict with Islam are prohibited in Saudi Arabia
You agree you've never been deported from Saudi Arabia or any other GCC country, nor have you violated any of their rules
You acknowledge that drug dealing or smuggling drugs into Saudi Arabia is a crime punishable by death
You agree that you're not permitted to use the tourist visa for any purpose other than tourism, and should not practice any paid or non-paid work related activity, nor perform Hajj during your stay in Saudi Arabia
You acknowledge that there are no medical treatment purposes behind your visit
You are also asked to agree to public decorum policies.
Saudi Arabia has relaxed policies for women, and they note that both men and women should dress modestly in public, avoiding tight fitting clothing or clothes with profane language or images. Women should cover shoulders and knees in public.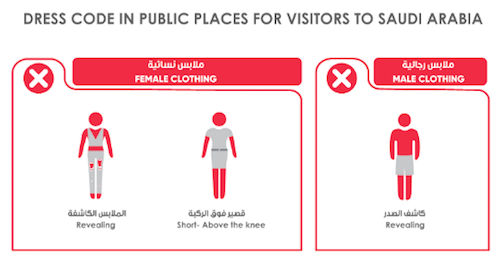 Bottom Line
This post isn't an endorsement of visiting Saudi Arabia, but rather I was just curious what the visa application process was like. Saudi Arabia is a country that has been so off limits for years, and I was curious if they'd throw any curveballs into their visa application.
As it turns out they didn't, and the e-visa process for Saudi Arabia looks very similar to just about any other process out there. By typical immigration standards, there are no overly personal questions (like asking for your social media account info, for example).