In 2019, Saudi Arabia began issuing tourist visas electronically. This was a big development at the time, since previously the country only issued visas for religious and business reasons.
Since then, Saudi Arabia has started investing an unprecedented amount in tourism, and the country hopes to welcome 100 million visitors annually by 2030. This includes launching a new airline, building all kinds of tourism regions full of resorts, and much more.
In this post I wanted to go through the process of applying for a Saudi Arabia e-visa, including all the basics you need to know. While most people report getting near-instant approvals, my situation has been a bit more complicated. Fortunately I've managed to resolve it, so I wanted to report back with my experience.
Why I applied for a Saudi Arabia e-visa
I just went through the process of applying for a Saudi Arabia e-visa, and not even because I really intend to visit the country. For my upcoming review trip, I'm planning on connecting in Jeddah, arriving on Garuda Indonesia and departing on Etihad, as that was the best flight option I could find.
When I wrote about this, readers pointed out that this itinerary requires switching terminals at the airport, and that's no small task, as they're many miles apart, with no airside connection. While it's possible that I might be able to get a visa on arrival, I didn't want to chance it, and I figured I was best off just applying for an e-visa, to avoid any potential issues.
How to apply for a Saudi Arabia e-visa
First let me cover some of the very basics of applying for an e-visa for Saudi Arabia:
You can apply for a e-visa through the official Saudi Arabia e-visa portal
Saudi Arabia e-visas are available to nationals of 63 countries, all listed on this page; this includes the United States, Canada, Australia, New Zealand, most countries in Europe, select countries in Asia, and three countries in Africa
E-visas are valid for multiple entries over the course of one year, and you can stay for up to 90 days
The entire e-visa, including mandatory medical insurance, will cost you 488.51 SAR, which is 130.25 USD
Officially, it can take 24-48 hours for an e-visa to be approved, but many people report being approved within minutes
Completing the e-visa process should take a total of around 10 minutes, give or take
So let's talk about the steps of applying for a Saudi Arabia e-visa…
Create a Saudi Arabia e-visa account
The first step is to visit the official website for Saudi Arabia e-visas. Let me emphasize that there are all kinds of websites out there that will pop-up when you search for Saudi Arabia e-visas, but they're mostly trying to charge a fee for helping you with the process.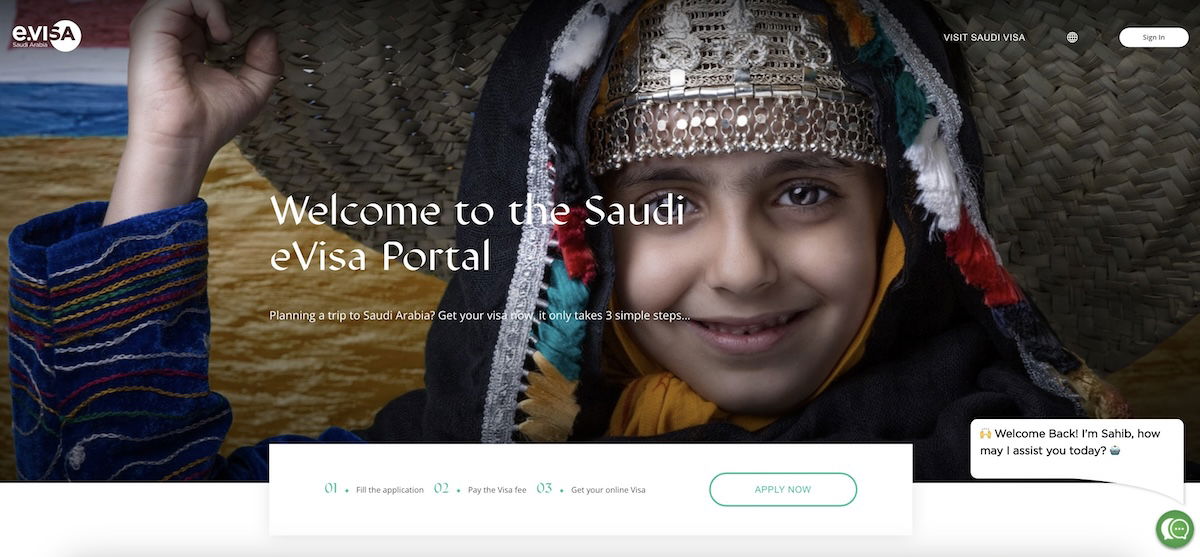 Before you start the application process, you'll need to create an e-visa account. Not only is this required to submit an application, but it can also be useful if you want to start your application and then later return to it, or if you want to later check on the status of your application.
To create an account, you need to enter your passport type and the country your passport is from.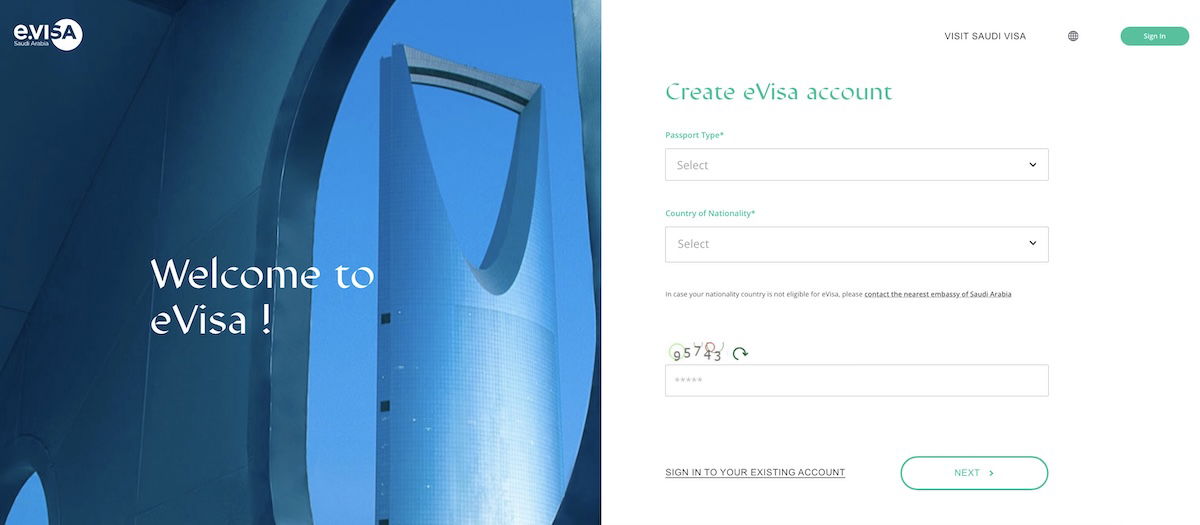 On the next page you'll have to enter your name, phone number, email address, and create your log-in info, including your username and password.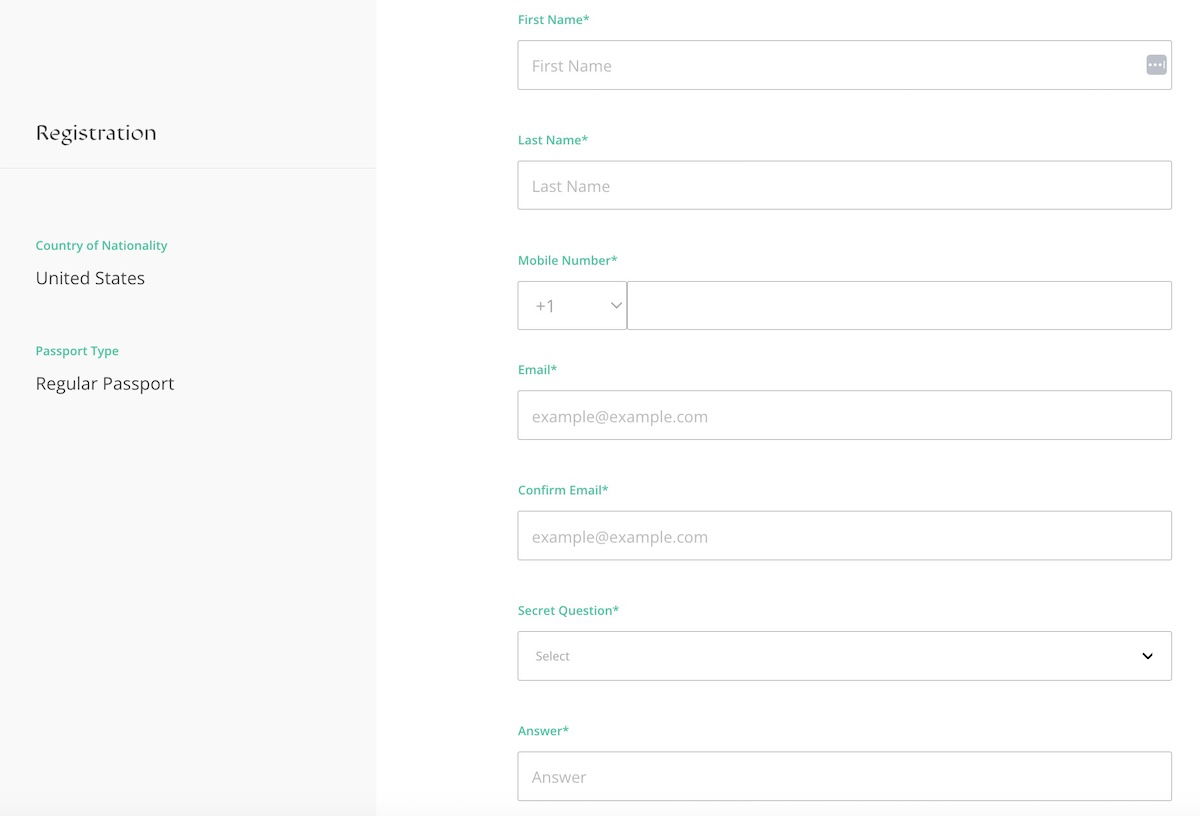 You'll then be emailed an account activation link, which you have to click within 24 hours.

At that point your account will be official, so you could return later to complete your application. When you log-in with your email address and password the next time, you'll have to enter a verification code, which will be emailed to you.
Complete the Saudi Arabia e-visa application
Once you've verified your account, it's time to actually start the process of applying for an e-visa. This application is spread across several pages, and you have just 10 minutes to complete the details on each page, or you'll be kicked out.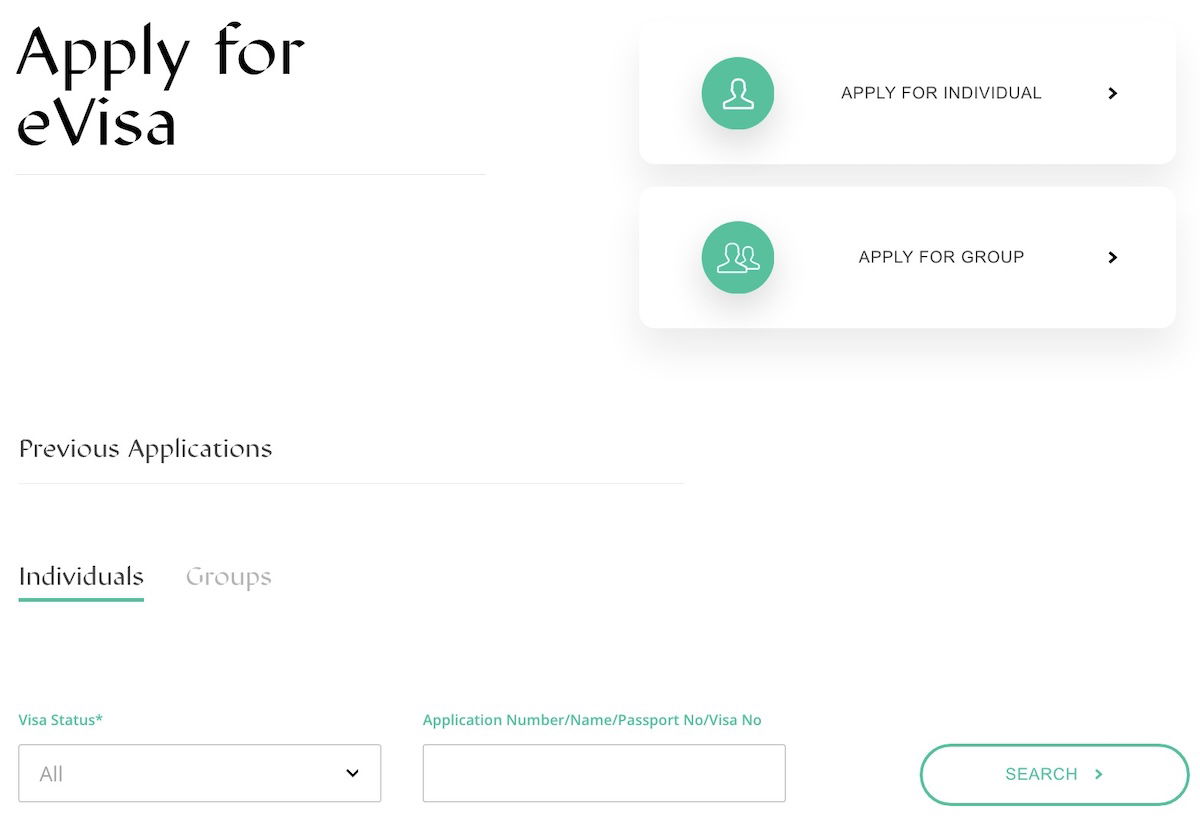 On the first page of the application, you'll have to enter some personal information. This will start with uploading an image of yourself, which has specific requirements:
The dimensions need to be 200×200 pixels
It needs to be somewhere between 5kb and 100kb in size
Acceptable formats include .jpg, .jpeg, .png, .gif, and .bmp
You'll then have to provide information like your full name, gender, marital status, your country of birth, your profession, and your residential info.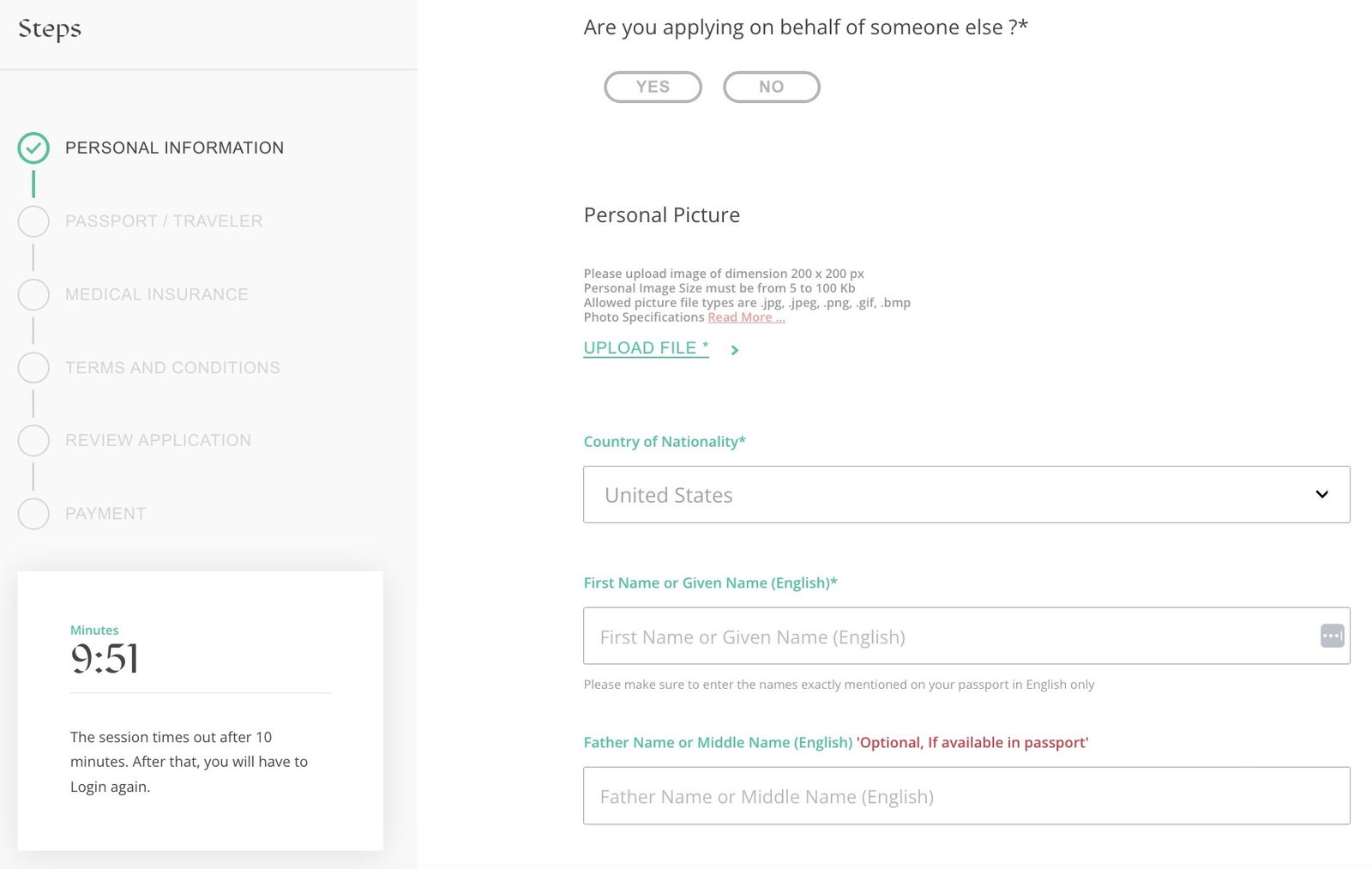 On the next page you'll have to enter your passport info, as well as your expected arrival and departure date in Saudi Arabia (though you can arrive anytime when your e-visa is valid, so these details don't have to be 100% accurate).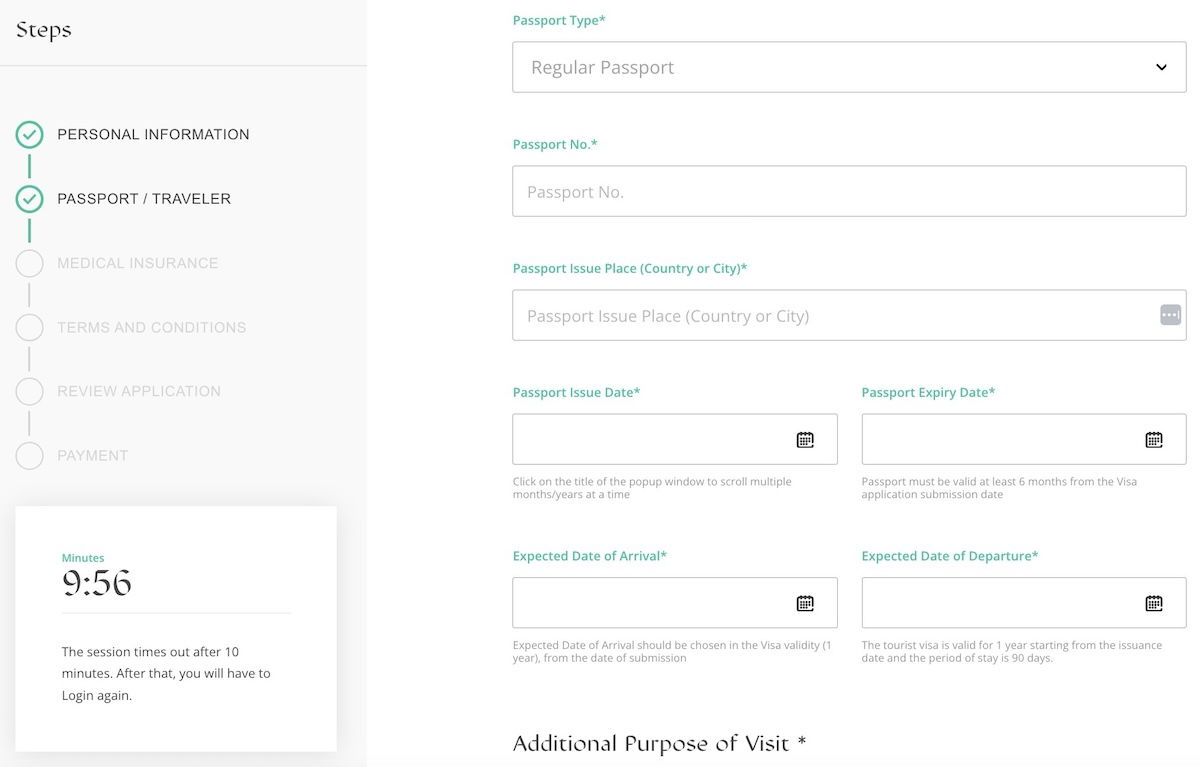 You'll also have to provide the purpose of your visit, as well as your contact info while in Saudi Arabia, and where you'll be staying.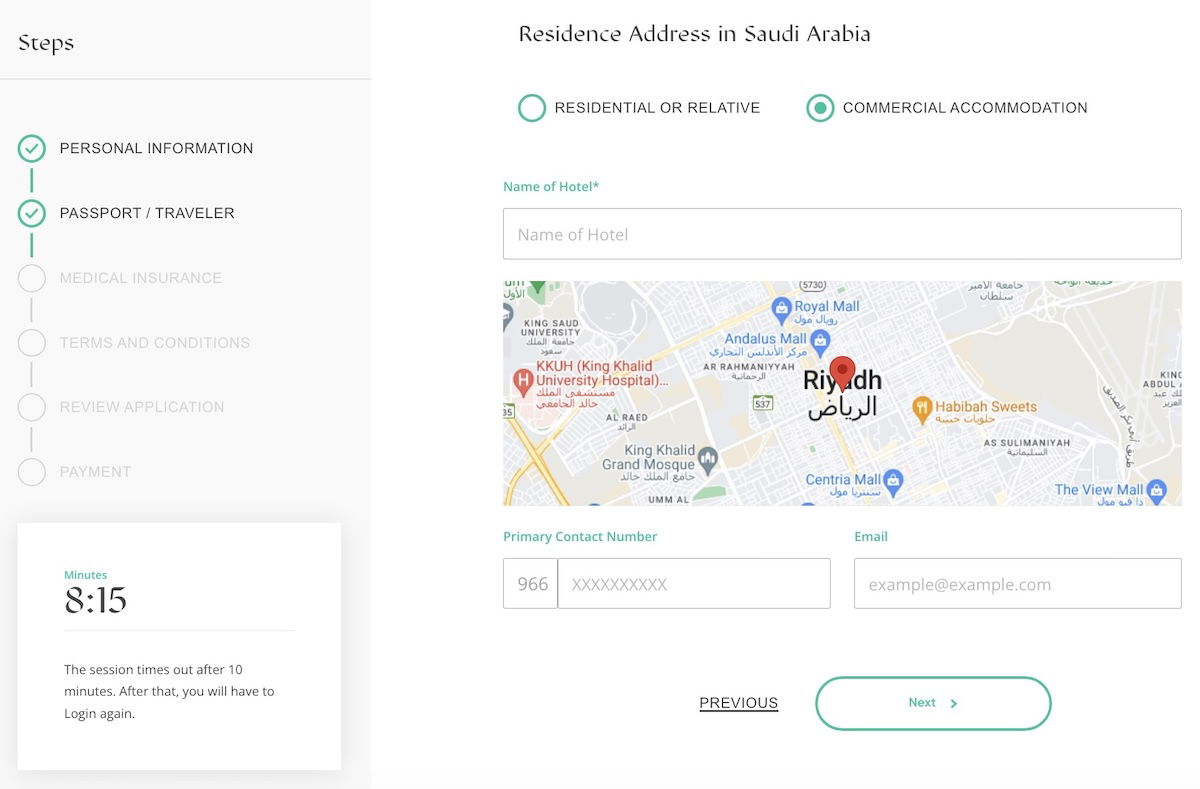 On the next page, you'll have to agree to purchase mandatory medical insurance. You're agreeing to purchase it for 180 SAR (48 USD).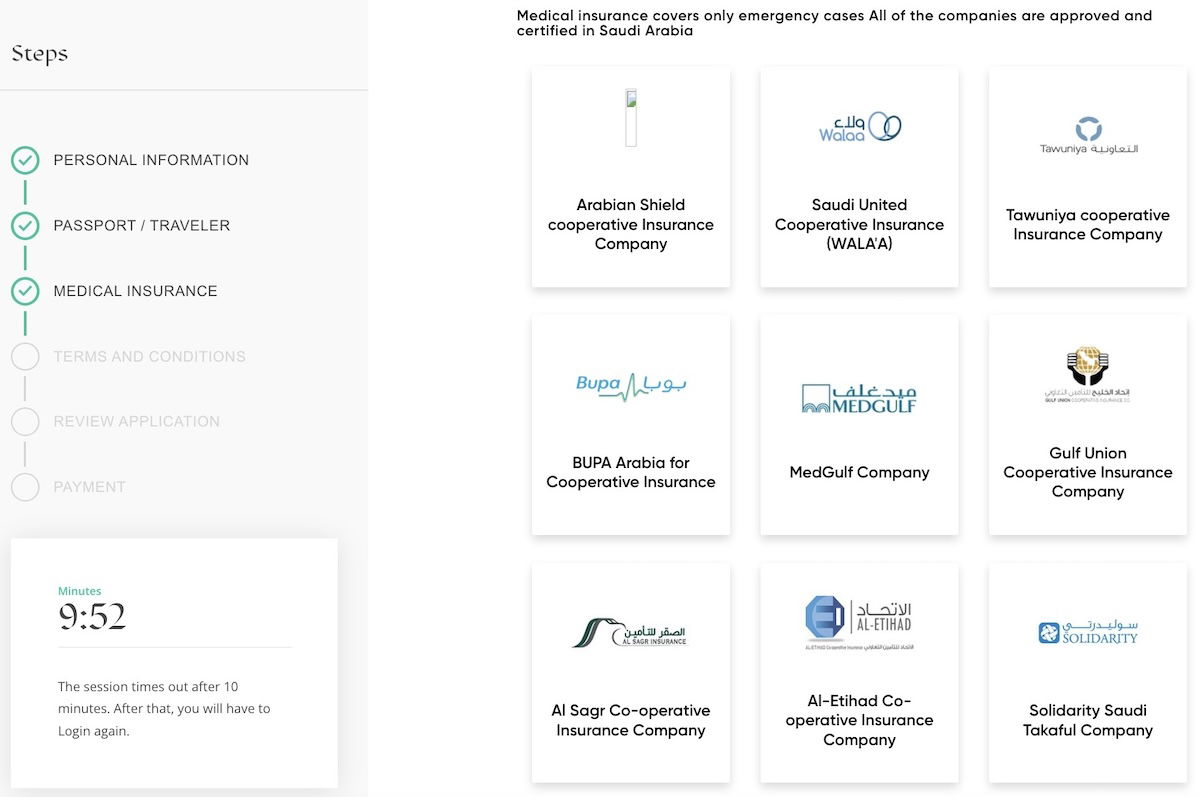 On the next page, you'll be asked to agree to the terms and conditions of visiting Saudi Arabia. Here are some of the highlights of the terms:
You promise to abide by the laws and rules of Saudi Arabia and respect the customs and Islamic traditions
You are aware that all intoxicating substances, narcotic drugs, indecent materials, and publications, as well as publications related to any religious beliefs or political tendencies that contradict with Islam are prohibited in Saudi Arabia
You agree you've never been deported from Saudi Arabia or any other GCC country, nor have you violated any of their rules
You acknowledge that drug dealing or smuggling drugs into Saudi Arabia is a crime punishable by death
You agree that you're not permitted to use the tourist visa for any purpose other than tourism, and should not practice any paid or non-paid work related activity, nor perform Hajj during your stay in Saudi Arabia
You acknowledge that there are no medical treatment purposes behind your visit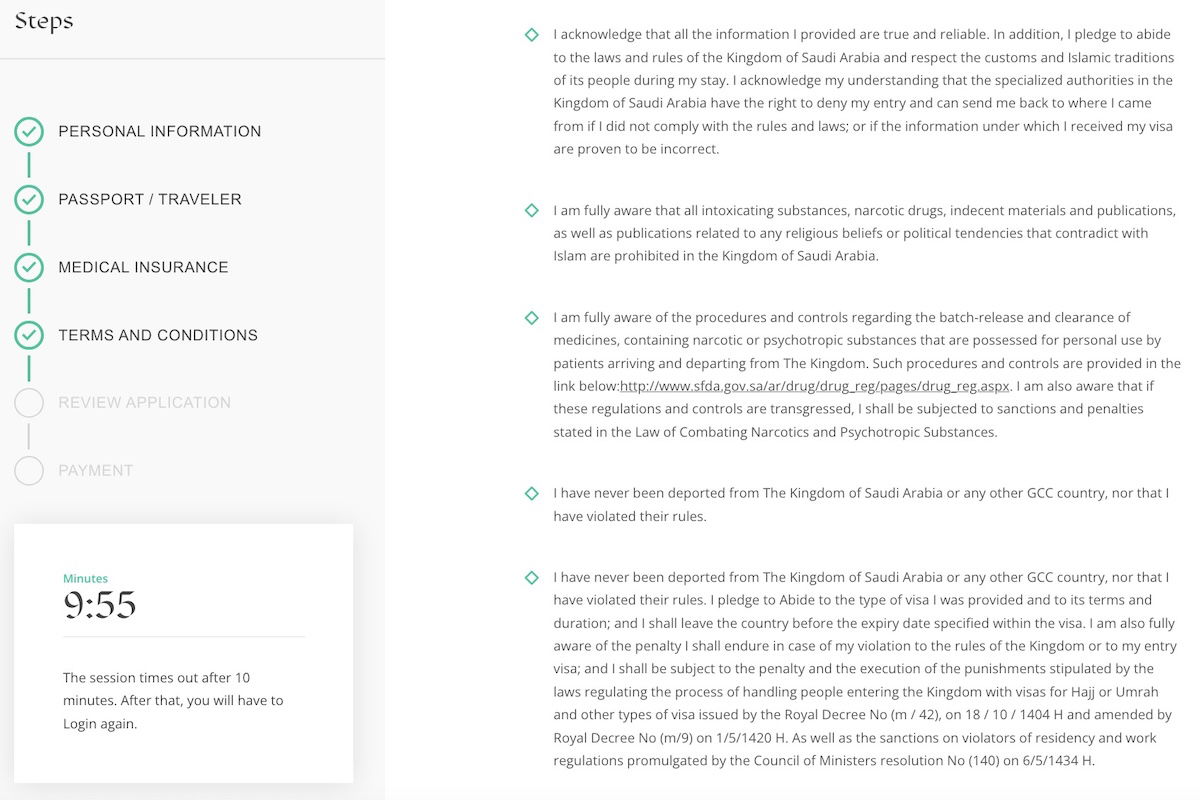 You'll then be asked to review your application, before paying and then submitting it.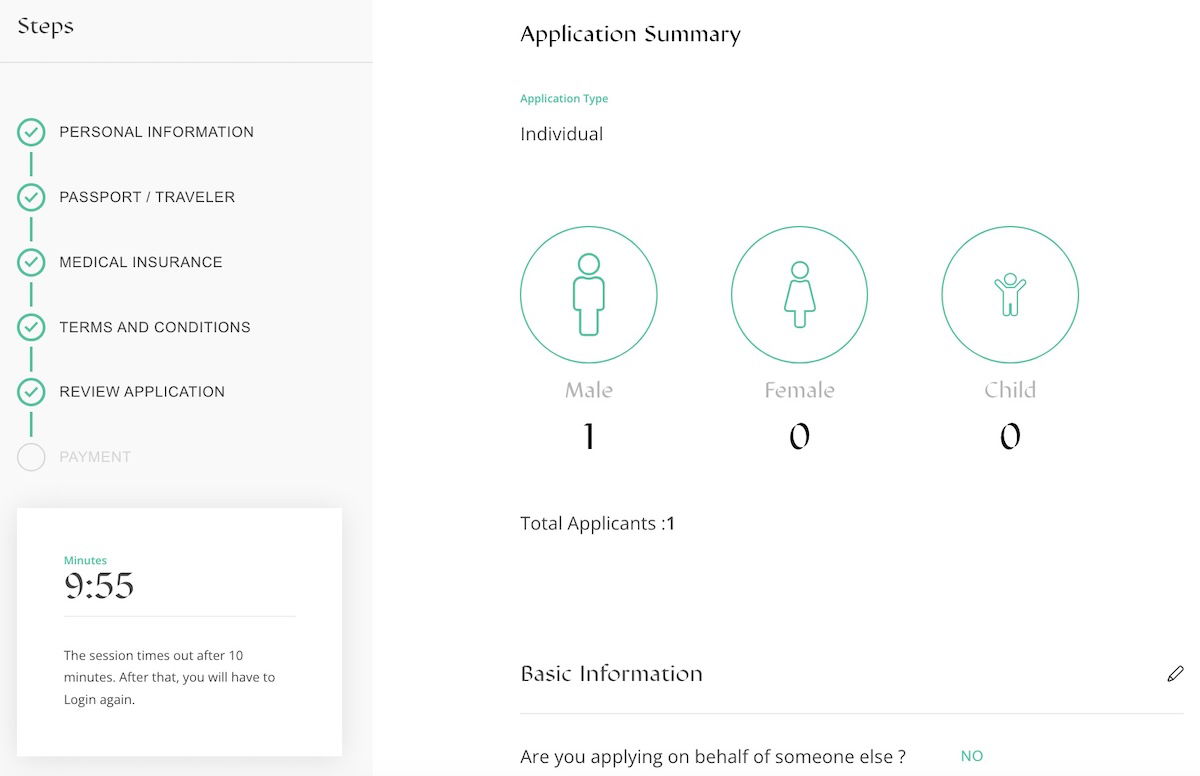 Pay for your Saudi Arabia e-visa
Once you've confirmed that all the information you provided is accurate, you'll have to pay the fee for the visa. This comes out to a total of 488.51 SAR. You can pay this amount by credit card, and most major credit cards are accepted, including Visa, Mastercard, American Express, and more.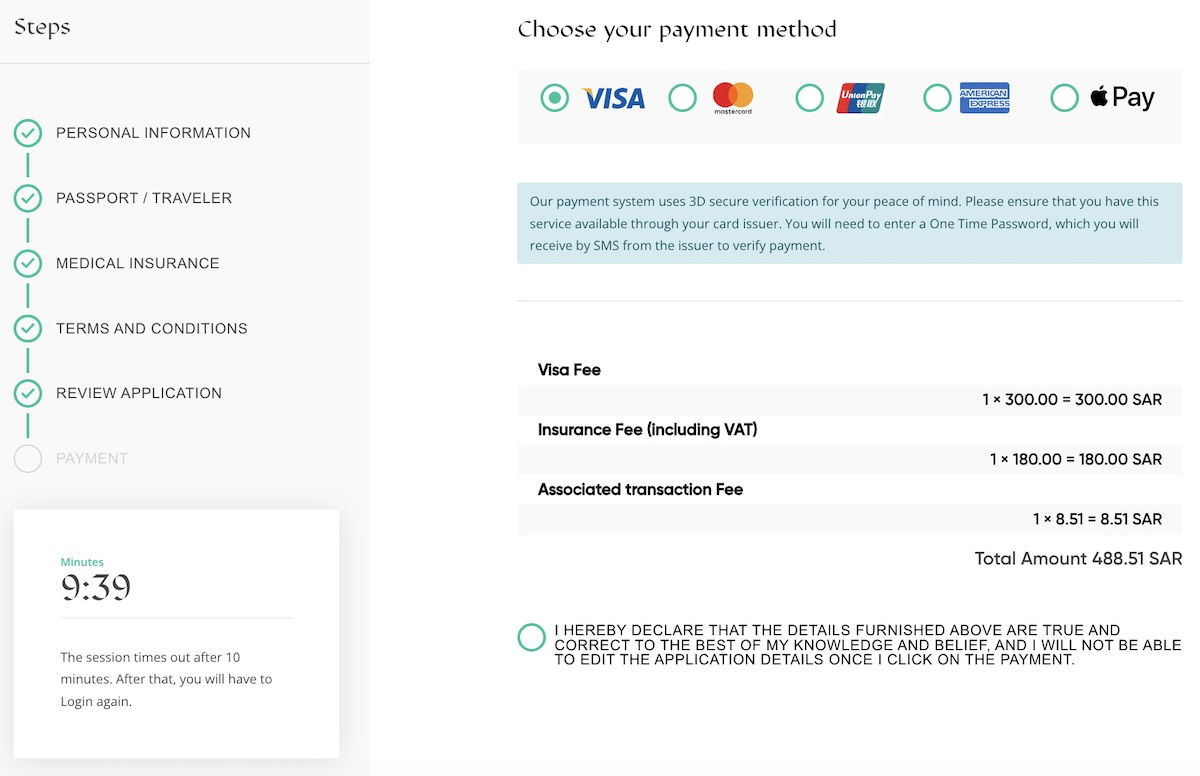 Wait for your Saudi Arabia e-visa approval or rejection
Once you've submitted your application, you'll want to keep an eye on both your e-visa account and your email, to wait for approval. Officially it can take 48 hours for an e-visa to be approved, though in practice most people report it being approved within minutes.
What happens if your Saudi Arabia e-visa is rejected?
The above is how things are supposed to work, but I guess it couldn't be that easy, eh? 😉 About five minutes after I submitted my application, I noticed that the Saudi Arabia e-visa portal showed my application as having been rejected.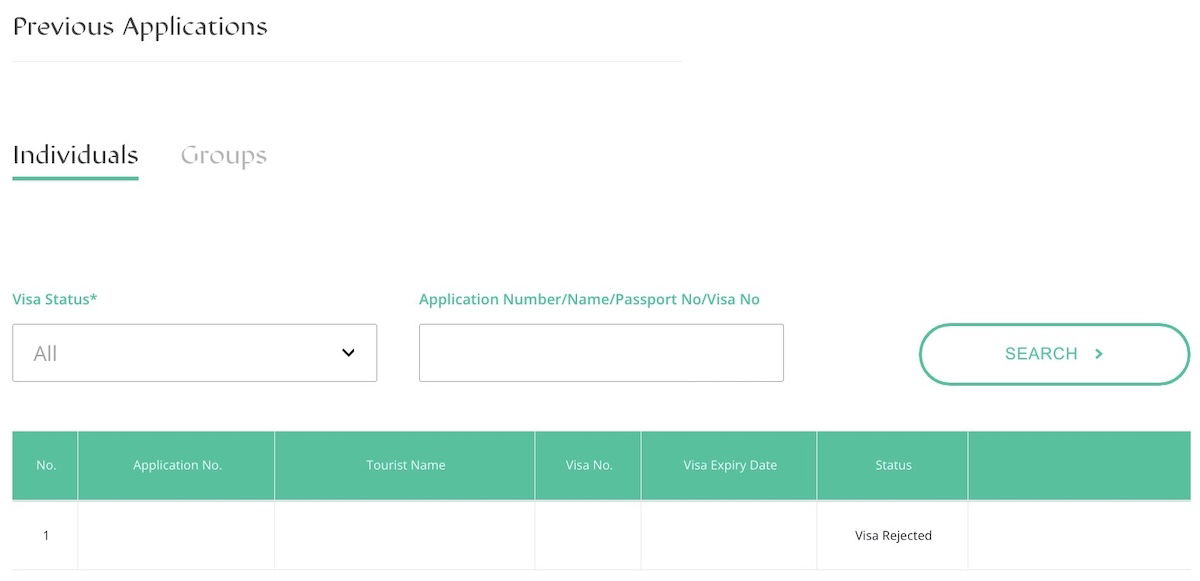 Interestingly I didn't receive an email about the rejection, but rather it just showed this way in the portal. Furthermore, there was no explanation for why I was rejected — I wondered if I just wasn't welcome in Saudi Arabia for some reason, or if there were other issues with my application?
I was careful to fill out the application accurately, though it's possible that I made a mistake, and that's why I got rejected. I didn't just want to submit another application and pay the visa fee again, in the off chance that maybe I would get approved the second time around due to some mistake I made.
Fortunately I ended up getting a positive resolution. I went to the help & support page of Saudi Arabia's visa website, and I submitted a message there, explaining that my visa was rejected, and I was wondering if there was something I needed to do to get it approved.
I wasn't sure if there would be a response, so I also called the phone number listed on that website. To my surprise, a delightful Saudi woman answered on the first ring, and was very helpful and apologetic. I was shocked, since I don't think there are many countries that have that level of support for e-visas. She took down all the details of my case and said that I would hear from them soon.
Sure enough, about six hours later I received an email, informing me that my e-visa had been approved, and the e-visa was attached to the email. I can't say with certainty how I got that resolution, or what exactly went wrong. Regardless, I'm happy that reaching out was at least successful.
Bottom line
Saudi Arabia is hoping to greatly grow its tourism industry, and as part of that, the country now issues e-visas for nationals of dozens of countries. The application process is fairly straightforward, and only takes around 10 minutes. You can expect that you'll have to upload a photo, and that a one year visa visa will cost ~130 USD, and that includes medial insurance.
My e-visa experience wasn't so straightforward, as I ended up being rejected without a stated reason. Fortunately the recovery was at least quite good, and I ended up getting approved after reaching out via the website.
If you've applied for a Saudi Arabia e-visa, what was your experience like?