SAS is running a really awesome promotion this spring where kids can fly for almost free from the US to Europe. You just need to book by January 23 and travel between February 7 and April 9.
The best part is that you can take up to 8 kids with each paying adult. You'll literally end up paying less than $50 for each round-trip child (under 11) ticket.
Scandinavia is a wonderful place and totally worth a trip or two, even in winter. My family just got back from Oslo, was in Helsinki last fall, and did Stockholm and Bergen a couple years ago.
Yes, we really like it over there, and it's an incredibly kid-friendly part of the world.

Oslo Opera House
But let's forget about the destination and focus on the miles for a bit. Is it possible to mileage run on this deal?
Do Child Fares Earn Miles?
Like I said in the other post, this isn't a companion fare, a promotional fare, or anything like that. It's literally coded right into the fare rules as a child ticket. And child tickets earn miles.
My kids have flown on child tickets many times and always earned miles. The fares use the same fare code as adult tickets, and just apply a discount during the pricing phase.
The SAS website even has a field for entering the child's frequent flyer number on the booking page. So I would be quite confident that these tickets will earn miles.
Where Should You Credit These Miles?
[This section was edited per a comment from 747flyer. Basically I forgot how United awards miles for tickets issued on partners. Thanks. — Travis]
The trick to earning miles on this child fare is knowing where to credit them. SAS was a founding member of Star Alliance, a fact which they are quite proud of. So you might think that United MileagePlus, as a key Star Alliance partner, would be a logical choice. And for sure, United MileagePlus is generally a good program.
The way United awards miles these days is a bit confusing. For tickets issued on their own 016 stock, they award miles based on the cost of the ticket excluding taxes and fees. That would not be good because these child tickets essentially have a $0 fare basis.
If ticket is issued by a partner, however, United doesn't know how much you paid, so they instead award miles based on the distance flown. Based on the fare class, you'll earn 50% of the distance flown. That's decent, but not great.
The other downside to crediting to United is that they have a minimum revenue requirement for earning Premier status, unless you live outside the US. And even then, you still have to have at least 4 segments on United metal.
So in short, crediting to United could be OK. You'll earn half miles at a 50% rate. If you want to earn more miles or care about elite status — and indeed that was the premise of the post — then we need to consider other programs.
Aegean Is A Good Choice
I would consider crediting these miles to Aegean Miles+Bonus, which is the frequent flyer program of the Greek airline Aegean.
Aegean credits partner flights at 100% of flown miles, meaning they'll earn one award mile for each mile flown. A single Los Angeles to Stockholm round trip is about 11,000 miles.
Since Aegean awards one mile for each mile flown, each trip will earn about 11,000 miles. That means they could earn Gold status on Aegean with 72,000 miles or just seven trips. Ben thinks the Aegean program is amazing.
So if you can squeeze in seven trips by April 9th, your kids would earn 77,000 Aegean miles and Star Gold status for an incremental $350. They'd be earning miles at a rate of 0.45 cents per mile (cpm) each which is incredible.
Notice that I said incremental. Each of the child tickets costs $50, but of course you need to buy at least one adult ticket. So the more children you have, the lower the average cost per passenger.
To drive down the cost per mile — which is always the goal of mileage running — you'd want to maximize the number of children and minimize the number of adults on each itinerary. In other words, you want an child : adult ratio of 8:1. Hey, I never said this was gonna be a joyride…
If you do that, you'll be paying about $1230 and earning 11,040 miles for each of 9 passengers.
You'll end with about 99,000 miles. That works out to a cpm of 1.2 cents, which is still pretty good. The downside is that it'll take 7 trips to get Star Gold if you credit this to Aegean.
SAS Premium Economy Is Included In The Deal
SAS offers a premium economy product which comes with extra legroom, a three-course meal, and a cocktail. It costs roughly 50% more than a regular economy ticket.
But on this deal, the kids still only pay the taxes and fees.
That means if you have eight kids, you could buy one premium economy ticket for the adult and the kids will get premium economy for $50 each.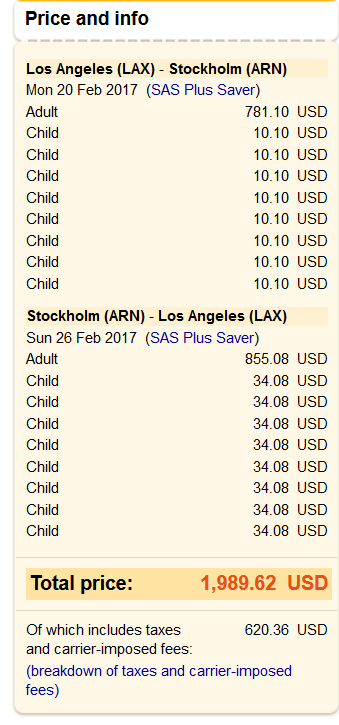 If you're lucky, the flight attendant will let you have the cocktails that the came with the kids' tickets, cause trust me, you're gonna need them.
The best part about booking premium economy tickets is that those tickets may earn more miles depending on where you credit them. For example, the Turkish Miles and Smiles program credits SAS premium economy fares, which code as P, at 150%.
Now that Los Angeles to Stockholm ticket which has a flown distance of 11,040 miles will earn about 16,500 award miles with the class of service bonus. These would also count for elite status where Turkish only requires 40,000 miles for Elite status, which is Star Alliance Gold.
This means your kids could get Star Gold status after only 3 trips and an incremental $150!
Crunching The Numbers On Premium Economy
Each LAX>OSL trip earns 16,500 miles so you'll get 148,500 miles for the entire party. One adult with eight kids in premium economy would cost about $2000. That's a cpm of 1.3.
That's slightly higher than the regular economy example, but remember, you're flying in premium economy and you can earn Star Gold status in only three trips. I'd say that's worth the slightly higher cost.
Can Kids Really Earn Status?
Sure, why not? Ben was a United Premier 1K at the ripe old age of 15.
They'll get the same benefits you get, more or less, including a mileage bonus, lounge access, extra baggage allowance, you name it.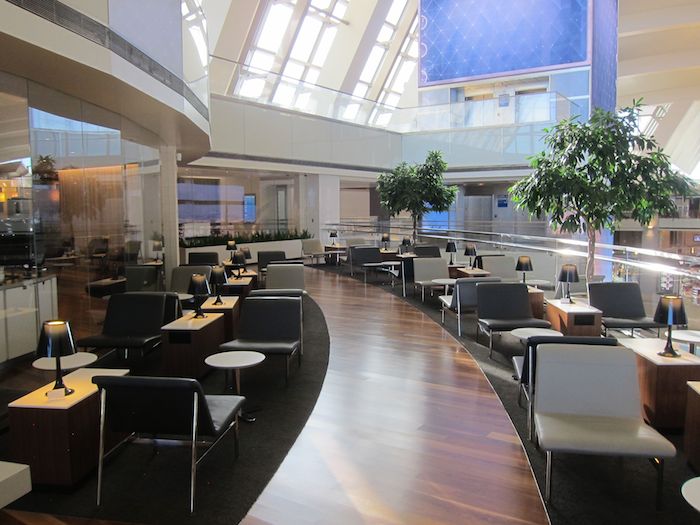 Star Alliance Gold lounge LAX
What If I Don't Have Kids?
Well, that's an interesting question. On my earlier post on this deal, reader David asked
"Do you have to show proof that they are your kids? Can the miles be credit to parents?"
The answer to the second half of his question is simple — the kids need to have their own mileage account.
But I wasn't exactly sure what he was getting at with the first part. Perhaps he was aiming to rent some kids to take on a few mileage runs? Heck, I know a few parents who would be glad to pay him to take the kids to the other side of the world for the weekend. (Which would lower his cpm even further, just saying.)
It's perhaps not as crazy of an idea as you might expect. FlyerTalk legend beaubo once hired 20 Thai rice farmers to fly short segments within Thailand at a cost of $8 per round trip to earn hundreds of thousands of miles.
I'm trying to convince Ben to take the Children of OMAAT mileage running this spring.
Between my three kids, Mike's two, Tiffany's niece and nephew, and Ben's nephew, I think we can get him an optimized itinerary with consisting of him and eight children. Because Ben would never fly a mileage run that didn't result in the most miles at the least cost.
Now we just need to round up 8 more kids from among the OMAAT readership so that Ford can tag along with his own entourage…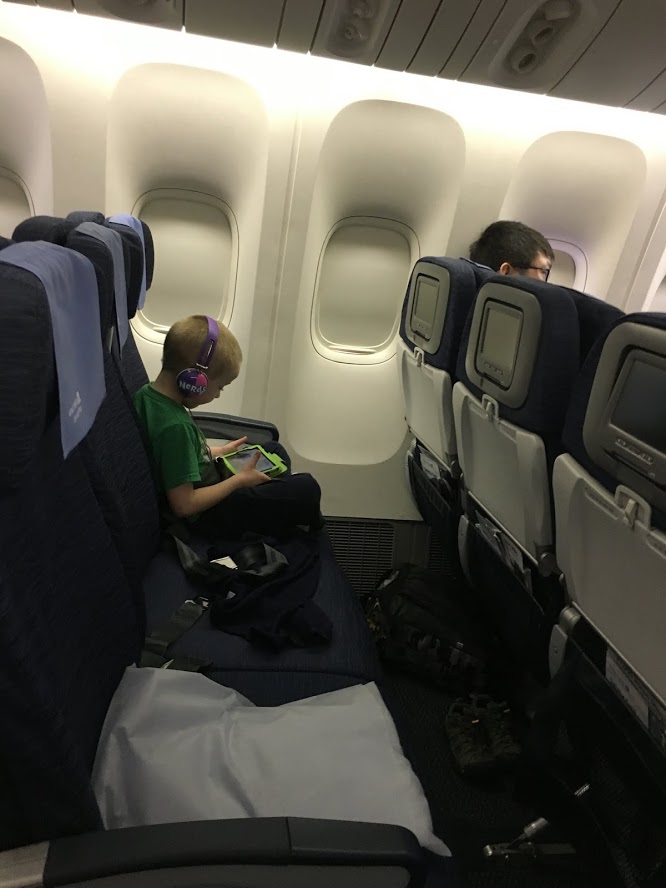 Bottom Line
This SAS promotion where kids can fly for almost free presents an interesting mileage run opportunity. If credited to the right program, it would be possible for your kids to obtain Star Alliance Gold status after three trips and an incremental $150 each. I realize that may not be feasible for most families, but it's still fun to think about.
And even if you only take one trip on this deal, it's worth considering where to credit the miles.
Are you considering taking the family on a SAS mileage run?