While the status of Jerusalem has long been a hot topic, it has certainly been brought to the forefront again with Trump's recent decision.
Jordan is one of the few countries in the region that has relations with Israel, and you can even fly from Amman to Tel Aviv.
Royal Jordanian as such is no stranger to getting political, but usually in a lighthearted way. During the US presidential election they had their fair share of things to say about Trump, and the campaign ended up being wildly successful for them, in terms of brand awareness.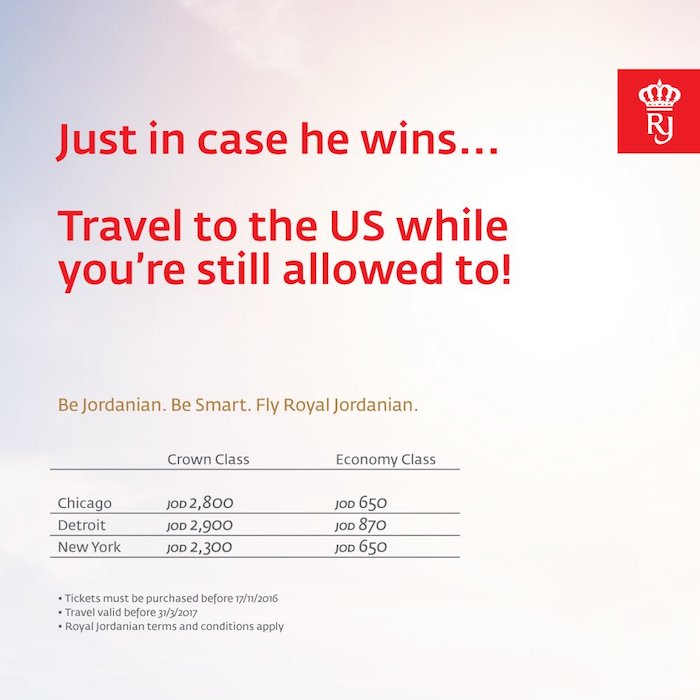 However, I suspect the announcement made by a Royal Jordanian captain this past Wednesday wasn't necessarily company sanction. There's audio of a Royal Jordanian captain flying a 787 from Amman to New York making his "welcome aboard" announcement shortly after takeoff. Here's the whole audio, the first half of which is in Arabic, and the second half of which is in English:
Here's the relevant part of the announcement in English:
"Our initial route for today out of Queen Alia turn to the territory of Palestine, also northern of Jerusalem, which is the capital city of Palestine, then the west coast of Palestine, to continue to Kennedy. I'll be talking to you again during cruise. Now enjoy the flight."
The captain starts as if he's going to actually share the route of flight, but then stops after covering every part of Palestine that they'll be flying over or near.
While some passengers and crewmembers commended what the captain said, the company said "a commercial company that does not engage in politics."