I always find job postings for non-US flight attendant positions to be interesting. While we're used to hearing about how "equal opportunity" jobs in the US are, in many other countries that's not a thing.
Take Royal Jordanian, for example. They Tweeted today about how they're hiring female flight attendants.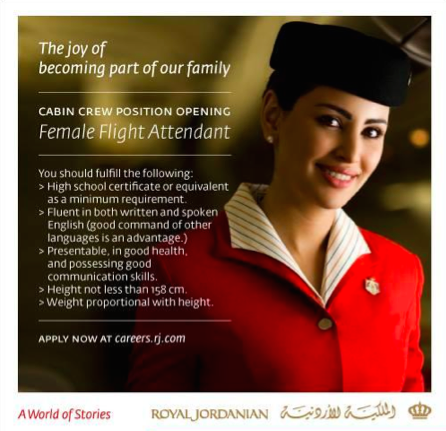 What are the requirements?
Flight Attendant

-Female applicants ONLY
– Good English Language
-High school certificate or equivalent as a minimum requirement.
-Height not less than 158 cm
-Weight proportional with height

Skills

-Fluent in both written and spoken English (good command of other languages is an advantage)
-presentable, in good health, and possessing good communication skills
So if you're interested in applying you better be female, at least 158cm tall, "weight proportional with height," and, ahem, "presentable."
Now, having flown Royal Jordanian before, I can totally understand why they're only hiring female cabin crew. As I explained in my Bangkok to Hong Kong business class trip report:
There seemed to be a grand total of five flight attendants working business class — three Jordanian men in the galley, one Jordanian female working the aisle and galley, and one Thai female working the aisle. More accurately there seemed to be one and a half flight attendants working business class, as the three male flight attendants didn't once leave the galley. For that matter I never actually saw them in the galley, but rather only chatting in their jumpseats the whole time.
Now, I certainly could act outraged and say "how dare they only hire female flight attendants." And based on my cultural norms that would be reasonable. That being said:
Maybe Royal Jordanian realizes that their male cabin crew don't actually work, which is why they're hiring female crew members — I can't imagine Royal Jordanian male cabin crew ever quit, given that they have the cushiest job in the industry
You can't fundamentally "force" a culture to change — you can hire male cabin crew and tell them they need to work harder and not just boss the female cabin crew around, but that doesn't mean it'll happen
There's no doubt this is a really slippery slope since I do believe there are some "absolute" rights and wrongs in the world, but at the same time I tend to avoid judging other cultures for their norms, since that's an even slipperier slope than not judging them, in my opinion
(Tip of the hat to Wandering Aramean)