Despite living in Florida I very rarely visit the Caribbean. Fares from Tampa to San Juan are consistently low, often as low as $69 each way thanks to JetBlue flying between the two cities nonstop. So I finally pulled the trigger and booked a 24-hour trip to San Juan. A friend found equally good fares from the west coast, so booked a stay at the same time.
I really struggled in regards to where to stay. I try to stick to Hyatt, Starwood, and Priority Club as much as possible, though in this case no option was ideal. Hyatt doesn't have a hotel in San Juan, so they weren't an option. The InterContinental San Juan gets awful reviews in terms of their Royal Ambassador treatment, so I did what I could to avoid it.
That narrowed it down to the two Sheratons, one of which is at the convention center, and the other of which is in Old Town. I was tempted to go with the convention center location since it's a new hotel and gets generally good reviews. The Old Town Sheraton also gets good reviews, though is a much older hotel.
So in the end as a result of indecisiveness I decided to book the Ritz Carlton, which seemed to offer the best of both worlds (though at a cost). It's close to the airport, at the beach, and gets all around great reviews.
The rate for one night was $339. That's by no means cheap, though by booking through a Virtuoso agent we received a $100 resort credit, full daily breakfast, and a room upgrade at no additional cost. Like I said it isn't cheap, though when you're splitting the costs two ways and get all those extra perks, it really is a pretty good value, in my opinion.
Anyway, I arrived in San Juan at around 1PM and we took a taxi to the Ritz Carlton. San Juan seems to have a bit of a taxi mafia as all the prices are fixed. In the case of the Ritz Carlton, a taxi cost $10 plus $1 per bag (there was a bit of a discrepancy as to whether a backpack or laptop bag counts as a bag for these purposes, since we were charged $12 on the way out and $14 on the way back). The ride took less than 10 minutes.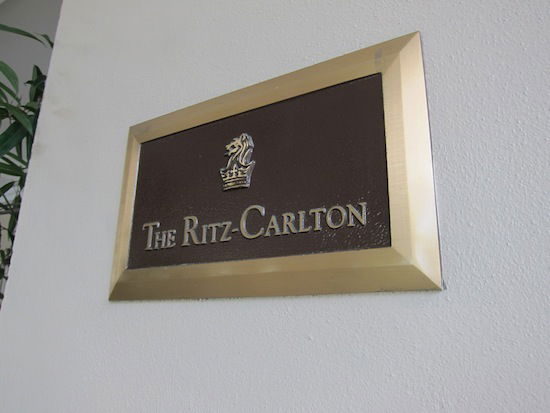 Ritz Carlton placard
As soon as we arrived at the hotel we were helped with our bags by the bellman and escorted to check-in which was located just inside of the lobby on the right.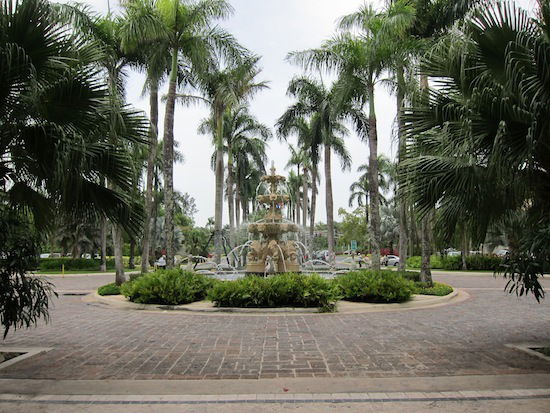 Hotel exterior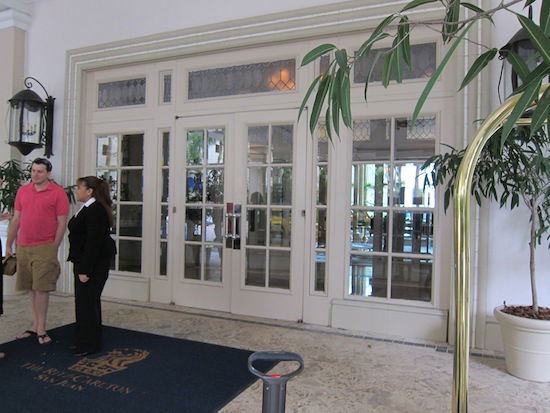 Hotel entrance
There was a wait of about five minutes, though I was happy to see they had bottled water and juice set up on the side of the lobby, since it was hot as heck outside.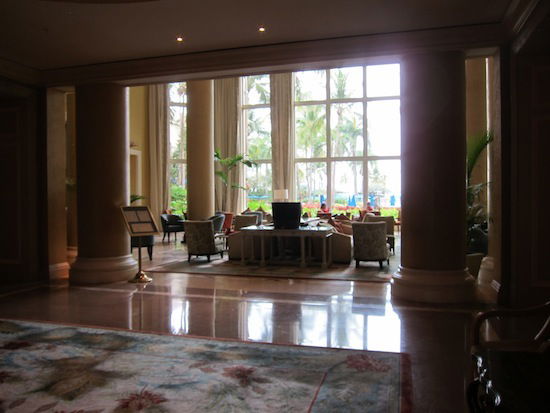 Lobby bar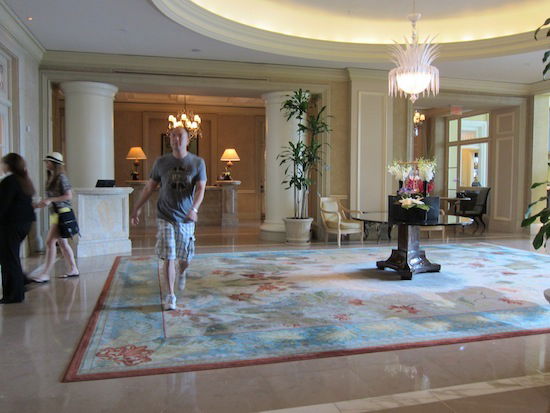 Lobby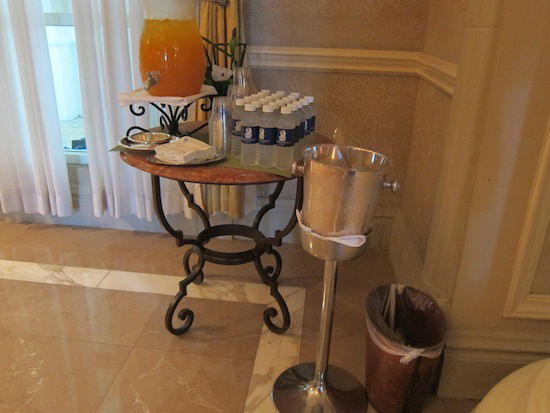 Water and juice
Our check-in agent was courteous and explained to us all the benefits we would be entitled to. He checked on the best room upgrade for a room with either a king bed or two double beds, and the best he could do was a king bed with a pool view on a low floor (which is a one category upgrade). The hotel was packed due to a wedding party taking up half of the hotel, so we were perfectly happy with that.
The elevators are key activated, and we took it up to the third floor, where our room was located pretty close to the elevators.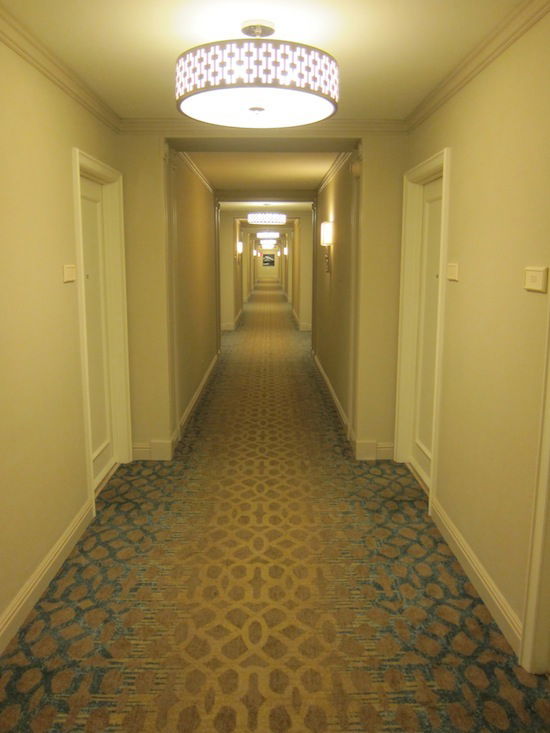 Hallway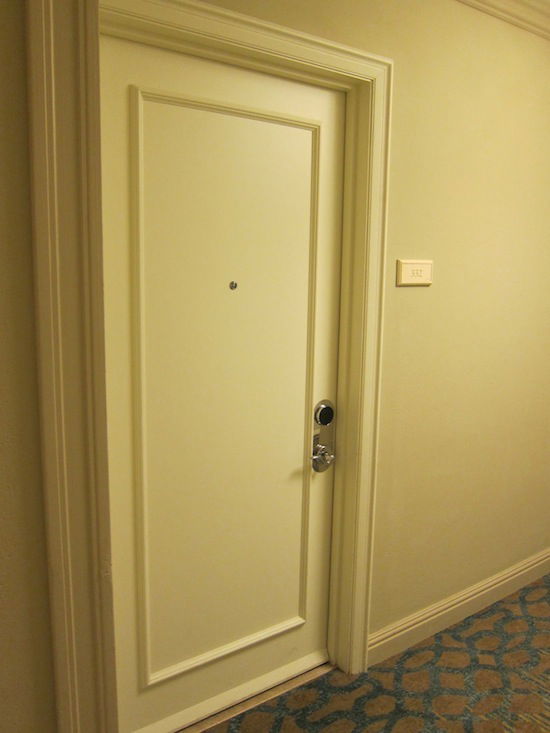 Room entrance
The room itself wasn't huge though was nicely decorated and arranged. It featured a very comfortable king bed, large seat, and desk with comfortable chair. There was also a well stocked minibar, though the only place I ever use minibars is at hotels where they're free or at InterContinental hotels, where I get free beverages as a Royal Ambassador member.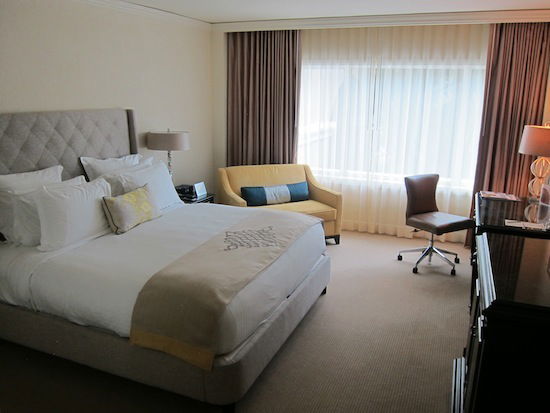 Room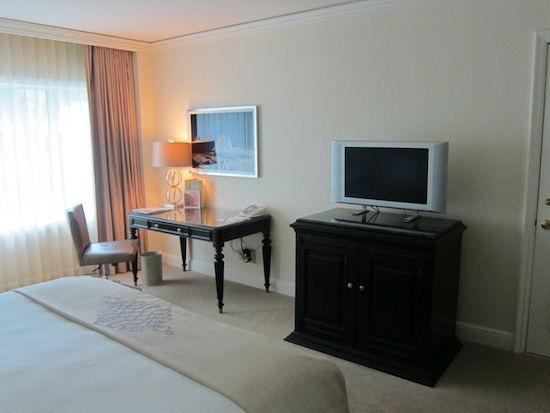 TV and desk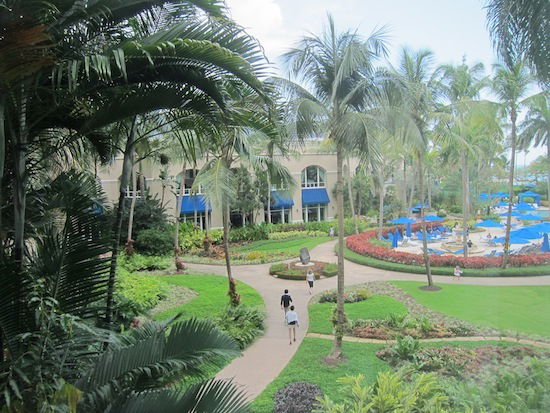 View from room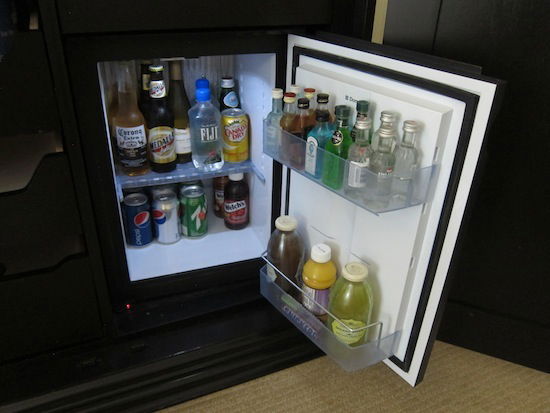 Minibar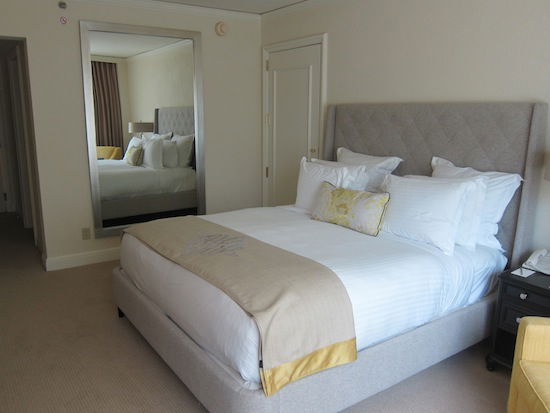 Room
The bathroom featured a shower, double sinks, and a separate room with the toilet. All the toiletries were Ritz Carlton branded.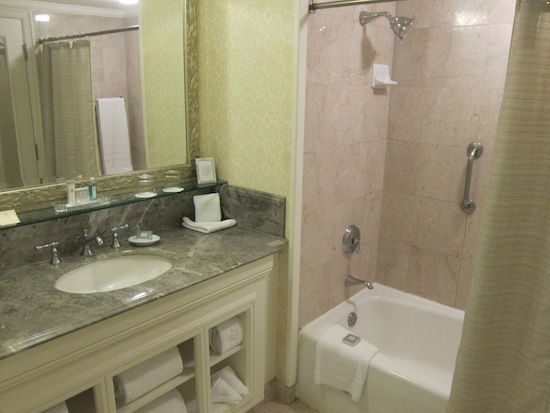 Bathroom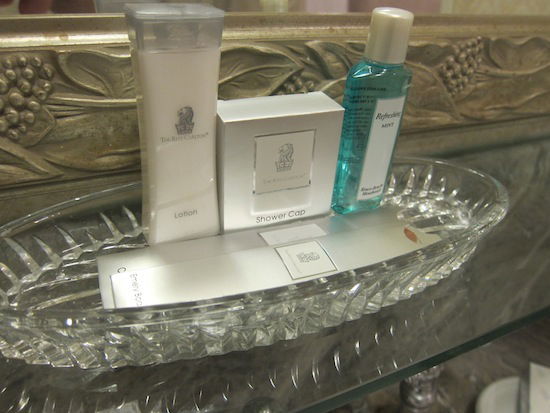 Toiletries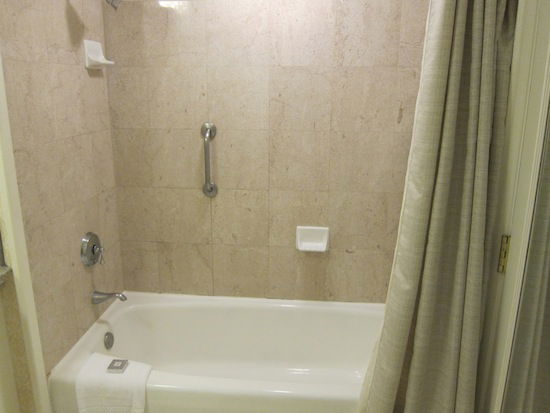 Shower
While it has been a few years since the hotel was renovated, I feel they did a spectacular job maintaining the rooms, since there were virtually no scratches/stains.
The only negative was that the room had no bottled water (with the exception of in the minibar), which I found strange given that they even had free bottled water at check-in.
The resort itself was really beautiful. It featured both a huge pool with plenty of seating, as well as a beach. Admittedly there are nicer beaches in the Caribbean than in San Juan, though this one seemed very nice by San Juan standards.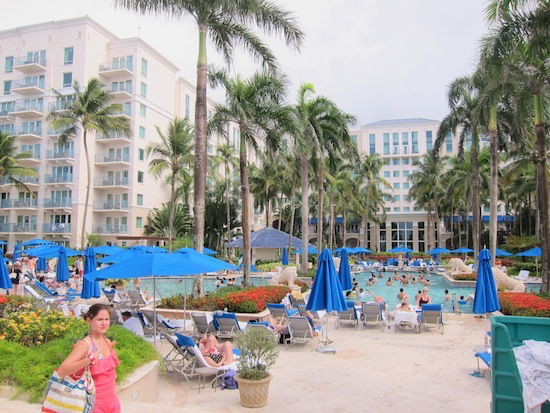 Pool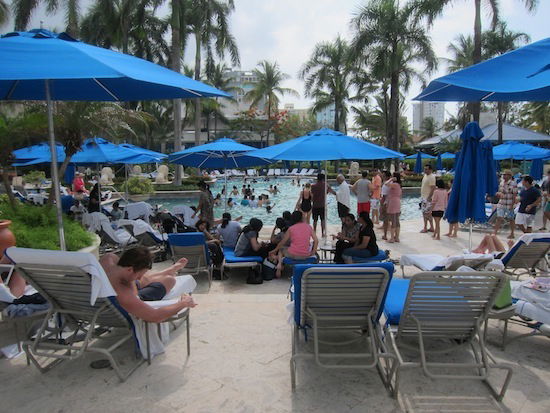 Pool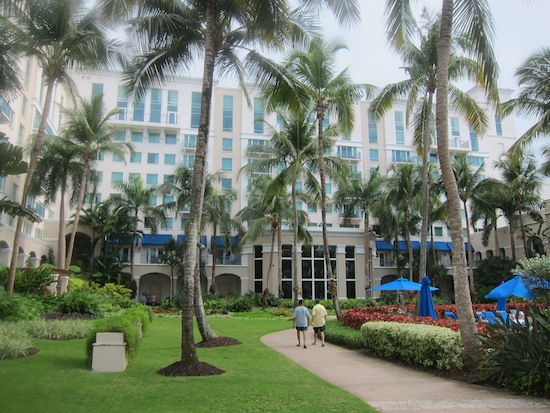 Resort exterior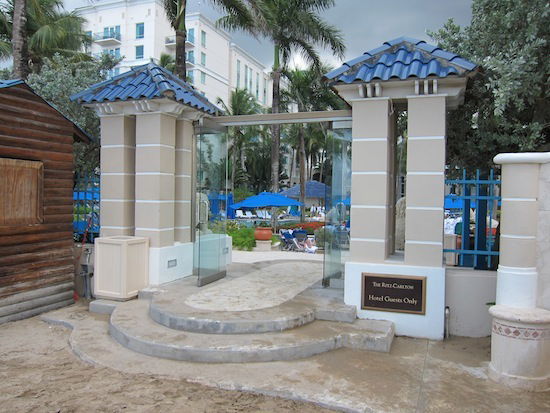 Beach entrance
As you approach the beach there are employees there that help with setting up the lounge chairs based on where you want to sit, and that can help with any other requests. As an aviation geek I thought it was pretty awesome that there were great airplane views from the beach, as the runway is only about a mile away.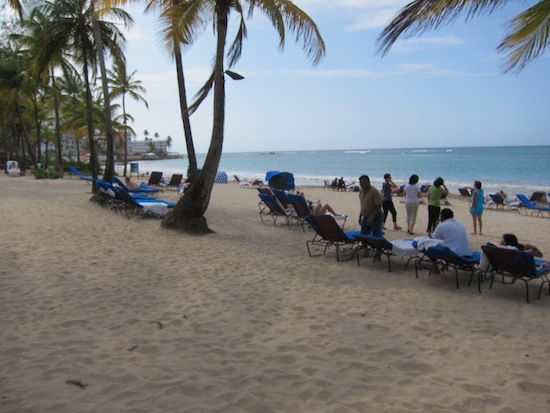 Beach
One of the reasons the hotel was so packed was because of a huge Indian wedding at the hotel, and they got married on the beach, which I thought was pretty cool.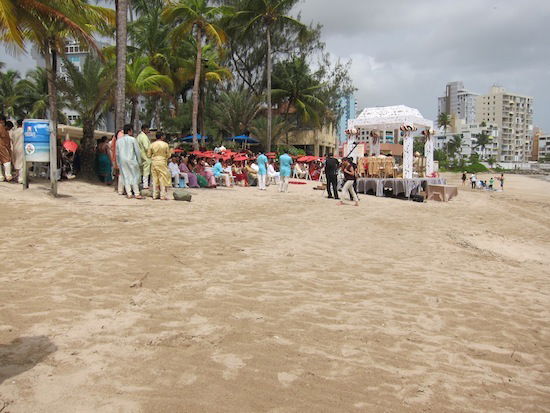 Wedding
And these people really did know how to party morning, day, and night. The morning we left they seemed to have some impromptu rock concert on the driveway of the hotel.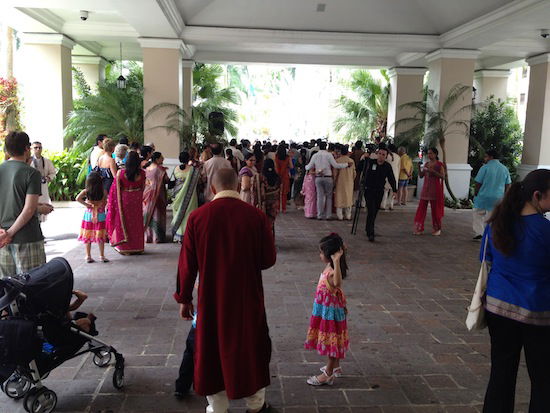 Some concert
At around 4PM we were pretty hungry so decided to have a late lunch at obg, the beachfront restaurant. It was much more casual and we were wearing shorts and t-shirts, not to mention I really wanted to enjoy the beach views.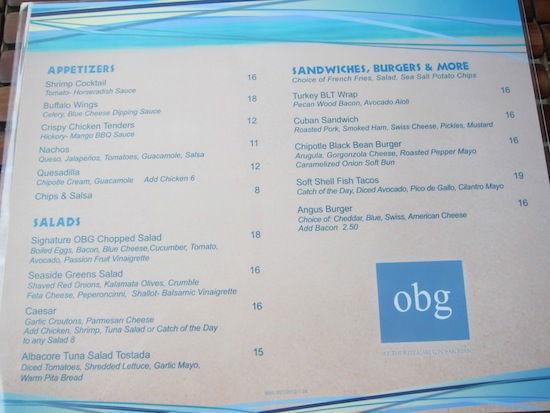 Menu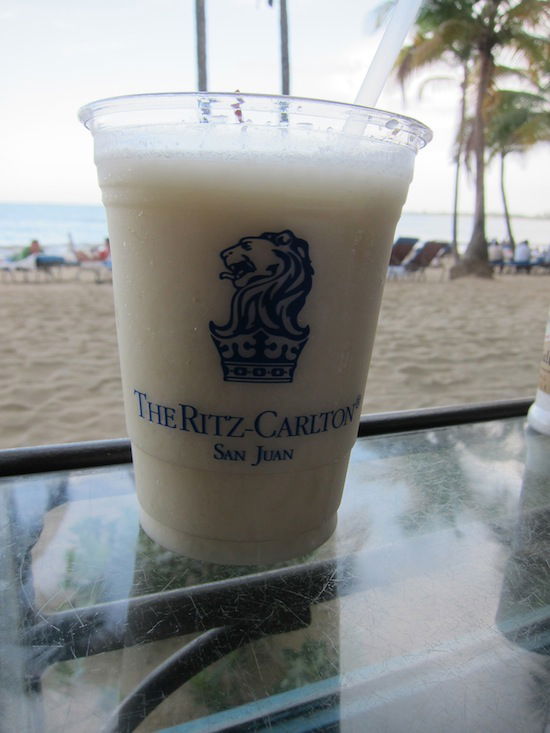 Pina colada
The prices were what you'd expect for a Ritz Carlton restaurant with a beach view. I had a pina colada, which was $14, and then had fish tacos, which were $19. Fortunately the $100 resort credit more than took care of lunch.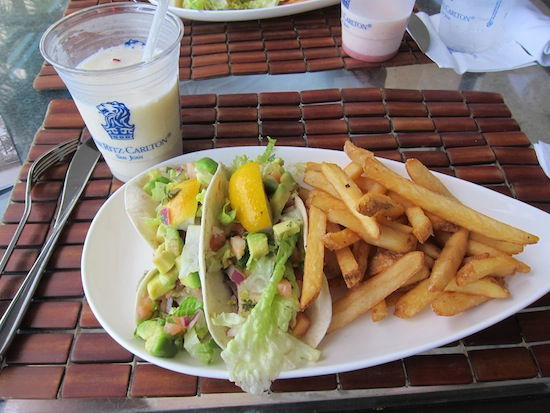 Fish tacos
All the employees I interacted with were friendly and eager to help. They were a bit more laid back than at the Ritz Carlton Hong Kong, for example, but I kind of expect that for a beach hotel in Puerto Rico.
The hotel also has a huge gym that's actually located inside the spa. The downside of being located inside the spa is that it's only open from 6AM till 9AM, so if you have weird hours like that be sure to keep that in mind. That being said, the quality and variety of the equipment was excellent.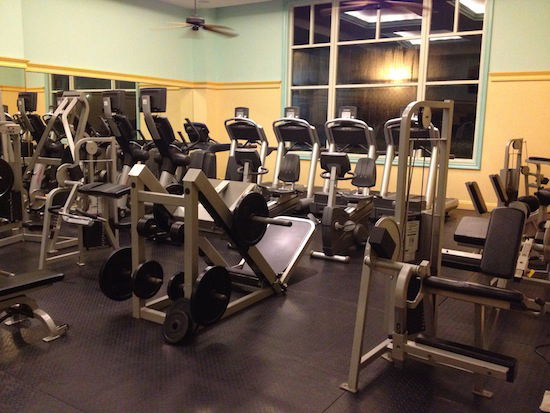 Gym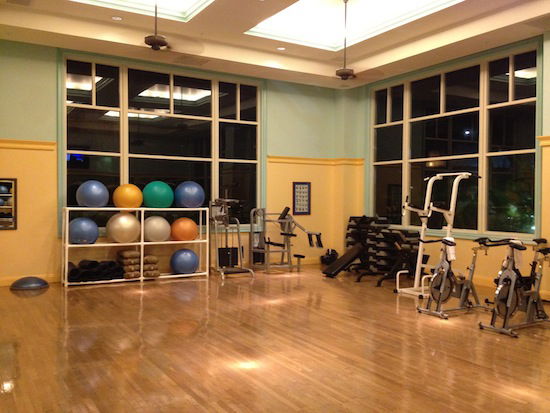 Gym
In the evening we went to Old San Juan. Once again the taxi prices are fixed, and it was $20 for the roughly 15-minute ride to the Old Town. Old San Juan was stunning, and I can't wait to return.
It was a Friday night so the atmosphere was great, with live music on the street, all kinds of street vendors, and plenty of people watching.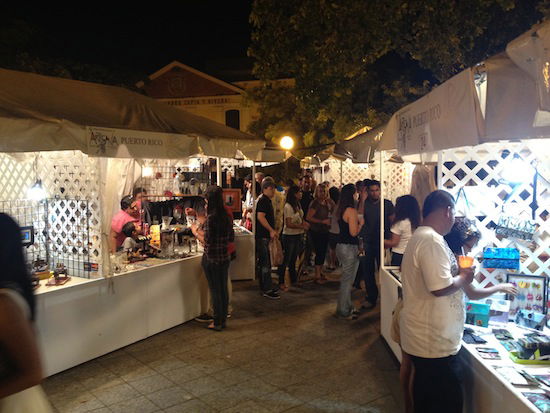 Street market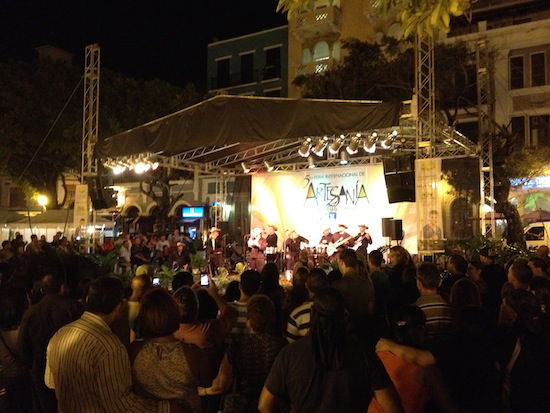 Concert
We had dinner at a restaurant we found along the way, which was delicious. I had sausage to start, and shrimp with yellow rice as the main course. For dessert was tres leches cake, which was among the best I've had.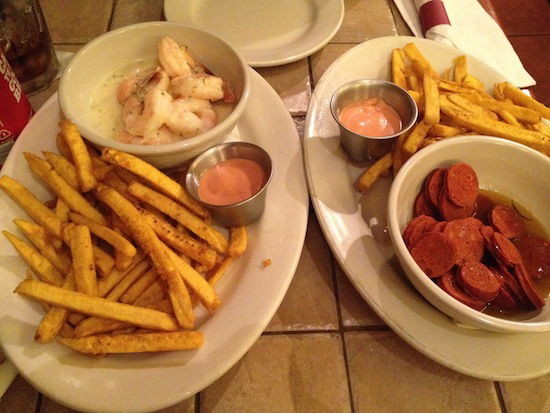 Appetizer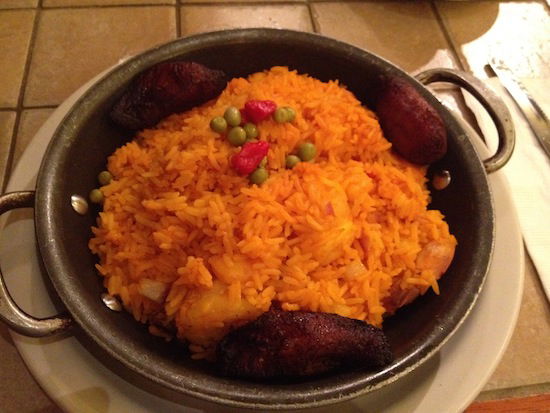 Shrimp with yellow rice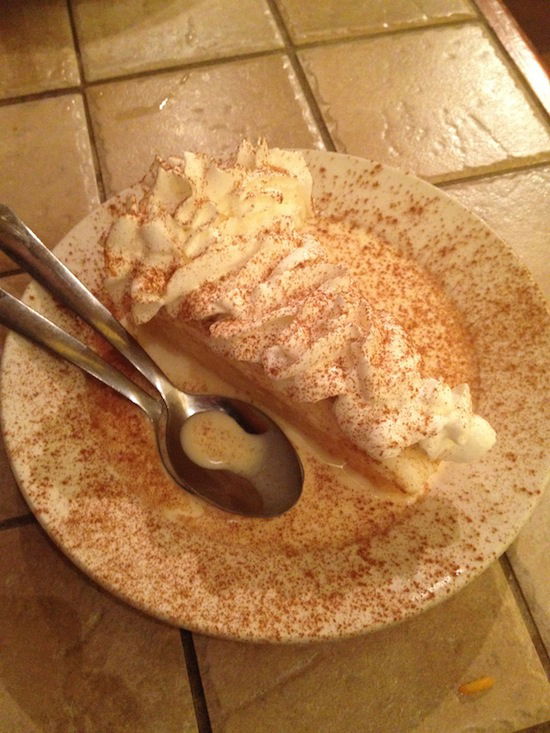 Amazing tres leches cake
I was a bit surprised to return to the hotel and find that they hadn't done turndown service on our room. I'm not sure if it was an oversight or they only do it upon request, but we at no point had the "do not disturb" sign out, so I'm not sure why.
Like I said breakfast was included since we booked through Virtuoso, so we had breakfast at around 8AM at Mares Restaurant. We had the full buffet, which would have cost $28 per person.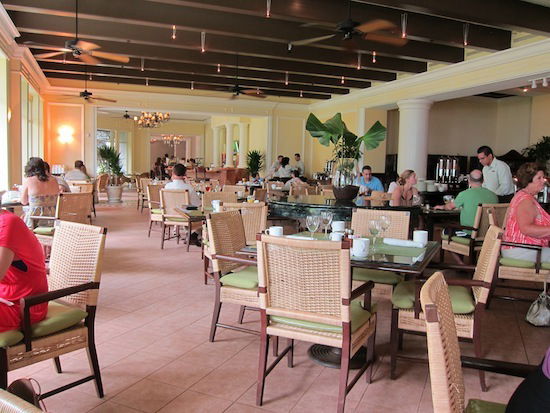 Mares Restaurant
The spread was top notch in terms of quality and variety. They had all kinds of pastries and breads, yogurt, hot dishes (scrambled eggs, quesadillas, etc.), fruit, cereal, etc. The service was really attentive as well.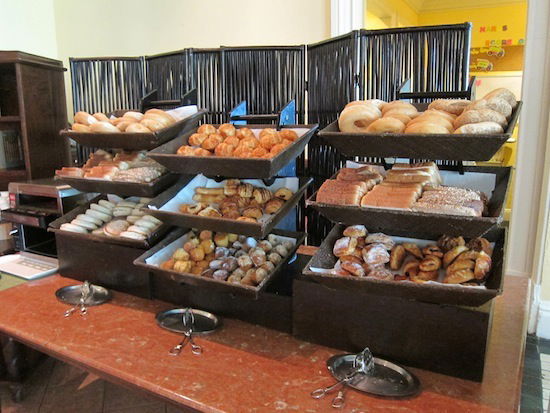 Breakfast spread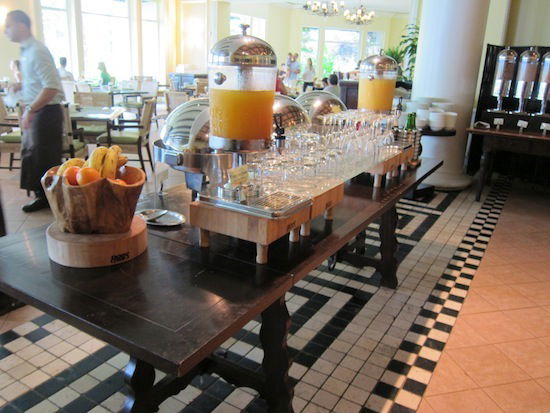 Breakfast spread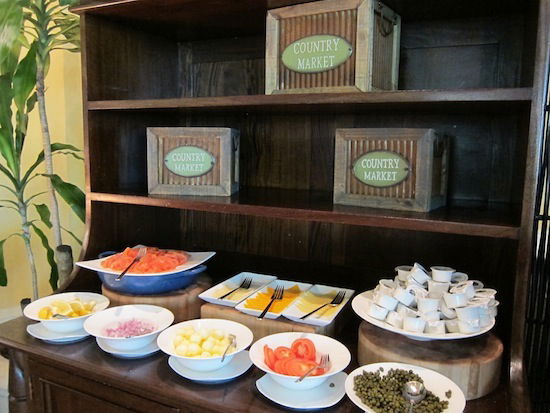 Breakfast spread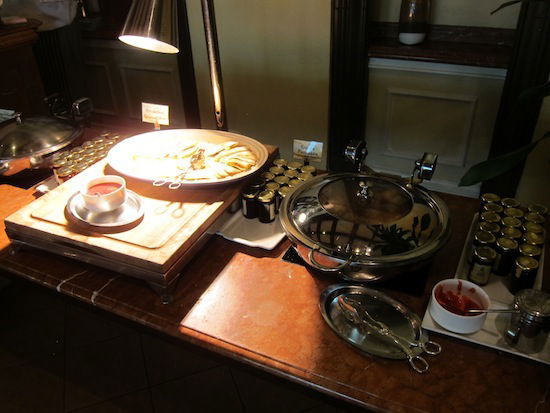 Breakfast spread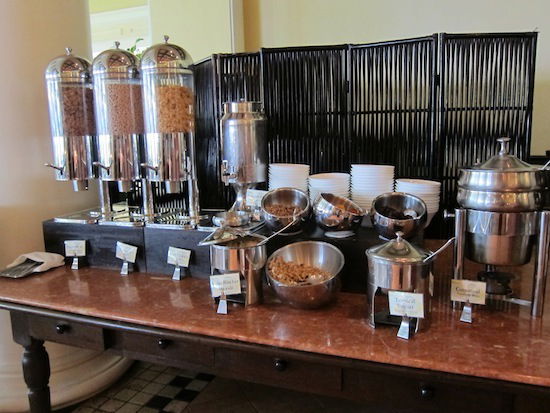 Breakfast spread
The biggest props, though, have to go to the chef at the omelet station. I was looking at the various options, and he said "I see you eying my food. Let me know if you need the lowdown on anything, I ga'cha covered."
At around 11AM the following morning it was back to the airport after an all too quick trip.
I can't believe I haven't visited San Juan before because it really is beautiful, and from what I've heard there are plenty of other things to explore on the island of Puerto Rico as well. Also, Puerto Rico feels nothing like the rest of the US, so it really is a nice change of pace.
The Ritz Carlton is a fantastic choice, especially when booking through Virtuoso or American Express Fine Hotels & Resorts, and I wouldn't for a second hesitate to return if the value is right. That being said, I'd also consider staying at hotels on other parts of the island, which I've heard great things about as well.